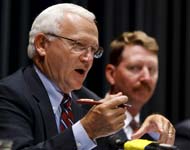 The Senate Urban Affairs and Housing Committee today held a public hearing in Monaca on legislation that is intended to give municipalities new tools to fight urban blight in communities and reclaim vacant and abandoned properties, according to Committee Chair Senator Gene Yaw (R-Lycoming).
Yaw said that representatives of housing organizations, municipalities and economic development agencies offered testimony on House Bill 712, which establishes land banks to focus on the conversion of vacant, abandoned and tax delinquent properties back into productive use.
"We heard from national experts Dan Kildee and Frank Alexander from the Center for Community Progress, as well as local and state officials and housing organizations," Yaw said.  "Their expertise and information were very helpful as we consider legislation to establish these land banks."
"Through land banks, we can establish a plan for reclaiming and recycling blighted areas and giving them back to the community with a new life and purpose," Yaw said.  "These properties can be used for affordable housing, gardens, businesses and industrial development – making them useful and productive."
He said land banks have been created across the country and enable municipalities to use tools to overcome legal barriers commonly associated with vacant and abandoned properties.
"Communities throughout the state are struggling to cope with vacant, abandoned and tax delinquent properties," Yaw said.  "Land banks are an innovative way to return these properties to productive use – at the same time helping to generate tax dollars and improve property values."
Yaw said many of those testifying today said House Bill 712 will provide communities with new tools needed to address the devastating costs imposed on communities by vacant, abandoned and tax delinquent properties.
"Land banks can help to protect the property rights of homeowners, rather than undercutting them and make communities vibrant," Yaw said.  "With no action, blighted properties can impose costs on neighboring homeowners and municipalities – affecting entire communities.  Land banks can help to stabilize communities and address the problem of blight with new tools and resources."
Urban Affairs and Housing Committee
Senator Gene Yaw, Chair
Senator David Argall, Vice Chair


Republicans:
Folmer
Smucker
Vogel
Waugh

Democrats:
Kitchen, Chair
Ferlo
Fontana
Washington
Public Hearing
HB 712 Land Banks
September 16, 2010
10:00 AM
PSU Beaver
Monaca, PA
  -1:55
Please click on links to view more information.  This will open a PDF document in a new window.
10:00 AM
Senator Yaw
Opening Comments
10:10 AM
Center for Community Progress
10:45 AM
Housing Alliance
11:00 AM
Mayor's Office of Pittsburgh
11:15 PM
Local Governments
11:45 PM
Beaver County Corporation for Economic Development
12: 00 PM
Adjourn

Additional Written Testimony:
If you need further information or have any questions, please contact Adam Pankake of my office at 717-787-3280.