WILLIAMSPORT – State Senator Gene Yaw (R-Lycoming) today joined family, friends and colleagues of the late Carl E. Stotz for a bridge dedication ceremony in his honor.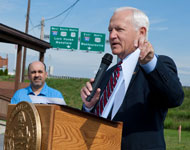 The ceremony officially designated the Market Street Bridge connecting South Williamsport to Williamsport and carrying U.S. Route 15 over the Susquehanna River in Loyalsock Township, as the "Carl E. Stotz Memorial Little League Bridge."
"There is no question this is a well-deserved honor for the founder of the largest organized youth sports program in the world," Yaw said. "As thousands upon thousands of fans gather in Lycoming County this week for the World Series this is certainly a fitting tribute to Mr. Stotz and all of those responsible for making Little League baseball a true success."
Yaw was joined by members of the Stotz family, executives of Little League International and local government officials for the ceremony.
On February 28, 2011, Yaw introduced Senate Bill 723, legislation to designate the Market Street Bridge in Stotz's honor. On June 29, 2011 the legislation was approved by the Senate and House of Representatives and officially signed into law by Governor Tom Corbett on July 7, 2011.
Contact: Arnie Kriner
(570) 322-6457