WILLIAMSPORT – State Senator Gene Yaw (R-Lycoming) today welcomed Pennsylvania Agriculture Secretary George Greig and Pennsylvania Milk Marketing Board Member Lynda Bowman for a 'Discussion on Agriculture' held at the Clinton Township Volunteer Fire Company Hall, Montgomery.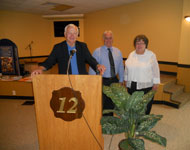 As a member of the Senate Agriculture and Rural Affairs Committee, Yaw invited local agriculture producers and agribusiness professionals from throughout Lycoming and Union counties to participate in the morning forum. In addition, FFA (Future Farmers of America) students from Montoursville Area High School also were in attendance to learn more about the industry.
"Production agriculture and agribusiness together serve as the largest industry in Pennsylvania," Secretary Greig said.
"Throughout my Senate District, thousands of people are employed and millions of dollars are generated each year through agriculture," said Yaw. "Today's discussion provided a forum for area farmers to ask questions, make suggestions and give other recommendations to improve the conditions of agriculture in Pennsylvania."
Topics covered included: dairy pricing, private water well construction standards, Sunday hunting and the lumber industry, to name a few.
"This will be the first of many agriculture forums I look forward to hosting throughout my district," Yaw added. "I encourage people to attend and make their positions known."
Contact: Nick Troutman
(570) 322-6457