HARRISBURG – State Senator Gene Yaw (R-23) today joined with the Lycoming County Commissioners to announce the release of state funding for the replacement and re-construction of two 9-1-1 communications towers along Armstrong and Long Ridge mountains.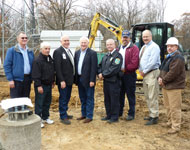 The new towers will enhance the communications network for the fire and EMS calls in Lycoming County. This project will assure that the County will have the necessary connectivity and have the ability to continue to operate during any natural or manmade incidents such as: fire, police and EMS incidents, flooding and severe weather emergencies and possible acts of terrorism. The existing towers are at maximum capacity for "load" including the number of antennas, micro-wave dishes, etc. The new towers will be taller and have expanded capacity to support additional micro-wave and radio equipment. This upgrade is required to meet current and future communications needs.
"I am pleased to announce that funds have been made available through the Redevelopment Assistance Capital Program to reimburse the county for this necessary and vitally important expenditure," Yaw said. "The current towers, which are aging, are in desperate need of replacement. This funding is critical to protecting county residents."
In addition to the re-construction, the project funding will move antennas, transmitters, and support equipment from an existing site in Waterville to an OPSR tower in the Waterville area.
Commissioner Jeff Wheeland emphasized, "As a county commissioner, public safety is one of the key roles and primary responsibilities of county government. This improvement to our communication system will provide a valuable benefit to the increased economic development in our countryside as a result of the Marcellus Shale gas development. On behalf of the citizens of Lycoming County, we thank Senator Yaw for his diligence and leadership in securing these state funds."
The RACP program is administered through the Pennsylvania Department of Community and Economic Development.
Contact:
Curtis Fay, 570-322-6457 (Sen. Yaw)
Marci Hessert, 570-320-2123 (Commissioners Office)