HARRISBURG – A resolution celebrating the 25th anniversary of The Center for Rural Pennsylvania unanimously passed the full state Senate yesterday, according to Senator Gene Yaw (R-23). Yaw, who serves as Chairman of the Center's Board of Directors, sponsored the resolution along with fellow Board member Senator John Wozniak.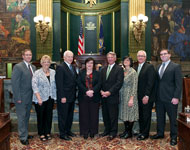 The Center for Rural Pennsylvania is a bipartisan, bicameral legislative agency that serves as a resource for rural policy within the Pennsylvania General Assembly.
Both legislators praised the work of the Center of Rural Pennsylvania and commended them for their commitment to improving rural conditions throughout the state.
"The Center for Rural Pennsylvania is the second oldest state-level rural policy and research center in the country," said Yaw. "The Center and its staff have a national reputation for their work."
The Center for Rural Pennsylvania works with the state legislature, educators, state and federal executive branch agencies, and national, statewide, regional and local organizations to maximize resources and strategies that can better serve Pennsylvania's 3.4 million rural residents.
The Center for Rural Pennsylvania promotes and sustains the vitality of Pennsylvania's rural and small communities by:
sponsoring research projects to identify policy options for legislative and executive branch consideration and action;
collecting data on trends and conditions to understand the diversity of rural Pennsylvania;
publishing information and research results to inform and educate audiences about the diverse people and communities of rural Pennsylvania; and
participating in local, state and national forums on rural issues to present and learn from best practices.
"I congratulate the Center for 25 years of excellence to our state and wish them a successful 25 more." Yaw added.
Yaw has served as Chairman of the Board for the Center since 2011.
Contact: Rita Zielonis
(717) 787-3280