HARRISBURG – State Senator Gene Yaw (R-23) was honored last evening for his contributions to Pennsylvania's growing wine industry.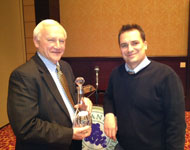 During the Pennsylvania Winery Association's (PWA) annual conference in Lancaster, Yaw was presented with the 'Industry Supporter Award,' reserved for individuals who have demonstrated leadership, commitment and support for Pennsylvania's wine industry.
Jonathan Patrono, President of PWA, presented Yaw with the award.
"The Pennsylvania Winery Association is pleased to honor Senator Gene Yaw with the 2013 Industry Supporter Award," said Patrono. "The Senator has championed the industry during his work in the private sector and more recently in his role as state senator. Senator Yaw's efforts have had a direct effect on the growth and vibrancy of the PA Winery Industry."
Prior to running for the state Senate, Attorney Yaw helped establish eight Pennsylvania-based wineries – from incorporation through completion of their required state and federal applications.
As a state senator and member of the Senate Agriculture & Rural Affairs Committee, Yaw supported the creation, passage and funding of the PA Preferred Act, making the program permanent and allowing business's to invest in the program and commodities of Pennsylvania agriculture, including wine. In addition, he continues to advocate for increased funding of the Agricultural Promotion, Education and Exports line-item within the Department of Agriculture's budget that helps foster the wine industry throughout the state and improves competitiveness.
"This was a big surprise and I am humbled and honored," Yaw said to the crowd of 100. "I'd like to thank you all for allowing me to be a part of this fine industry. I have always believed that the development of the wine industry is a great marriage of tourism and agriculture. We all need to do our part to ensure that it continues to grow."
According to PWA, Pennsylvania's wine industry has more than doubled in the past decade, increasing to approximately 150 wineries that produce and sell wines throughout Pennsylvania's seven wine regions. Pennsylvania is home to 11 wine trails that also contribute $2 billion to the state's economy.
For more information on the Pennsylvania Winery Association, visit www.pennsylvaniawine.com.
Contact: Rita Zielonis
(717) 787-3280