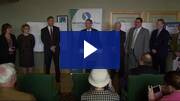 HARRISBURG – State Senator Gene Yaw (R-23) and Senator John Gordner (27-R) today joined Pennsylvania Department of Transportation Secretary Barry J. Schoch and other area legislators to endorse a plan dedicating over half-billion dollars towards the completion of the Central Susquehanna Valley Transportation (CSVT) project.
During a Wednesday morning press conference at the Greater Susquehanna Valley Chamber of Commerce, Schoch announced that the Corbett Administration, as part of its proposed 2013-14 Transportation Funding Plan, will allocate $558 million dollars for the Valley's 12.4 mile project over the next 10 years.
"This is an exciting time for our region," Yaw said. "The CSVT represents the single largest economic development project in the Susquehanna Valley spanning two Senatorial Districts," Yaw added. "This announcement, together with the recent announcement by Moxie Energy, LLC to build two natural gas power plants in our area, would constitute nearly $2 billion dollars worth of investment in our area. This is historic."
If approved by the General Assembly, the Department of Transportation plans to fund and construct the CSVT between the Selinsgrove Interchange of US 11/15 in Monroe Township, Snyder County, and the PA 45 Interchange on PA 147 in West Chillisquaque Township, Northumberland County.
The project will consist of the construction of a four-lane divided, limited access highway beginning at the existing Selinsgrove Bypass stub of US 11/15 and extending North. The plan also includes construction of a one-mile bridge spanning across the West Branch of the Susquehanna River, between Winfield and Point Township, and ending at the PA 45 Interchange on PA 147.
"A completed CSVT would be a tremendous boost to our regions freight network," Yaw added. "In addition to creating significant jobs, the project will most importantly reduce traffic congestion and improve safety for residents and area businesses. Four decades is far too long to see any project begin. I'm hopeful that we can finally make the CSVT a reality."
Contact: Rita Zielonis
(717) 787-3280