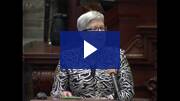 Listen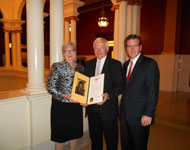 HARRISBURG – State Senator Gene Yaw (R-23), along with his colleagues in the Senate, today recognized Dr. Davie Jane Gilmour of Williamsport upon being named the first woman to chair the Board of Directors for Little League Baseball International.
Founded in 1939, the Board of Directors for Little League Baseball is responsible for directing over 7,000 baseball and softball leagues around the world consisting of over 2.5 million participants.
"The Senate of Pennsylvania today honors Dr. Davie Jane Gilmour upon being named the first female Chair in the 74 year history of Little League," Yaw said. "Dr. Gilmour and the members of the Little League International Board of Directors are volunteers in this service to Little League and are dedicated to working on behalf of the children of the world. I applaud her commitment and enthusiasm and on behalf of the entire Senate would like to honor and recognize her in this new role."
On November 9, 2012, Dr. Gilmour assumed the role of Chairwoman of the Board after serving on the Board for six years. In addition to this new position, Dr. Gilmour presently serves as the President of the Pennsylvania College of Technology, a special mission affiliate of the Pennsylvania State University.
Dr. Gilmour is very active in her community serving as President of the Community Arts Center Board of Directors in Williamsport; a member of the Penn College Foundation Board of Directors; Central Pennsylvania Workforce Development Corporation Board of Directors, Chair of CareerLink Operations Committee; Williamsport-Lycoming Chamber of Commerce Board; Susquehanna Health Board and the First Community Foundation of Pennsylvania Board.
Dr. Gilmour, and her husband Fred, have resided in Lycoming County for the past 35 years.
Contact: Rita Zielonis
(717) 787-3280