Committee Addresses Transparency and Accountability with Royalty Payments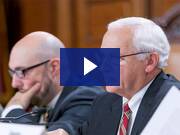 HARRISBURG – State Senator Gene Yaw (R-23), chairman of the Senate Environmental Resources and Energy Committee, today held a public hearing to discuss issues related to natural gas royalty payments from Marcellus Shale development.
Yaw said royalty stub transparency and excessive post production cost deductions has significantly impacted many leaseholders throughout his senate district, which prompted him to convene the hearing.
"Many leaseholders are seeing costs being deducted from royalty checks for what is being described as the costs of getting gas to market," Yaw said.  "In some cases, these costs have caused royalty payments to be as low as 1.47 percent, well below the 12 ½ percent guaranteed minimum.  This hearing provided an open, honest dialogue that will hopefully answer questions and address concerns brought forward by many of our constituents."
Senator Yaw was joined at the hearing by Senators John Yudichak (D-14), Minority Committee Chairman, Lisa Baker (R-20), Kim Ward (R-39), Elder Vogel (R-47), Scott Hutchinson (R-21), as well as Representatives Garth Everett (R-84), Matthew Baker (R-68), Tina Pickett (R-110) and Sandra Major (R-111).
The committee heard testimony today from the Pennsylvania Farm Bureau (PFB), National Association of Royalty Owners (NARO), Marcellus Shale Coalition, Bradford County Commissioners and Attorney Chris Jones of Griffin, Dawsey, DePaola and Jones, PC.
Joel Rotz, Senior Director of State Government Affairs for the PFB, voiced support for pending legislation that would clarify royalty pay stubs.  "The information that would be required to be included on royalty stubs by enactment of this legislation is clearly not asking for any proprietary information from gas well operators and frankly is common sense detail that those receiving royalties should have in understanding and determining that the payment received is proper compensation as provided for in the lease agreement with the corresponding gas well company."
Yaw said standardized pay stubs provide for a more open and transparent means for leaseholders to review them, as seen in other natural gas producing states.  He added that much of the debate, in regards to post production costs, is whether the legislature needs to amend the Guaranteed Minimum Royalty Act (GMRA).
The Act, passed by the legislature in 1979, provides that a lease to remove natural gas "shall not be valid if such lease does not guarantee the lessor at least one-eighth royalty" of all natural gas removed from the property.  The term "royalty" is not specifically defined within the provision.
"While the Pennsylvania Constitution and the United States Constitution prohibit a legislature from changing the terms of an existing contract, we can look prospectively to address this issue," Yaw said.  "We all have the same goal – to ensure that our leaseholders are treated fairly."
"Bradford County has over 35,000 separate parcels of land," said Daryl Miller, Vice-Chairman of the Bradford County Commissioners.  "The overwhelming majority of them are ten acres or less.  These people are small landowners who are working families and senior citizens trying to make ends meet.  They are looking at this as a little bit of extra income.  They simply want to be treated fairly."
"Effectively having your royalty payments cut by these kind of percentages severely affects royalty owners, most of whom as stated previously, are on fixed incomes," said David Sikes, CMM, NARO National President.  "There are some companies; however, that appear to not care what the lease says and continue to make unauthorized deductions and refuse to substantiate why those deduction are being made. In this instance a clear breach of contract has occurred."
For a complete list of testimony and video of the hearing, visit www.senatorgeneyaw.com
CONTACT:  Adam Pankake, 717-787-3280