HARRISBURG – State Senator Gene Yaw (R-23) today announced that the Senate Agriculture and Rural Affairs Committee unanimously reported the nomination of Bradford County dairy farmer James A. Van Blarcom, candidate to the Pennsylvania Milk Marketing Board (MMB), out of committee.  Van Blarcom's nomination now awaits a vote before the full state Senate.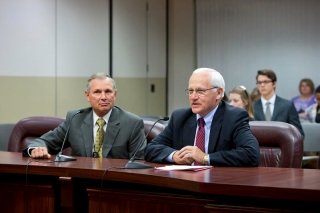 "I have known Jim for many years and I have been very impressed by his involvement and commitment to improving our region," Yaw said before the committee.  "Jim has been involved in the dairy industry since a young age.  His experience and knowledge are great assets to Pennsylvania's dairy industry and I am happy to lend my support to him for this position."
"Jim will be a great asset on the Milk Marketing Board," added state Senator Elder Vogel, chairman of the committee.  "As a dairy farmer, who is transitioning his operation to the next generation, Jim has the experience necessary to make policy decisions for the future of dairy in Pennsylvania."
Van Blarcom, a resident of Columbia Cross Roads, was nominated for the position by Governor Tom Corbett in April.  He currently owns and operates a 500 head dairy herd.
The Pennsylvania Milk Marketing Board is an independent agency that establishes minimum milk prices, minimum wholesale prices and minimum retail prices.  The three-member Board is overseen by two farmer members and one consumer member.  If approved by the state Senate, Van Blarcom will replace Richard Kriebel, a Columbia County dairy farmer and former board chairman.
CONTACT:
Nick Troutman
717-787-3280