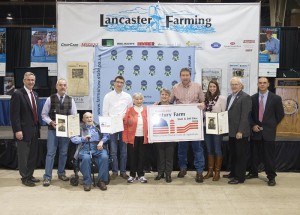 HARRISBURG – A Lycoming County family received recognition for their family farm on Friday during the 100th Pennsylvania Farm Show in Harrisburg, according to state Senator Gene Yaw (R-23).
The Jeff & Joan Dice Farm, located in Cogan Station, has been designated a Pennsylvania "Century Farm" by the Pennsylvania Department of Agriculture.  The farm, established on April 3rd, 1838, was originally purchased for $1,200.  One hundred and nine acres from the original tract are still in use today.
"Today, we are honored by your work and commitment to agriculture," Senator Yaw said to the Dice family.  "It is your strong work ethic that connects us to our past and preserves it for future generations.  It is certainly an extraordinary accomplishment."
During the ceremony, the family received a sign identifying the property as having historic status, which was presented by Secretary of Agriculture Russell Redding.
"The kind of commitment to the land and agricultural heritage of Pennsylvania demonstrated by these farmers helps explain the success of Pennsylvania's farmland preservation program," Secretary Redding said.  Pennsylvania leads the United States in the number of acres preserved for agricultural use in perpetuity.
"As we celebrate these farm families who have passed their land, their values, and their love of farming down from generation to generation over the last 100, even 200 years, we confidently look forward to agriculture's continued prominence in our economy and our communities." Redding added.
Congratulatory citations were also presented by Senator Yaw and Representative Garth Everett (R-84) who was also in attendance.
The "Century" and "Bicentennial" farm program was established by the Pennsylvania Department of Agriculture to help promote the strength and durability of Pennsylvania's farm families.  In order to qualify, a family member must live on the farm on a permanent basis, and the farm must include at least 10 acres of the original holding or gross more than $1,000 annually from the sale of farm products.
Lycoming County is home to 62 "Century" farms and one "Bicentennial" farm.
For more information about the awards, visit www.agriculture.pa.gov and search "Century Farm" or "Bicentennial Farm" or call 717-705-7796.
CONTACT:
Rita Zielonis, Chief of Staff
(717) 787-3280