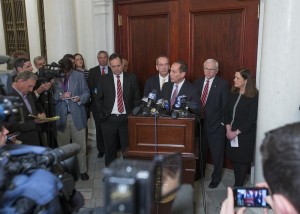 While a majority of Senators (29-19) voted Wednesday in favor of a Resolution removing Attorney General Kathleen Kane from office due to the suspension of her license to practice law in Pennsylvania, the measure failed to meet the two-thirds majority specified by the Pennsylvania Constitution in order to directly remove an elected official from office.
Meanwhile, the House of Representatives approved House Resolution 659, which authorizes the House Judiciary Committee to investigate the conduct of Attorney General Kathleen Kane and to determine whether she should be subject to impeachment.
Adoption of HR 659 is the first step in the impeachment process under the Pennsylvania Constitution. Depending on the subcommittee's findings, another House resolution would be needed to formally file one or more counts of impeachment, which then would have to be approved by the House. If adopted, the Senate would conduct the trial, and requires a two-thirds vote for conviction and removal.
The Pennsylvania Supreme Court unanimously voted on September 21 to suspend Kane's license based on accusations of perjury and other charges stemming from a leak of grand jury information. The newly elected, Democrat-majority state Supreme Court unanimously reaffirmed that decision last week.