HARRISBURG – In an effort to address the opioid overdose epidemic plaguing the Commonwealth, state Senator Gene Yaw (R-23) today said he will introduce legislation that implements Safe Opioid Prescribing Curriculum in all of Pennsylvania's medical schools, with state funding being contingent on the curriculum implementation.
The plan calls for a focus in four key areas including pain management; multimodal treatments for chronic pain that minimize the use of opioids, or when opioids are indicated, to prescribe them in a way that's safe and that follows guideline-based care; focusing on patients who have been identified as at risk for developing problems with prescription opioids; and teaching medical students how to manage substance abuse disorders as a chronic disease. 
As part of the Safe Opioid Prescribing Curriculum, students would also be required to demonstrate proficiency in the use of naloxone, an antidote for an opioid overdose.
"We must collectively do more to address the rise in opioid abuse impacting our communities," Yaw said.  "It's disturbing to learn that veterinarians often receive more training in pain management that many of our medical doctors.  We need to have people properly trained in these areas.  Our response to the heroin and opioid epidemic continues to evolve.  As such, we need to evolve our curricula being taught in our medical schools.  Training in certain areas, such as pain management, is a pivotal first step."
According to Yaw, the Safe Opioid Prescribing Curriculum would be woven throughout the students' education.  Additionally, it would be required to be evaluated by the state Board of Medicine every three years.
For more legislation introduced by Senator Yaw relating to heroin and opioids, click here.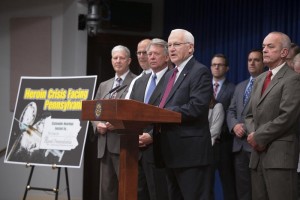 CONTACT:
Rita Zielonis, Chief of Staff
(717) 787-3280