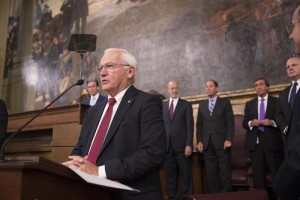 HARRISBURG – State Sen. Gene Yaw (R-23) today led the committee of lawmakers who escorted Governor Wolf into the House of Representatives for the Joint Legislative Address on the Opioid Epidemic.  Yaw announced the Governor's arrival into the House Chambers.
During his remarks, the Governor outlined a collective plan to lead the nation in combatting the opioid and heroin crisis facing Pennsylvania, which included passage of several bills authored by Yaw.
"I give the Governor credit, he understands that this is a statewide epidemic, a community-wide epidemic and that's the only way that we're going to address the problem," Yaw said following the Joint Session.
More than two years ago, the Senate recognized that opioid and heroin use is a statewide and national epidemic impacting residents of every age, race, gender and socioeconomic background, and began to study this issue through the Center for Rural Pennsylvania.  Legislation currently under consideration in the House and Senate is a direct result of the work done by the Center.
In addition to bills already approved by the Senate, several bills received final approval in the Senate today that will address over-prescribing to minors, implement Safe Prescribing Curriculum in Medical Schools and establish a School Aged Children Opioid Awareness Education Program.
For more information, click here.
Contact:
Rita Zielonis, Chief of Staff
(717) 787-3280