HARRISBURG – State Senator Gene Yaw (R-23), Chairman of the Center for Rural Pennsylvania Board of Directors, today announced that the Center, a bipartisan, bicameral research agency of the Pennsylvania General Assembly, will hold a public hearing to look at the challenges faced by Pennsylvania grandparents who are caring for their grandchildren because of the heroin and opioid epidemic.
The hearing will focus on the legal, financial and personal issues that grandparents may encounter as they become the primary caregivers for grandchildren whose biological parents can no longer care for them because of a substance use disorder.
"For more than three years, we have listened to heart wrenching stories of families broken apart by addiction," Sen. Yaw said. "As one testifier noted, addiction causes a chain reaction, affecting the addict as well as family members, friends and coworkers. Like other states, Pennsylvania is in the midst of one of the worst public health crises of our generation and now, as addiction rates continue to climb, grandparents are on the front lines of the epidemic. This hearing will examine ways that our state can make it easier and less burdensome for grandparents to assume the role of primary caregivers."
According to a 2016 report from Generations United, a Washington, D.C.-based family research and advocacy group, the rise in heroin and opioid use has led grandparents and other relatives to care for children. The report, The State of Grandfamilies in America: 2016, says that more relatives are raising children because the parents have died, are incarcerated, are using drugs, are in treatment or are otherwise unable to care for their children. Data from the U.S. Census Bureau show that, in 2015, about 88,700 grandparents in Pennsylvania were the primary caregivers for grandchildren living in the grandparents' households. That's a 10 percent increase since 2000, when about 80,400 grandparents statewide were the primary caregivers for grandchildren. In rural Pennsylvania, there was a roughly 28 percent increase in the number of grandparents who were considered primary caregivers over the 15-year period (19,789 in 2000 to 25,264 in 2015).
The hearing, scheduled for Wednesday, May 10, 2017, will begin at 9:30AM in Room 8-EB at the State Capitol Building and will feature testimony from: Mrs. Debbie Friday, a grandparent caring for her grandchildren; Aaron F. Ludwig, Esq., of Supinka & Supinka, PC; Mr. Douglas Amsley, Executive Director of Franklin County Children and Youth Services; and Ms. Nina Williams-Mbengue, Program Director with the National Conference of State Legislatures.
The hearing will be streamed LIVE at www.senatorgeneyaw.com.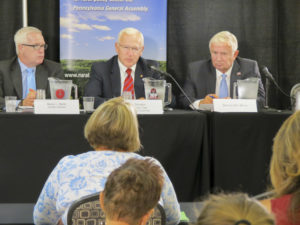 CONTACT:
Barry Denk, Director
The Center for Rural Pennsylvania
(717) 787-9555