HARRISBURG – The state Senate will carefully study the $34.1 billion General Fund Budget for Fiscal Year 2019-2020, which was unveiled by Governor Tom Wolf on Tuesday before a joint session of the General Assembly, according to Sen. Gene Yaw (R-23).
The Governor's budget proposal includes a $927.3 million increase in state spending from the current fiscal year. The Governor is not requesting a broad-based tax increase this year, but is continuing to push for a Marcellus Shale extraction tax and a fee for municipalities that rely on State Police for local police coverage.
"I think today's budget is a good starting point, and I'm encouraged that the Governor has not proposed any broad-based tax increases in his proposal," Sen. Yaw said. "He has indicated that he would like to continue working with the legislature, which is a good sign."
The Governor is requesting a $166 million increase in Basic Education Funding; a $50 million increase for early childhood education and a $50 million increase in special education funding. Further, the State System of Higher Education would see a $7 million increase, while state funding for community colleges and state-related universities is flat lined in the Governor's request.
Yaw added that he does have some concerns with the Governor's proposal.
"Governor Wolf mentioned workforce development in his remarks, but he doesn't set aside enough money for technology or tech education. This concerns me," Yaw noted. "Additionally, he cut several of the Department of Agriculture budget line-items, including Hardwoods Research and Promotion. My Senate District is at the center of the highest quality hardwood forests in the world. This, along with his proposal to cut agriculture promotion, education and exports concerns me. As a member of the Senate Appropriations Committee, I look forward to a more thorough review of his proposal."
Yaw said the Appropriations committee will hold three-weeks of budget hearings beginning on February 19. The hearings provide an opportunity for the Appropriations Committee to hear cabinet secretaries and other Administration officials detail their plans for the upcoming fiscal year. The state's current fiscal year ends on June 30.
For more state-related news and information, visit Senator Yaw's website at www.SenatorGeneYaw.com or on Facebook and Twitter @SenatorGeneYaw.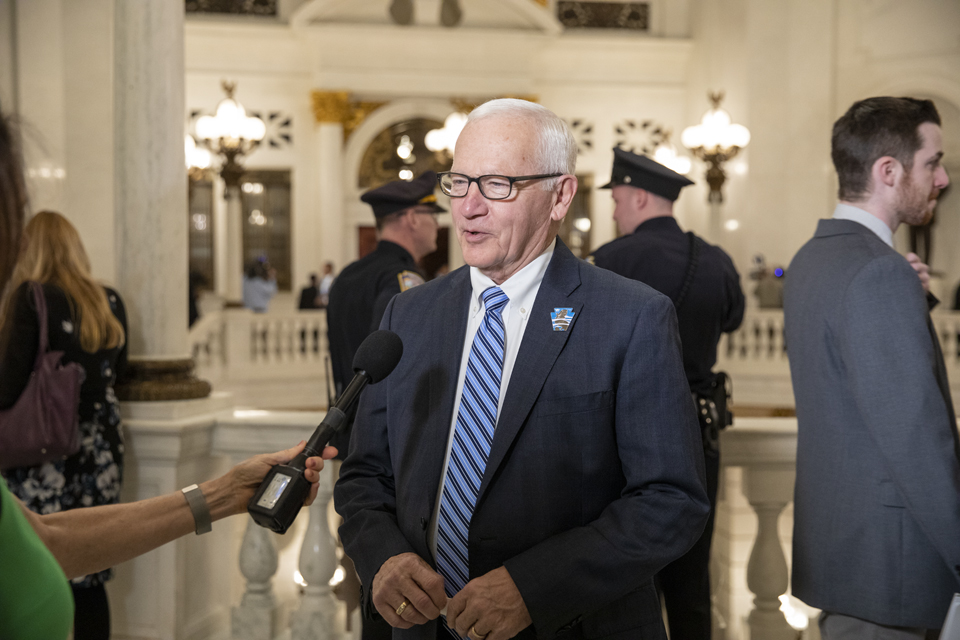 Sen. Yaw discusses Governor Wolf's 2019-20 Budget plan with reporters during a Capitol news conference on Tuesday in Harrisburg.
CONTACT:
Rita Zielonis, Chief of Staff
(717) 787-3280