HARRISBURG – State Sen. Gene Yaw (R-23) today announced that he will serve as Senate Co-Chair for the Pennsylvania Public Television Caucus during the 2019-2020 Session. Senator Yaw will serve along-side Senate Minority Leader Jay Costa (D-43) and state Representative Dan Frankel (D-23).
The Caucus is a bipartisan, bicameral legislative committee of Senate and House legislators working to support the state's seven public media stations through the development of policies, legislation, and state funding. The caucus will serve as a forum through which legislators and industry representatives can collaborate on the needs of the industry.
"If you had a television growing up, then the odds of you having access to public television networks was pretty good," Sen. Yaw said. "In my own backyard, WVIA has worked to inform, educate, enlighten, and enrich the public for decades. I was honored to join them recently for their "Battling Opioids" series to raise the awareness of the opioid epidemic plaguing our communities. I look forward to working with Senator Costa and other members of the Legislature on this Caucus and to address important policy issues pertaining to all of our public television stations," Sen. Yaw added.
Public Television is made up of local stations, national providers of programming and organizations devoted to technical support, management assistance and research. Today, the public television system is comprised of 170 licensees operating more than 350 public television stations across America and serving more than 98 percent of the American people. In Pennsylvania, seven stations – Philadelphia's WHYY Public Media, PBS39 in the Greater Lehigh Valley, Northeastern Pennsylvania's WVIA Public Media, WITF Public Media in Harrisburg, WPSU Penn State in State College, WQED Public Media in Pittsburgh, and WQLN Public Media in Northwestern Pennsylvania – are committed to education, public safety and civic leadership.
For more state-related news and information, visit Senator Yaw's website at www.SenatorGeneYaw.com or on Facebook and Twitter @SenatorGeneYaw.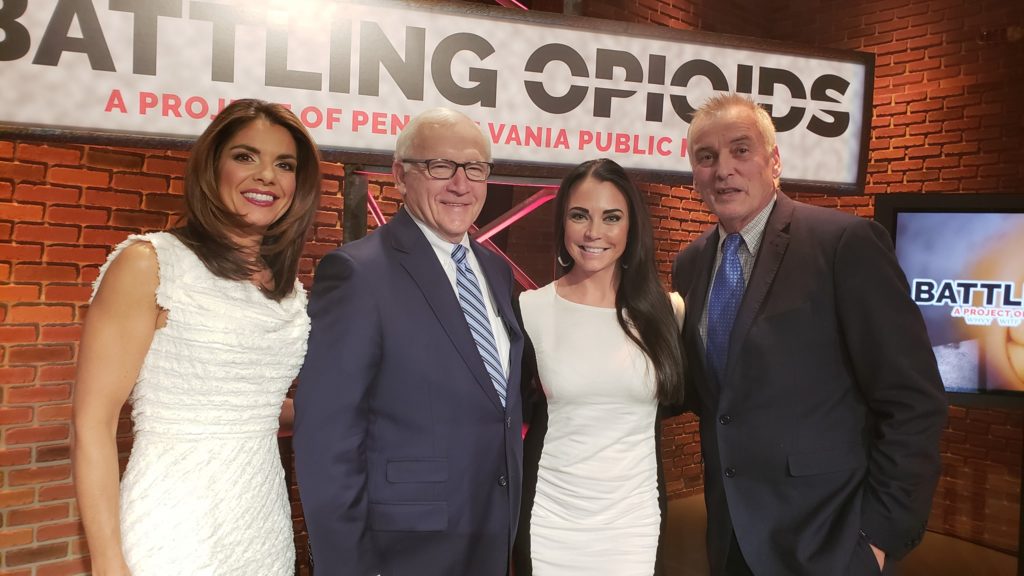 Senator Yaw joins (L to R) WVIA host Paola Giangiacomo and special guests Alexis Johnson and Don Tollefson for a "Battling Opioids" interview, which aired statewide on PBS.
CONTACT:
Rita Zielonis, Chief of Staff
(717) 787-3280