HARRISBURG – State Sen. Gene Yaw (R-23) today commended Gov. Tom Wolf for signing into law legislation designating a new, visible symbol of clean water for the Commonwealth of Pennsylvania.
During a ceremonial bill signing Tuesday at the State Capitol Building, the Governor signed Senate Bill 9, now Act 3 of 2019, a bipartisan bill designating the "Eastern Hellbender" as the first official "State Amphibian" of Pennsylvania. Yaw introduced the bill at the request of members of the Chesapeake Bay Foundation's (CBF) Pennsylvania Student Leadership Council.
"This bill is more than just about naming a new symbol for our state," Sen. Yaw said. "It's about fostering youth involvement in the legislative process, and championing an issue through that process. It's about advocating for clean water in Pennsylvania and promoting conservation programs that improve water quality for all of our species."
The Eastern Hellbender is the largest and most unique salamander in North America, attaining body lengths of up to 29 inches. The species is totally aquatic and inhabits large stream and rivers, feeding solely on crayfish and is a top level predator in the aquatic food chain. It is considered an indicator of good water quality and diverse aquatic habitat, and a contributor to the rich biological diversity in waterways.
The legislation, which was crafted by the CBF Pennsylvania Student Leadership Council, with assistance from Lycoming College's Clean Water Institute (CWI), will help promote conservation programs that protect and sustain the unique amphibian resources of the Commonwealth.
"It is my hope that other student leaders across the commonwealth may be inspired by our work. That they too will take action on behalf of the hellbender and clean water in the commonwealth. Making change is possible, no matter your age. All you need is dedication, support, and of course, a worthy cause," said Emma Stone, President, Chesapeake Bay Foundation, Pennsylvania Student Leadership Council.
"Today is a victory not only for hellbenders and clean water, but also for the power of student voices. It has been a remarkable experience to witness the growth and dedication of our student leaders as they tirelessly pursued this designation over the last few years. The Chesapeake Bay Foundation would like to thank Governor Wolf, Senator Yaw, and all the legislators who supported both the hellbender and our student leaders," said Emily Thorpe, Pennsylvania Student Leadership Coordinator, Chesapeake Bay Foundation.
"I am thrilled that the CBF Student Leadership Council and Senator Yaw have established the Eastern Hellbender as a meaningful symbol of the Commonwealth's unique biological diversity, and I am equally thrilled that I had multiple opportunities to educate and work alongside the students who made this all possible," said Dr. Peter Petokas, Lycoming College CWI.
"The uniqueness of the hellbender and its contribution to aquatic biological diversity are adequate justifications for this remarkable designation," Yaw added. "I applaud Governor Wolf for recognizing the importance of the hellbender to our state, and also for affirming for our young citizens that they can make a difference if they get involved in the governmental process."
To learn more about Lycoming College CWI's Hellbender Conservation Campaign, click here.
For more state-related news and information visit Senator Yaw's website at www.SenatorGeneYaw.com or on Facebook and Twitter @SenatorGeneYaw.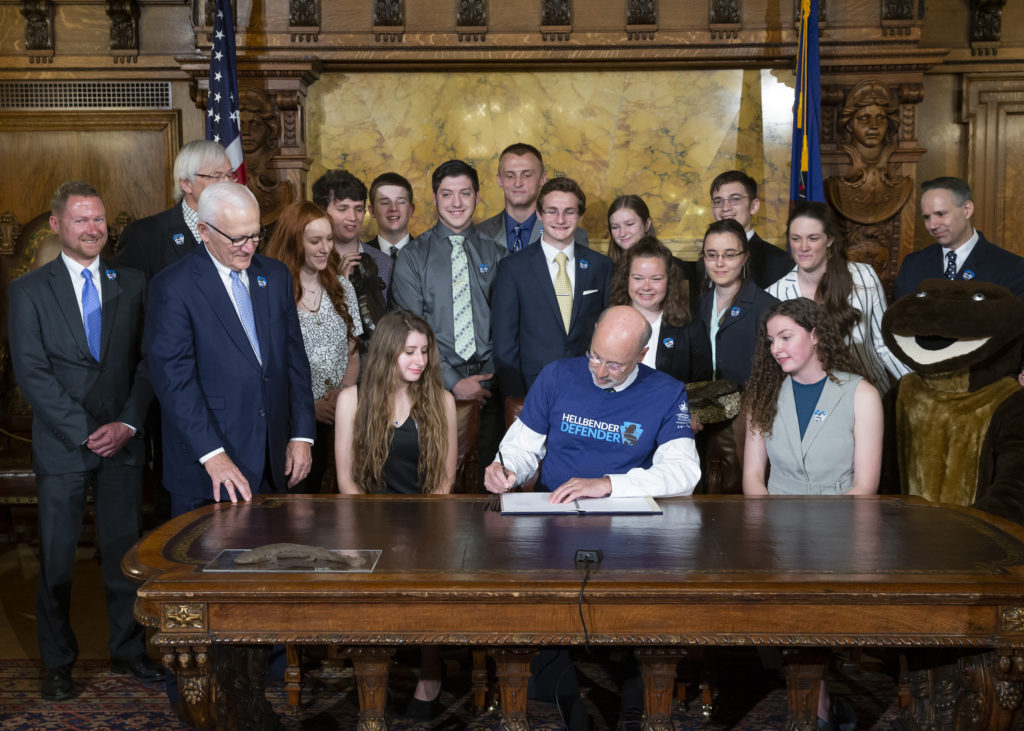 Sen. Gene Yaw joins Governor Tom Wolf and members of the Chesapeake Bay Foundation's (CBF) Pennsylvania Student Leadership Council, CBF Executive staff, staff from Lycoming College and the College's Clean Water Institute, Chesapeake Bay Commission members, as well as state agency Executive Department staff from DEP and the Fish and Boat Commission during the Governor's Ceremonial Bill Signing for Senate Bill 9 at the State Capitol.