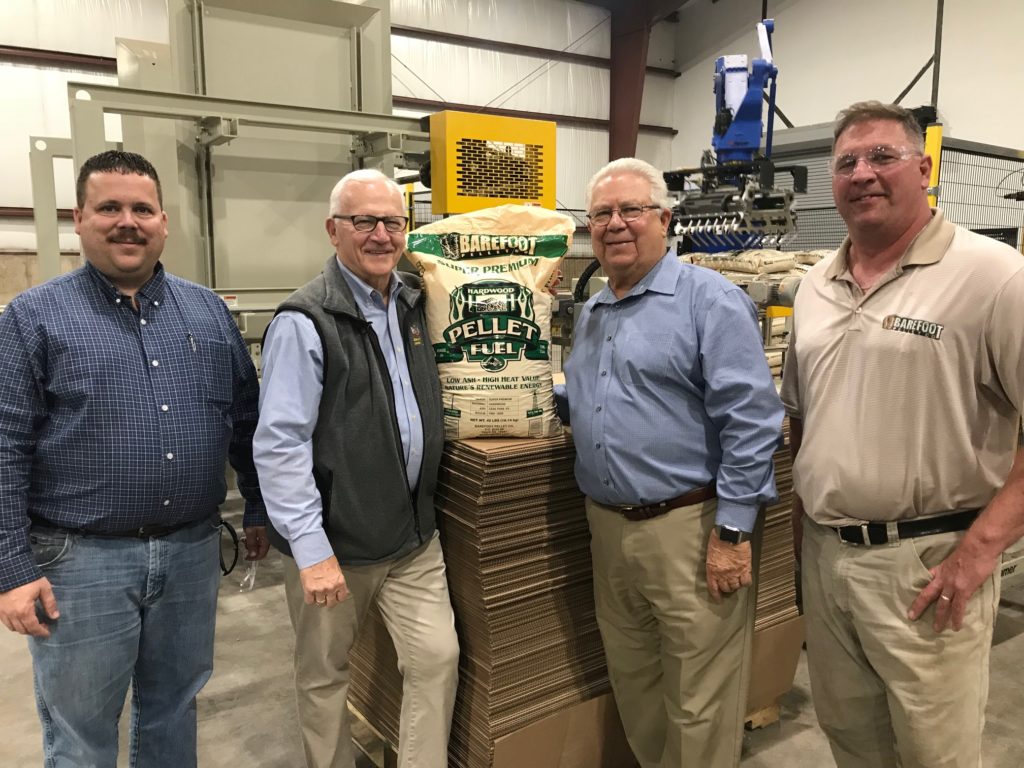 L to R: Scott Cummings, President, Cummings Lumber Co.; Sen. Gene Yaw; Roy Cummings Jr. and Mike Davison, Plant Manager at Barefoot Pellet Co.
HARRISBURG – This month, "A Conversation with Senator Gene Yaw (R-23)" tours Barefoot Brand Hardwood Flooring and Barefoot Pellet companies, headquartered in Troy, Bradford County, Pennsylvania.
Located in the scenic Endless Mountains, both companies manufacture some of the highest quality hardwood flooring and wood pellets in the industry.
"Both Barefoot Flooring and Barefoot Pellet company bring high-quality jobs to Bradford County, and create substantial economic benefits for our region," Sen. Yaw said. "It was very rewarding to visit these local businesses and see their operations in action."
The Senator's television report will air on: Blue Ridge Communications/Mansfield – Channel 13; Service Electric Cablevision – SECV Productions – Channel 8; Time Warner, Sayre; Adams Cable Service, Channel 7; Comcast/Williamsport – Click On Demand/Get Local/Local Government/State Senate/A Conversation with Senator Gene Yaw. Please check local listings for air times.
"A Conversation with Senator Gene Yaw" is intended to keep residents of the 23rd Senatorial District informed about state and local issues and to showcase the people, places, communities and businesses that make this region so unique.
Senator Yaw's television report is available online at www.senatorgeneyaw.com, click 'Newsroom' and 'A Conversation with Senator Gene Yaw'.
CONTACT:
Rita Zielonis, Chief of Staff
(717) 787-32