Feel free to share my E-Newsletter with friends and have them subscribe by, clicking here.

Monday, March 23, 2015
------------------------------Social Media------------------------------
#StayConnected
------------------------------At A Glance-----------------------------
Governor Wolf Budget Numbers At A Glance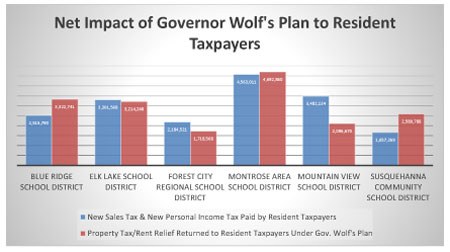 (Click the chart to view my Facebook page for additional school districts.)
---------------------------Budget Survey--------------------------
23rd Senate District Budget Survey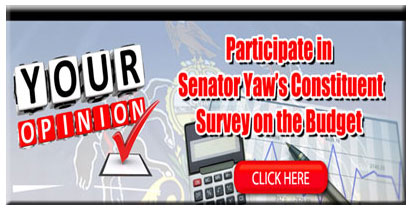 On Monday, March 16th, I initiated a survey across Bradford, Lycoming, Sullivan, Susquehanna and Union counties to measure how Governor Tom Wolf's budget proposal would impact individuals and families living in the 23rd Senate District. The survey is ongoing. If you know of someone who would like to complete it, please feel free to share this email with them.
-------------------------------This Week------------------------------
A Preview: State Senate Budget Hearings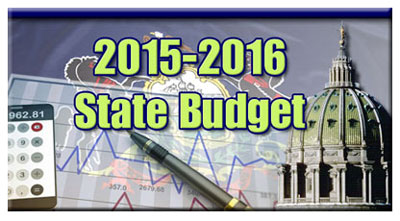 This week, state Senate Appropriations Committee hearings are continuing at the State Capitol to discuss Governor Tom Wolf's 2015-16 proposed state budget.
Members of the Committee will hear from:
Monday, March 23rd
9:30 AM Public Utility Commission
1:00 PM SERS/PSERS
3:00 PM Department of Health
Tuesday, March 24th
9:30 AM Department of Insurance
11:00 AM Thaddeus Stevens College of Technology
1:00 PM State-Related Universities
3:00 PM Department of Aging
Wednesday, March 25th
9:30 AM Department of Environmental Protection
1:00 PM Department of Corrections/Office of Probation and Parole
3:00 PM PA Liquor Control Board
Thursday, March 26th
9:30 AM Department of Human Services
1:00 PM Department of Community and Economic Development
3:00 PM Department of State
To watch the Senate Appropriations Hearings LIVE, or for more information on the Governor's proposed budget plan, visit my website, click here.
---------------Update on Post-Production Investigation------------
Attorney General Addresses Royalty Investigation
On Tuesday, March 17th, during questioning before the state Senate Appropriations Committee, Attorney General Kathleen Kane revealed that the Anti-Trust and Bureau of Consumer Protection Divisions of the Attorney General's Office have conducted hundreds of interviews with landowners, receiving land leases and documents, since last year, concerning the deduction of natural gas post-production costs from landowner royalty payments.
"I can't comment on where it (the investigation) is right now, but I can tell you that we're almost wrapping it up," Attorney General Kane noted. "It was a very thorough investigation. I really want to commend our office. That was a lot of interviews to do in parts of the state, it takes a while to travel to, as well."
To read more, click here.
-----------------------------In the 23rd-----------------------------
Yaw Meets With PA Association of Retired State Employees (PARSE)
On Thursday, March 19th, I joined Senator John Gordner and Representative Lynda Schlegel Culver to visit with the Montour, Union, Northumberland, Snyder Counties Chapter of the PA Association of Retired State Employees at the Country Cupboard in Lewisburg. The topic of discussion was the Governor's 2015-16 budget proposal.
PARSE provides access to information on all aspects of retirement, and maintains contact with the State Legislature and Governor's Office to express the opinions of their members and retirees on issues of concern.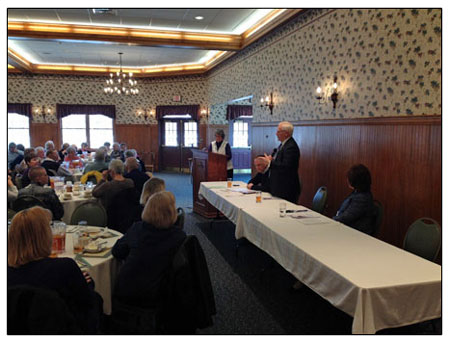 -----------------------------In the News-----------------------------
2-1-1 Comes to Susquehanna County
With the support and financial assistance of the Susquehanna County Commissioners, Alan Hall, Michael J. Giangrieco, and MaryAnn Warren, United Way of Susquehanna County in partnership with Family Service Association of Northeastern PA, has connected county residents to 2-1-1.
What is 2-1-1?
2-1-1 is an easy-to-remember three-digit phone number that brings people and health and human services together.
What types of information are available by calling 2-1-1?
There are six basic types of assistance housed in the PA 2-1-1 database: Emergency Preparedness/Recovery; Basic Human Needs; Physical and Mental Health Resources; Employment Supports; Support for Older Americans and Persons with Disabilities; and Children, Youth and Families.
Please contact United Way of Susquehanna County with questions at 570-465-3868 or visit their website.
----------------FFA Legislative Leadership Conference-------------
Bradford County FFA Chapters Visit the State Capitol
On Tuesday, March 17th, my office welcomed students from the Athens, Canton, Northeast Bradford and Troy Future Farmers of America (FFA) Chapters in Bradford County to the State Capitol Building.
The students were in Harrisburg for the 28th Annual State FFA Legislative Leadership Conference.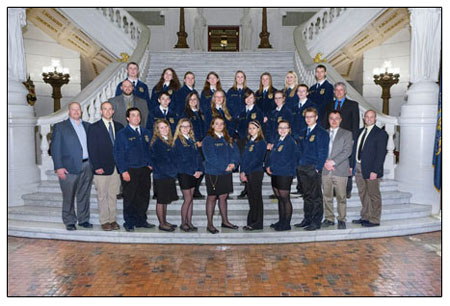 While in Harrisburg, students learned of the practices of parliamentary procedure and discussed various bills that are presently being debated. Also during their visit, the FFA members performed community service in the area. It's always a pleasure to welcome these fine young students!
------------------------District Outreaches--------------------------
Do You Need Assistance With State Forms?
Do you need assistance completing Property Tax/Rent Rebate forms, or other related applications? My staff stands ready to assist you. The following district outreaches have been scheduled, and are updated frequently on my website.
Tuesday, March 24, 2015
Susquehanna County Conservation District
88 Chenango Street
Montrose, PA 18801
10 a.m. – 2 p.m.
---
If you do not wish to receive this email, click here to unsubscribe.
Privacy Policy
2015 © Senate of Pennsylvania
senatorgeneyaw.com