Feel free to share my E-Newsletter with friends and have them subscribe by, clicking here.
Monday, April 20, 2015
#StayConnected
This Week: Voting Session Continues in the State Senate

The state Senate returns to voting session this week. Live web streams of Senate session and the majority of committee meetings are available on my website at www.senatorgeneyaw.com.
Important information, events and breaking news may also be viewed by visiting my Website, Facebook and Twitter pages.
Child Abuse Prevention Month
April is Child Abuse Prevention Month
On Tuesday, April 14th, the Senate adopted Resolution 63 designating April 2015 as Child Abuse Prevention Month in Pennsylvania.
In 2013, there were 3,425 substantiated cases of child abuse in the Commonwealth, with 38 children dying as a result of abuse and neglect.
The child abuse background check law, which recently took effect, has generated a lot of confusion. (More information can be viewed on my website, click here.)
Here are few important points regarding the new state law (as seen in the April 15th Edition of the Patriot News):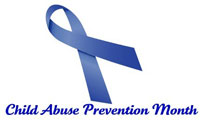 Background checks are only required for individuals with ongoing or routine interaction with children.

With respect to volunteers, only those volunteers 18 years old or older are subject to the requirements.

Individuals ages 14-17 who have paid positions that entail working routinely and directly with children are subject to the requirements.

Employees who were working with children on a routine basis prior to Dec. 31, 2014, and had no clearances or had ones that were older than three years old have until Dec. 31, 2015, to comply with the requirements.

Employees hired after Dec. 31, 2014, must get the background clearances before starting a job that involves regular contact with children.

Beginning July 1, new adult volunteers who work with children will be required to obtain the clearances prior to starting their volunteer work.

Existing adult volunteers who work with children have until July 1, 2016 to obtain the clearances.

For volunteers, the clearances are portable, meaning they can obtained for one organization and shared with others that require them.
Proposals to Change the Design of Public Pensions
On Wednesday, April 15th, the Senate Finance Committee conducted a public hearing on pension reform. Witnesses included the Pew Foundation, the Mercadus Center from George Mason University, the Commonwealth Foundation, TIAA-CREF, SEIU, PSEA, and an independent actuary.
Pension reform will continue to be a priority this legislative session. If you missed Wednesday's hearing, you can view it here. Legislation is expected to be introduced in the Senate in the coming weeks.

Legislation to Strengthen the Family Farm Passes Committee
Last week, the Senate Finance Committee unanimously approved legislation that clarifies a 2012 law that exempts family farms from the state inheritance tax. I was pleased to co-sponsor Senate Bill 580, which now goes before the full Senate for consideration.
Senate Bill 580 is strongly supported by the Pennsylvania Farm Bureau and other agricultural groups.

Senate Bill to Crack Down on Stolen Valor Claims
Last week, the Senate also unanimously passed legislation that would make it a crime for Pennsylvania motorists to falsely claim "veteran" status on their driver's license application. Senate Bill 42 mirrors Senate Bill 1405 of last session, which passed the full Senate unanimously but failed to win enactment before the session ended.
The legislation addresses concerns raised after a new state law allowed veterans to obtain an honorary designation on their driver's license. Long sought by veterans' groups, the designation makes it easier to identify current and former members of the military for many discounts, programs and services.

Bill Would Eliminate Redundant Background Check System
Legislation has been introduced in the Senate that would help save taxpayer dollars and streamline the purchase of firearms by eliminating a redundant state background check system.
Individuals who wish to purchase a firearm must first pass background checks through both the Pennsylvania Instant Check System (PICS) and the National Instant Check System (NICS). The proposal would eliminate PICS and use NICS exclusively to conduct background checks.
A 2011 report from the Legislative Budget and Finance Committee (LBFC) found that two-thirds of PICS's revenue comes from the General Fund to sustain its annual budget of over $6 million.
State System Day at the Capitol
Mansfield University Students and Faculty Visit Harrisburg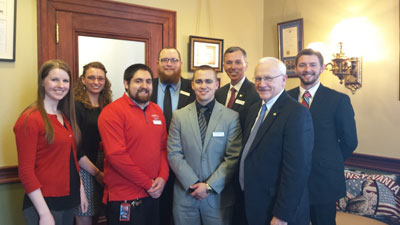 On Wednesday, April 15, students and faculty visited with me in Harrisburg during the PA State System of Higher Education State System Day at the State Capitol. General Francis Hendricks, President of Mansfield University, trustees, faculty and students discussed the importance of higher education and provided a vision of their University.
Timberhaven Ships Custom Log Home to Ireland
Timberhaven Log Homes, located in Union County, manufactures custom log home packages of all shapes and sizes. Most recently, Timberhaven manufactured a fully customized log home for a customer in Ireland.
The 6,608-square-foot log home features the company's customary 6' x 8' D-shaped laminated logs, multiple offices, three bedrooms, five bathrooms, a 66-ft. deck, and a sitting room the size of an average home. More than 1.5 miles of logs were produced for this one-of-a-kind home.
Through many conversations and a half-day site visit, the company worked hand-in-hand with PA's regional export network partner, SEDA-COG, to thoroughly educate themselves on export compliance, shipping and logistics, and required testing procedures for their wood materials.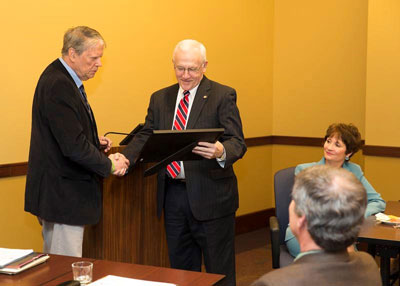 On Monday, April 12th, I was honored to be recognized by the Pennsylvania Association of County Drug and Alcohol Administrators, an affiliate of the County Commissioners Association of Pennsylvania (CCAP), for the work undertaken by The Center for Rural Pennsylvania to address the heroin epidemic facing our state.
While I am deeply humbled by this recognition, the accomplishments achieved in Pennsylvania pale in comparison to the work that lies ahead. Although the Center's focus was specifically on heroin use in rural Pennsylvania, we know addiction has no municipal, county, or state boundaries. It is, across the board, a statewide and national epidemic impacting residents of every age, race, gender and socioeconomic background. Simply locking people behind bars is not the answer. We, as a state, must do more.
I would also like to offer a special thanks to the Center's staff, Barry Denk, Mary Kandray Gelenser, Christine Caldara Piatos, Jonathan Johnson & Linda Lebo for all of their hard work on this important issue. They are to be commended!
New Hunting/Fishing Apps Available
PA Game Commission, Fish Commission Launch New Apps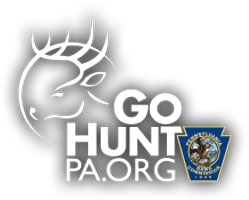 The Pennsylvania Game Commission has launched its new GoHuntPA Toolkit, a features-loaded, free app available through the GoHuntPA.org website.
The app is designed to be handy for hunters, whether they're viewing it at home in preparation for a hunt, or putting it to the test in the field. According to the Game Commission, the GoHuntPA Toolkit is the simplest way yet to find huntable tracts of state game lands, learn more about the habitat and wildlife there, and even view maps showing where the parking lots are located.
To download the GoHuntPA Toolkit, visit GoHuntPA.org, or simply visit your device's app store and search for the toolkit by name.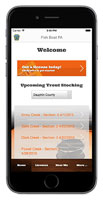 Additionally, The Pennsylvania Fish and Boat Commission has a new smartphone app to help anglers and boaters better navigate the Keystone State's streams and lakes. The "FishBoatPA" app will help Pennsylvania's fish and boat community to see which streams have been stocked with trout, how to get to those locations easily, and what other access areas are near their current fishing spot.
The app is now available for free on both Google's Play Store and Apple's App Store.
---
If you do not wish to receive this email, click here to unsubscribe.
Privacy Policy
2015 © Senate of Pennsylvania
senatorgeneyaw.com