Feel free to share my E-Newsletter with friends and have them subscribe by, clicking here.
Monday, April 27, 2015
#StayConnected
Senate Committee Approves Taxpayer Protection Measures
On April 21st, the Senate Finance Committee approved legislation that would limit the growth of government spending by setting state spending parameters in the Pennsylvania Constitution. Senate Bill 70 would limit state spending growth based on inflation and population growth.
The bill would require an amendment to the Pennsylvania Constitution, so lawmakers would have to approve the bill in two consecutive legislative sessions before giving voters the final say via referendum.
The panel also approved Senate Bill 7, legislation that would enact spending controls and ensure any excess funds collected by the state would be used to pay down pension obligations, boost budgetary reserves and reduce the Personal Income Tax rate.
Medical Marijuana Bill Advances
On April 21st, the Senate State Government Committee also met to consider Senate Bill 3, legislation to allow physicians in Pennsylvania to recommend medicinal cannabis to patients who would medically benefit from such a treatment. The legislation, which I co-sponsored, was unanimously supported and approved by the Committee. The legislation now moves to the Senate Appropriations Committee for further consideration.
Bill to Combat Opioid Dependence Endorsed
The Senate Judiciary Committee, of which I serve as a member, recently endorsed Senate Bill 524. This legislation will require providers and law enforcement officials to receive training and education on non-narcotic, non-addictive FDA approved medications for the treatment of opioid dependence. The bill also establishes a multiple county jail re-entry project utilizing effective comprehensive treatment, case management and non-narcotic medication.
A Behind-the-Scenes Tour of the Pennsylvania Department of Treasury,
Bureau of Unclaimed Property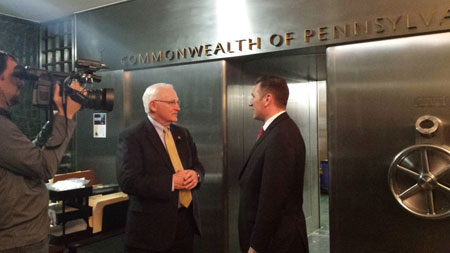 On May 1st, a 'Conversation with Senator Gene Yaw' will take a "behind-the-scenes" tour of the Pennsylvania Department of Treasury, Bureau of Unclaimed Property. For a show preview, click here.
The program airs on: Blue Ridge Communications/Mansfield - Channel 13; CATV - Channel 8; Time Warner, Sayre; Adams Cable Service, Channel 7; Comcast/Williamsport - Click On Demand/Get Local/Local Government/State Senate/A Conversation with Senator Gene Yaw.
Please check local listings for air times.
A 'Conversation with Senator Gene Yaw' is intended to keep residents of the 23rd Senatorial District, which consists of Lycoming, Bradford, Sullivan, Susquehanna and Union counties, informed about state and local issues and to showcase the people, places and communities that make this area so unique.
The television report is also available online at www.senatorgeneyaw.com.
Lycoming College "Student Lobby Day"
On Tuesday, April 21st, students and faculty from Lycoming College in Williamsport visited with me in Harrisburg during their annual "Student Lobby Day" at the State Capitol.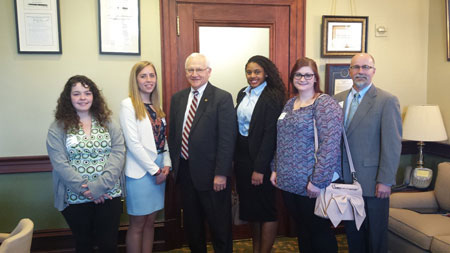 A Disaster Loan Deadline in Pennsylvania is Approaching
The U.S. Small Business Administration (SBA) is reminding small businesses, small agricultural cooperatives, small aquaculture businesses and most private nonprofit organizations located in Bradford, Potter and Tioga counties in Pennsylvania that May 26, 2015 is the deadline to apply for a working capital disaster loan as a result of excessive rain, flooding, high winds and hail from April 1 through July 8, 2014.
Under this declaration, the SBA's Economic Injury Disaster Loan program is available to eligible farm-related and nonfarm-related entities that suffered financial losses as a direct result of this disaster. With the exception of aquaculture enterprises, SBA cannot provide disaster loans to agricultural producers, farmers or ranchers.
The loan amount can be up to $2 million with interest rates of 2.625 percent for private nonprofit organizations and 4 percent for small businesses, with terms up to 30 years. The SBA determines eligibility based on the size of the applicant, type of activity and its financial resources. Loan amounts and terms are set by the SBA and are based on each applicant's financial condition. These working capital loans may be used to pay fixed debts, payroll, accounts payable, and other bills that could have been paid had the disaster not occurred. The loans are not intended to replace lost sales or profits.
Applicants may apply online using the Electronic Loan Application (ELA) via SBA's secure website.
Disaster loan information and application forms may also be obtained by calling the SBA's Customer Service Center at 800-659-2955 (800-877-8339 for the deaf and hard-of-hearing) or by sending an email to disastercustomerservice@sba.gov. Loan applications can be downloaded from www.sba.gov/disaster. Completed applications should be mailed to: U.S. Small Business Administration, Processing and Disbursement Center, 14925 Kingsport Road, Fort Worth, TX 76155.
Touring the International Harvester Collectors Museum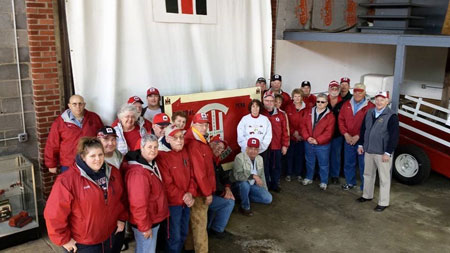 Members from the Central PA IH Chapter 17 Club in Millville
Pictured above: Sen. Yaw (L) and Bill Brooks III (R) of Trout Run, member of the Chapter 17 Club
On April 24th, I visited the International Harvester Collectors Club, Chapter 17, Museum in Millville.
The Central Pennsylvania chapter exhibits International Harvester agricultural, industrial and military equipment, along with home appliances and memorabilia from Chapter 17 members' personal collections and original Frank Bartlow dealership collections.
I'd like to send a special 'Thank You' to Ben Trapani, Chapter 17 President, Bill and Sherry Brooks, and all of the Club members for showcasing their equipment and for the very warm welcome! I look forward to visiting again.
Health Screenings Available
Health Screenings Available in Susquehanna County
The Susquehanna County State Health Center will be conducting health screenings in May.
FREE Blood Pressure Clinic
May 7th: 9AM-11AM
Susquehanna County State Health Center
157 Spruce Street, Suite 2
Montrose.
Immunization Clinic
May 14th: 9AM-11AM
Susquehanna County State Health Center
157 Spruce Street, Suite 2
Montrose.
Vaccines will be distributed to those uninsured (no insurance) or underinsured
(your insurance does not cover the vaccine) adults who meet the eligibility requirements.
STD/HIV Clinic
May 27th: 9AM-11AM
Susquehanna County State Health Center
157 Spruce Street, Suite 2
Montrose.
---
If you do not wish to receive this email, click here to unsubscribe.
Privacy Policy
2015 © Senate of Pennsylvania
senatorgeneyaw.com