Monday, May 11, 2015

Dear Friends,
Hello! Thank you for subscribing to my E-newsletter. I am honored to serve the 23rd Senate District and look forward to working with you toward building a better future for Pennsylvania!
This E-newsletter serves to keep you updated on what is happening throughout Bradford, Lycoming, Sullivan, Susquehanna and Union counties and what I am doing as your state senator in Harrisburg. I hope that you will find this E-newsletter helpful, and if you have any questions or concerns, please feel free to contact me.
Gene Yaw
State Senator
www.SenatorGeneYaw.com
This Week: Voting Session Continues in the State Senate
Convenes Today at 1 PM - Watch Live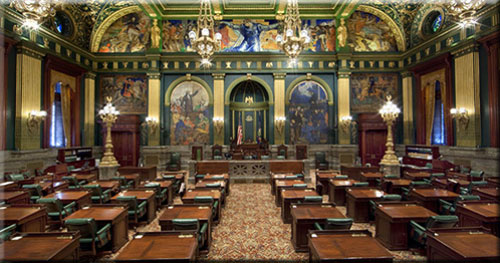 On Tuesday, May 12th, the Senate Agriculture and Rural Affairs Committee will convene to consider the nomination of Acting Secretary Russell Redding as Secretary of the Department of Agriculture. The meeting begins at noon in Room 8E-A of the Capitol East Wing.
On Wednesday, May 13th, the Senate Environmental Resources & Energy Committee will convene to consider the nomination of Acting Secretary Cindy Dunn as Secretary of the Department of Conservation and Natural Resources (DCNR). The meeting begins at 9 a.m. in Room 461 of the State Capitol.
Pension Reform Bill to be Introduced
On Wednesday, May 6th, I co-sponsored comprehensive legislation designed to modernize the Commonwealth's retirement systems in order to bring significant updates to the funding, sustainability and fiscal responsibility of the state's two main pension funds. The Senate proposal is in line with the vast majority of private sector 401k style pension plans.
Senate Bill 1 provides choices for current and future employees to create a pension plan that they tailor to suit their needs. This plan allows employees to benefit when the pension system is meeting its investment expectations, yet shields them when it falls short. I emphasize that this proposal does not reduce in any manner and makes no changes whatsoever to the benefits already earned by existing employees or retirees.
Currently, the amount of money needed to meet the public pension obligations is unsustainable. This year alone, the Commonwealth faces a $1 billion increase in its pension obligations.
Committee Approves Collective Bargaining Transparency Bill
The Senate State Government Committee recently approved a bill that would add transparency to negotiations between public sector unions and state and local governments.
Senate Bill 643 would amend the Pennsylvania Sunshine Law to require public notice and access to any meeting where a public sector collective bargaining agreement is negotiated. The requirement would apply to collective bargaining agreement negotiations at the local and state level, including upcoming negotiations between Governor Wolf and public employee unions.
Lycoming County School Superintendents Visit Harrisburg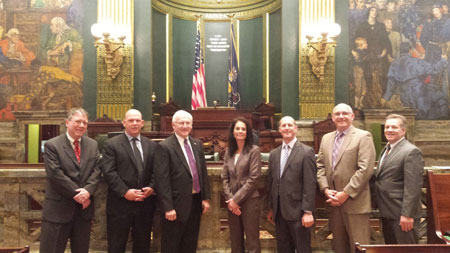 Pictured (L to R): Don Adams, Superintendent – Williamsport Area School District; Timothy Bowers, Superintendent – Montoursville Area School District; (Sen. Yaw); Daphne Bowers, Superintendent – Montgomery Area School District; Jason Fink, Executive Director of the Williamsport/Lycoming Chamber of Commerce; Michael Pawlik, Superintendent – East Lycoming School District; Gerald McLaughlin, Superintendent – Loyalsock Township School District.
On Monday, May 4th, I had the opportunity to welcome special guests from Lycoming County to the Senate Chamber. School Superintendents from across the county toured the Capitol Building and also had an opportunity to meet with Senator Lloyd Smucker, Chairman of the Senate Education Committee, to discuss important district issues.

Pennsylvania Coal Queen
Addresses State Senate
On Tuesday, May 5th, I had the opportunity to meet Pennsylvania's 2015 Coal Queen Alyssa Gallagher.
While in Harrisburg, Alyssa addressed the full state Senate highlighting the importance of coal and coal technology to our economy.
Center for Rural Pennsylvania Newsletter
The May/June edition of Rural Perspectives, the Center for Rural Pennsylvania's newsletter, takes an updated look at municipal pension plans in its Rural Snapshot article.
A 2013 study of Pennsylvania municipal pensions, sponsored by the Center and available at www.rural.palegislature.us, found that many of Pennsylvania's rural communities are doing it right when it comes to their municipal pension obligations. The research suggested that rural pension plans should not be consolidated with urban pension plans, as other studies have suggested. It found that a one-size-fits-all consolidation would combine pension plans that are fully funded with others that have unfunded liabilities in excess of $6 billion.
The Center's study was not able to examine administrative costs and does not dispute other findings concerning such costs. However, it remains a significant point that those studies did not examine pension plans by a rural/urban designation, and raises questions about the real benefit of one consolidated municipal pension plan. Therefore, as I have indicated in the past, before any policy changes regarding municipal pension plan consolidations are made, systematic problems should first be identified and appropriately remedied. This can help to ensure that these changes actually address the problem and are fair and equitable for all municipalities. To review the Newsletter, click here.


2015 Coaches Caravan Comes to Harrisburg
The 2015 Penn State Coaches Caravan hit the road last Tuesday and stopped by the State Capitol Building. This was their first stop of a six-event week on the Coaches Caravan.
Director of Athletics Sandy Barbour and head coaches James Franklin, Guy Gadowsky and Denise St. Pierre headlined the first day of the road tour on Tuesday.
Cities Where the Middle Class is Rising
City of Williamsport Mentioned
by Sreekar Jasthi on May 4, 2015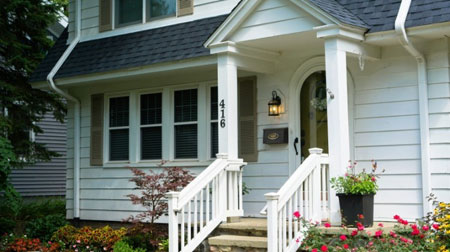 The middle class in America has long been called one of the strongest and most powerful middle classes in the world. In recent decades, however, the U.S. middle class has been shrinking, and in the past few years, stagnant income growth has been a major reason.
U.S. households have seen different rates of growth in earnings over the past 40 years depending on their income group. The table below shows the change in average household income, adjusted for inflation, from 1973 to 2013 for different income groups: the 20% in the lowest-earning group, the middle 60% we identified as the middle class and the highest-earning 20%, which includes the top 5% of households. To read more, click here.
---
If you do not wish to receive this email, click here to unsubscribe.
Privacy Policy
2015 © Senate of Pennsylvania
senatorgeneyaw.com