Monday, June 8, 2015

Dear Friends,
Hello! Thank you for subscribing to my E-newsletter. I am honored to serve the 23rd Senate District and look forward to working with you toward building a better future for Pennsylvania!
This E-newsletter serves to keep you updated on what is happening throughout Bradford, Lycoming, Sullivan, Susquehanna and Union counties and what I am doing as your state senator in Harrisburg. I hope that you will find this E-newsletter helpful, and if you have any questions or concerns, please feel free to contact me.
Gene Yaw
State Senator
www.SenatorGeneYaw.com
Session Convenes Today at 10 a.m.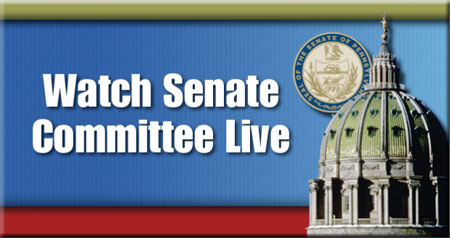 On Tuesday June 9th, the Senate Transportation Committee and the Senate Environmental Resources and Energy Committee will hold a joint hearing to collect testimony on the Safe Transportation of Crude Oil (and other energy products) by Rail in Pennsylvania. The hearing will be streamed LIVE, beginning at 9 a.m., click here.
On Wednesday, June 10th, the Senate Finance Committee will hold a hearing to discuss proposals to increase the sales/use tax and the personal income tax. The hearing will take place at 2 p.m. in Hearing Room 1 of the North Office Building. Watch LIVE
On Thursday, June 11th, the Senate Environmental Resources and Energy Committee will hold a public hearing in Pottsville, Schuylkill County, to consider issues directly affecting Pennsylvania's anthracite coal industry and coal-refuse fired alternative energy plants.
For over two hundred years, Pennsylvania anthracite coal has played an important part in our energy portfolio, supplying domestic and international markets and creating countless direct and indirect jobs in Northeastern and Central Pennsylvania. Unfortunately, crippling environmental regulations and overreach from state and federal authorities are having significant economic consequences. The fact is, we don't have to choose between the economy and the environment - we can continue to create family sustaining jobs, while limiting environmental impacts if we work cooperatively. I look forward to joining Senator Argall for this important public hearing.
The hearing will take place at Pottsville City Hall and will begin at 11 a.m. The public is invited to attend.

June 1st Hearing Focuses on Natural Gas Severance Tax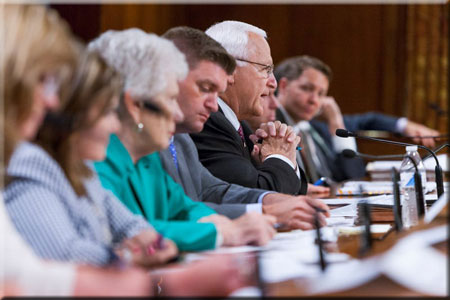 Legislation imposing a severance tax on natural gas extracted in Pennsylvania was the topic of conversation by lawmakers last week during a joint Senate public hearing in Harrisburg.
Senator John Eichelberger, Chairman of the Senate Finance Committee and I convened the hearing to examine complexities and impacts of implementation of a shale tax on the Commonwealth's natural gas drilling industry.
In February, Governor Tom Wolf outlined his platform for education reinvestment that requires enactment of a five percent severance tax, in addition to 4.7 cents per thousand cubic feet of gas extracted, to fully fund his proposal.
As the Wolf Administration pushes for a severance tax, we must be mindful of the opportunities currently being offered to our citizens as the result of Pennsylvania's Act 13 impact fee law. No other law in recent memory has brought so much back to rural Pennsylvania and I do not want to see that changed.
To view the full hearing video, click here.

State Senate Approves Government Transparency Bill
Last week, the state Senate unanimously passed bi-partisan legislation to improve access to lobbying disclosure data.
Senate Bill 695 requires lobbyists and lobbying firms to register and file reports electronically through the computerized system developed by the Pennsylvania Department of State. In addition, the Department will be required to post on its Lobbyist Disclosure website all lobbying registration and reporting documents it receives within a week of the filing.
Senate Approves Bill to Increase Access to Child Immunizations
Legislation introduced to increase access to child immunizations was also approved by the state Senate.
Senate Bill 305 would allow pharmacists the ability to administer the flu vaccine to children 9 years of age and older with parental consent. The legislation would also permit pharmacy interns who have completed appropriate training to administer the flu vaccine under pharmacist supervision.
Current state law allows pharmacists and pharmacy interns to immunize only adults.
Committee Approves Caps on Punitive Damages Against Personal Care Facilities
The Senate Banking and Insurance Committee approved legislation that would place caps on punitive damages against personal care facilities.
Senate Bill 747 would require the state insurance Commissioner to investigate the awarding of punitive damages in cases brought within the health care industry over the past 10 years.
At the Committee meeting, an amendment was offered to the legislation to add the capping of punitive damages in cases against personal care homes, assisted living communities, long-term care nursing facilities and their employees and officials at 200 percent of the compensatory damages awarded in a lawsuit. This provision would be consistent with the cap currently placed on punitive damages awarded against physicians.
If you happen to be the operator of a facility like this and you face unlimited amounts of punitive damages, the risk is so great that you will settle cases that you normally would not settle because the risk is so high. All we are doing is lowing that risk level to the same playing field as doctors are. If a person has a good case, they are still going to pursue it.
Senate Bill 747 now moves to the full Senate for consideration.

Senate Law & Justice Committee Takes No Position on PSP Acting Commissioner Brown Nomination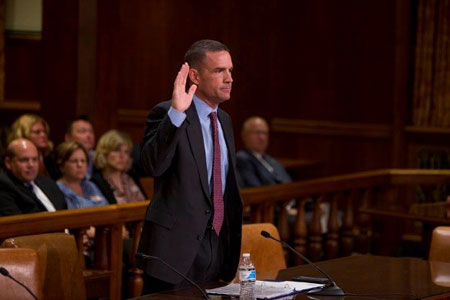 The Senate Law and Justice Committee took no position on Acting State Police Commissioner Col. Marcus Brown's nomination last week. The full state Senate is expected to consider his nomination in the coming weeks.
Senate Confirms Three Cabinet Secretaries Last Week
The Senate confirmed three Cabinet Nominations last week that include:
DEP Secretary Hearing Re-Cap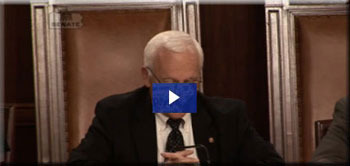 On June 3rd, by a vote of 44-4, Acting Secretary John Quigley was confirmed as Secretary of the Department of Environmental Protection (DEP). I had the opportunity to question Acting Sec. Quigley on a number of important matters. For a complete hearing re-cap, click here.

Youth Leadership Program Holds Graduation in Bradford County
Students in the Greater Wyalusing Chamber of Commerce's Youth Leadership Program held their graduation event Thursday May 28, in the Tuscarora Wayne Community room at the Chamber building. Congratulations to all graduating students!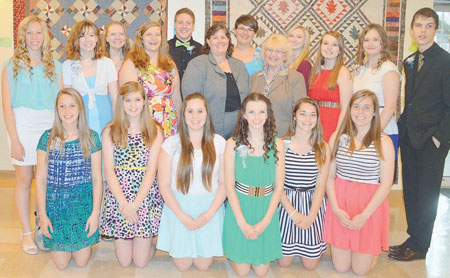 [Pictured are, front row, from left: Kyleigh Jo Ward, Mikayla Hallett, Gerrica Clouse, Julia Edwards, Mae McGrath and Autumn Owens. Back row: Ashley Van-Horn, Kenna Clouse, Sammi Smiley, Maggie Poost, Derrick Clark, Janenne Goliash – Aide to Senator Yaw, Marissa Voda, State Rep. Tina Pickett, Summer Putnam, Becky Raymond, Amanda Brown and Kendrick Szemple. Photo by Amy Girven]

Department of Revenue News
Property Tax/Rent Rebate Program Application Deadline Extended to End of Year
The Property Tax/Rent Rebate program deadline for older adults and residents with disabilities to apply for rebates of rent and property taxes paid in 2014 has been extended from June 30 to Dec. 31, 2015.
Applicants may obtain Property Tax/Rent Rebate claim forms (PA-1000) and related information online at the Department of Revenue website or by calling, toll-free, 1-888-222-9190.
It costs nothing to apply for a rebate and the PA Department of Revenue reminds residents that free application assistance is available at hundreds of locations across the state, including Department of Revenue district offices, local Area Agencies on Aging, senior centers and state legislators' offices.
Claimants who already applied for rebates may check the status of claims online here or by calling, toll-free, 1-888-PATAXES.

Funding & Financing Opportunities
Rural Local Initiatives Support Corporation Funding Opportunities
USDA Housing and Community Facilities Programs is offering Rural Housing Preservation Grants (Section 533) to organizations that work to assist rural low-income homeowners and renters to repair and rehabilitate their homes. Deadline: 7/6/2015. Click here for funding guidelines.
USDA is accepting applications to provide technical assistance to socially-disadvantaged groups in rural areas. Eligible applicants include groups of cooperatives, cooperative development centers and individual cooperatives that serve socially-disadvantaged groups. These grants will help socially-disadvantaged business owners develop the tools and skills they need to grow their enterprises and succeed at creating jobs and expanding economic opportunities in rural areas. Deadlines: electronic applications 7/14/2015; mailed applications must be postmarked by 7/20/2015. Click here for guidelines.
USDA Rural Development has issued a NOFA for the Rural Community Development Initiative (RCDI) which provides funding to help nonprofit housing and community development organizations support housing, community facilities, and community and economic development projects in rural areas. Deadline to apply: 8/13/2015. Click here to visit the website to learn more about this program.
THE FOUNDATION FOR RURAL SERVICE provides grants for programs in rural communities served by the National Telecommunications Cooperative Association (NTCA) members. Grants are awarded in the areas of business development, community development, education, and telecommunications. Deadline: 10/1/2015. Click here to visit the program website for more information.

---
If you do not wish to receive this email, click here to unsubscribe.
Privacy Policy
2015 © Senate of Pennsylvania
senatorgeneyaw.com