Monday, June 15, 2015

Dear Friends,
Hello! Thank you for subscribing to my E-newsletter. I am honored to serve the 23rd Senate District and look forward to working with you toward building a better future for Pennsylvania!
This E-newsletter serves to keep you updated on what is happening throughout Bradford, Lycoming, Sullivan, Susquehanna and Union counties and what I am doing as your state senator in Harrisburg. I hope that you will find this E-newsletter helpful, and if you have any questions or concerns, please feel free to contact me.
Gene Yaw
State Senator
www.SenatorGeneYaw.com
Session Convenes Today at 1 p.m.; State Budget Deliberations Continue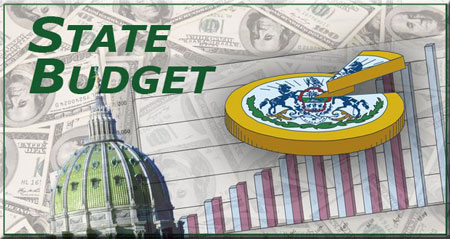 The state Senate returns to voting session this week and budget discussions are continuing… Live web streams of Senate session and the majority of committee meetings are available on my website at www.senatorgeneyaw.com.

Act 13 Impact Fees Head Home
Natural Gas Impact Fee Distributions to State & Local Governments
For the given reporting year, the following charts illustrate the counties and municipalities that are to receive the largest disbursement amounts, as well as the producers paying the largest impact fees.

Last week, I announced that the 23rd District will once again receive millions of dollars from the latest round of natural gas Impact Fee disbursements.
Bradford, Lycoming, Sullivan, Susquehanna and Union counties will receive over $47 million in natural gas impact fee revenue this year, roughly 21 percent of the total $223 million received by the Pennsylvania Utility Commission (PUC), which administers the collection and disbursement of the fee.
I cannot remember a time when millions of dollars were sent back to our local governments without a long, involved grant process.
23rd Senate District Fee Breakdown
Bradford County
County/Municipal Share/Legacy Share:
$17,337,865.93

Lycoming County
County/Municipal Share/Legacy Share:
$12,074,858.61

Sullivan County
$1,728,776.86
County/Municipal Share/Legacy Share:

Susquehanna County
County/Municipal Share/Legacy Share:
$15,963,849.98

Union County
Legacy Share:
$43,011.18
Since Union County has no drilling, it does not qualify for a share of the Impact Fee revenue; however, it does qualify for $43,011.18 through the Marcellus Legacy Fund Disbursement.
In addition to the revenue disbursement above, each county, including Union, will also be eligible for funding dedicated to the statewide share. Counties and municipalities will be able to apply for grants through the Environmental Stewardship Fund, for water and sewer projects through PennVEST and the H2O program and a variety of projects under the Commonwealth Finance Authority (CFA).
For a complete statewide county/municipal breakdown, visit the Pennsylvania Public Utility Commission's website.

Update: Child Abuse Background Clearance Requirements

Over the past several months, I have heard from many school districts, fire departments, Little League organizations and more concerning the new child reporting law.
The new law was the result of many months of work and 23 pieces of legislation that were enacted changing how Pennsylvania responds to child abuse.
Changes to the existing law are currently underway to make it easier for organizations to meet the reporting requirements. Last week, the Wolf Administration announced that fee requirements will be waived for volunteers. The Department of Human Services (DHS) and the Pennsylvania State Police (PSP) will be reducing the cost of both the child abuse and criminal history record checks from $10 to $8 for all other applicants. These changes are to take effect July 25, 2015.
As changes occur, my office will be providing further details.
---
Senate Passes Blight Demolition Funding Proposal
Last week, the Senate approved legislation to give counties a new option to finance the demolition of blighted and abandoned properties.
Senate Bill 486 would offer counties the option to levy up to an additional $15 fee on deeds and mortgages recorded in the Recorder of Deeds office. The new revenue would be used exclusively for demolition funding within that specific county. The measure was unanimously passed the Senate.

---
Legislation Introduced to Protect Child Victims of Human Trafficking from Prosecution
"Safe Harbor" legislation (Senate Bill 851) designed to help law enforcement identify the child victims of human trafficking and avoid prosecuting these children who have been forced to perform illegal activities has been introduced in the state Senate.
Senate Bill 851 would require law enforcement to report to the Department of Human Services any encounter with a minor who has been subject to sexual exploitation. The Department will develop and implement a state-wide protocol to deliver safe long-term housing, education, life-skills training, and counseling to the children who have been exploited. The bill would require that police be trained to identify and assist sexually exploited children. Most importantly, the bill would require that sexually-exploited children be diverted from the criminal justice system to more appropriate human services.
---
Bill Regulating Healthcare Exchange Navigators Sent to Governor
Last week, the Senate approved and sent to the Governor legislation that would provide essential protection of consumers' rights and personal information with regard to navigators and certified application counselors created by the Affordable Care Act, also known as "Obamacare."
Senate Bill 293, also known as the Navigator Accessibility and Regulation Act, would require that Healthcare Exchange Navigators to be certified by the Department of Insurance and pass a criminal background check. The Senate concurred on House amendments to the measure and sent it on to Governor Wolf.
The federal Affordable Care Act relies on individuals, generally called "navigators," to educate and enroll millions of uninsured Americans in Medicaid or a private insurance plan. Although in many respects these navigators act like insurance agents, they have almost no qualifications or restrictions placed upon them by the federal statute.

Senate Committees Hold Hearing on the Safe Transport of Crude Oil by Rail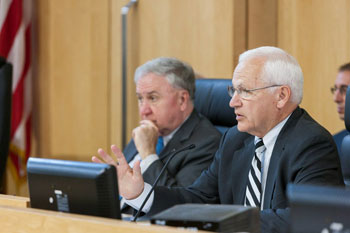 On June 9th, the state Senate Transportation Committee and the Senate Environmental Resources and Energy Committee held a joint hearing on ways to improve the safe transportation of energy products along Pennsylvania's rail network.
The Committees heard testimony from representatives of the Governor's Office, energy companies, rail companies, emergency responders and the Public Utility Commission regarding efforts to prevent, prepare for and respond to derailments and other rail freight accidents.
As Committee Chairmen, Senator Rafferty and I are continuously working to ensure that these products are shipped safely and efficiently across the Commonwealth through our rail network.
To read more, click here.

Bradford, Lycoming Grange Members Visit the State Capitol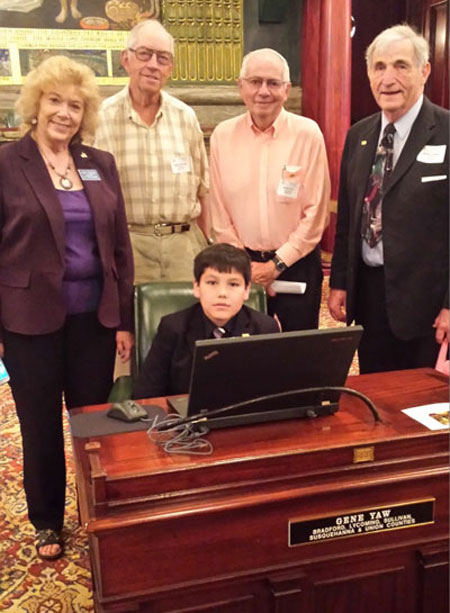 Pictured Left to Right: Elizabeth Downey, President, Pennsylvania State Grange (Muncy); Owen Brackman (Canton); Gerald Pratt (Granville Summit); and Bernie Downey (Muncy). Seated: Jordan Downey (Muncy).

PennDOT, Safety Partners to Hold Child Safety Seat Check and Collection Event in Old Lycoming Township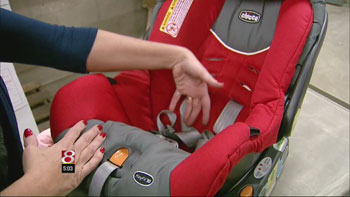 The Pennsylvania Department of Transportation (PennDOT), the Community Traffic Safety Project, Safe Kids Lycoming County Partner and the Old Lycoming Township Volunteer Fire Company will host a child safety seat inspection and used seat collection on Thursday, June 18, 2015 from 5 p.m. to 7 p.m. at the Old Lycoming Township fire hall.
The collection will aim to remove unsafe seats from the community. A Sweet Frog frozen yogurt discount coupon will be given for each car seat inspected or collected, while supplies last.
Parents and guardians of children 8 years old and under can have their child safety seat inspected by certified technicians. Each inspection requires approximately 20 minutes ensuring safe installation, though infant seats may take extra time. Participants are reminded to bring their child, safety seats, vehicle manuals and safety seat manuals (if available).
Child safety seats should no longer be used under the following conditions:
If they are six years old or older;

Have been involved in a serious crash;

Have missing parts or are broken or rusted;

Have no model number or date of manufacture, and;

Are on a recall list or the manufacturer is no longer in existence.
Motorists are reminded that under Pennsylvania's primary child passenger safety law, children under the age of four must be properly restrained in an approved child safety seat. Children from age four to age eight must be restrained in an appropriate booster seat. Children age eight to age 18 must be in a seat belt.
Due to the potential dangers associated with air bag deployment, children ages 12 and under should always ride in a vehicle's back seat.
For local updates on Twitter visit 511PA StateCollege, and follow PennDOT on Twitter at:
http://www.twitter.com/PennDOTNews.
For more information on seat-belt safety visit www.JustDrivePA.com.

---
If you do not wish to receive this email, click here to unsubscribe.
Privacy Policy
2015 © Senate of Pennsylvania
senatorgeneyaw.com