Monday, June 28, 2015

Dear Friends,
Hello! Thank you for subscribing to my E-newsletter. I am honored to serve the 23rd Senate District and look forward to working with you toward building a better future for Pennsylvania!
This E-newsletter serves to keep you updated on what is happening throughout Bradford, Lycoming, Sullivan, Susquehanna and Union counties and what I am doing as your state senator in Harrisburg. I hope that you will find this E-newsletter helpful, and if you have any questions or concerns, please feel free to contact me.
Gene Yaw
State Senator
www.SenatorGeneYaw.com
Senate, House Craft Responsible State Budget Plan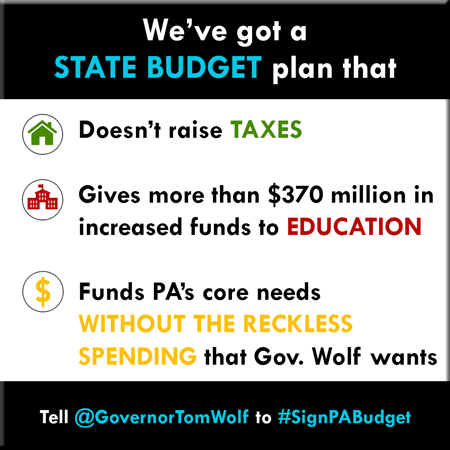 Senate and House Republicans have approved a 2015-16 budget plan that adds considerable funding to education without adding to the tax burden of Pennsylvania families. The budget plan is on track to be presented to the governor before the end of the state's fiscal year on Tuesday, June 30. It is up to the Governor on whether or not he wants to veto the bill.
The Senate and House plan is a balanced budget that includes no new taxes or tax increases and $200 million in new money toward education. It also includes fundamental changes to the state's pension and liquor systems.
The budget contains:
UPDATE: Child Abuse Background Clearances

Over the past several weeks, I have been providing periodic updates on changes to the state's child protection law. An important recent clarification specifies that "new" volunteers have until July 1, 2015 to obtain background clearances. Current volunteers or individuals who have volunteered for the same organization in the past have until July 1, 2016 to obtain clearances. Additionally, the Department of Human Services (DHS) and the Pennsylvania State Police (PSP) will be reducing the cost of both the child abuse and criminal history record checks from $10 to $8 for all other applicants. These changes will take effect July 25, 2015.
A comprehensive list of persons required to get clearances is as follows:
Child care service employees;

Foster parents and adult household members;

Prospective adoptive parents and adult household members;

Individuals 14 year of age or older applying for a paid position as an employee responsible for the welfare of a child or having direct contact with children;

Any individual seeking to provide child-care services under contract with a child-care facility or program;

School employees governed by public school code and those not governed by the public school code (colleges and universities).
On June 28th, the state Senate amended House Bill 1276 to add changes already made by the House of Representatives. A few of these changes include:
Amending the requirement for recertification of clearances for employees and volunteers from 3 years to 5 years.

Clarifying and identifying individuals who need to get a background check when there is an internship, externship, work-study, or co-op by requiring the person responsible for the child's welfare to be in the immediate vicinity at regular intervals with the child during the program.

Exempting employees of institutions of higher education from needing background checks if the direct contact is limited to matriculated students who are enrolled with the institution and who have not received a high school diploma or its equivalent.

Clarifying that free volunteer clearances can't be used for employment purposes.

Exempting enrolled students from background clearances when they are volunteering at school sponsored events on school grounds that do not have responsibility for a child's welfare.

Natural Gas Royalty Bill Re-Introduced
Last week, legislation was reintroduced in the House of Representatives to address the issue of post-production cost deductions from leaseholder gas royalty checks. Previously House Bill 1684, the legislation is now House Bill 1391 of the 2015-16 legislative session. Be assured I will support the House legislation should it pass that Chamber and move to the Senate.
In light of the ongoing issues between Chesapeake Energy and Bradford County leaseholders, I have also re-introduced my own legislation, known as the Oil and Gas Lease Protection Package, which consists of Senate Bills 147 and 148 (Bill Summaries). These pieces of legislation unanimously passed the Senate in January of this year and are currently before the House Environmental Resources and Energy Committee.
I am not only reiterating my support for House Bill 1391, but I am also putting forward my own legislation that would support the interests of landowners already leased with natural gas companies.

Legislation Would Legalize Sale of Consumer Fireworks in Pennsylvania
On June 26th, I joined my colleagues Sens. Elder Vogel (R-Beaver) and Don White (R-Indiana) to sponsor legislation legalizing the sale of consumer fireworks in Pennsylvania.
The legislation would lift the ban on the sale of consumer fireworks, known as "Class C" fireworks, and allow businesses legally operating in the state to sell consumer fireworks, such as bottle rockets, roman candles, mortars and cakes to Pennsylvania residents without the need for a permit. Currently, the sale of novelty fireworks is legal to Pennsylvania residents. Consumer fireworks can be purchased by non-residents. This bill would permit Pennsylvanians to purchase and use Class C fireworks under parameters set forth in the legislation. The bill would also set parameters as to when fireworks can be displayed.
To read more, click here.

Senate Approves Measure Promoting Beneficial Use of Treated Mine Water
On June 25th, the Senate passed legislation that would help reduce the use of fresh water in oil and gas drilling operations by promoting the use of treated mine water.
Senate Bill 875 also further clarifies legal liabilities associated with the use of treated mine water in oil and gas operations.

Legislation Establishing Prostate Cancer Task Force Passes Senate
Last week, the Senate passed Senate Bill 609, which seeks to establish the Prostate Cancer Surveillance, Education, Detection and Treatment Act.
The intent of the legislation is to provide the public with information and education to create greater public awareness of the prevalence and measures available to detect, diagnose and treat prostate cancer and related chronic prostate conditions.
To read more, click here.

Volunteer First Responders Tax Credit Bill Adopted By Senate
The Senate also unanimously passed a piece of legislation in response to the growing shortage of volunteer first responders. Senate Bill 299 gives municipalities the authority to reduce or waive their local earned income tax for volunteer firefighters and volunteers at nonprofit emergency medical service agencies.
The decrease is attributed largely to families' growing need for multiple incomes reducing time available to volunteer, the demands of incessant fundraising and the stagnant economy.
Under the legislation, municipalities would have the authority to set the amount of the tax credit and the guidelines of the program, including specifying the number of calls to which a volunteer must answer and the level of training they must have.
To read more, click here.

Sullivan County School District Officials Visit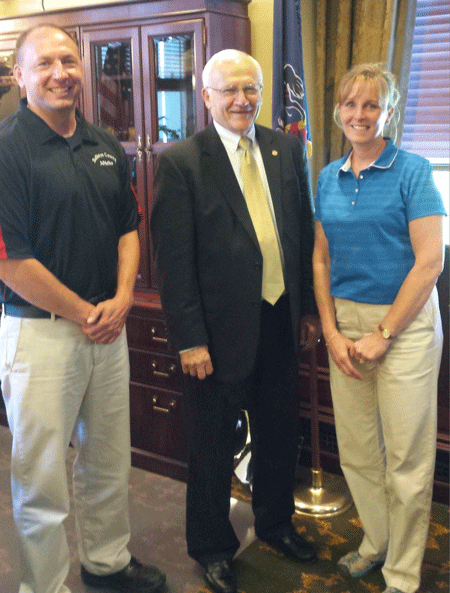 Last week, I had the pleasure of meeting Christopher Koschak & Alice Carpenter in my Harrisburg Office. Both Christopher and Alice are residents of Muncy Valley and teach for the Sullivan County School District.

Keystone Girls State Visit

On June 24th, I also welcomed American Legion Auxiliary Keystone Girls State participants Marisa Wildonger from Wyalusing Valley High School (left) & Julie Kasunic, Knoch High School, Butler County to the State Capitol Building.

Department of Agriculture Imposes Precautionary Interstate Quarantine Orders for Live Bird Markets, Breaker Eggs
A new interstate quarantine order aims to protect Pennsylvania from highly pathogenic avian influenza (HPAI) by establishing strict testing requirements on shipments of domesticated poultry and eggs from states with cases of HPAI that confirm the shipments as disease-free.
The order, developed by the Pennsylvania Department of Agriculture and published in the June 20 edition of the Pennsylvania Bulletin, requires that poultry moving to live bird markets and eggs destined for a commercial breaking operation from states with infected HPAI flocks must meet the 72-hour testing, paperwork and reporting requirements that certify the shipment has tested negative for avian influenza.
For more information about avian influenza, visit www.agriculture.state.pa.us or http://1.usa.gov/18t1E5p.

An Important Community Presentation
Must Watch Film….
Project Bald Eagle (formerly Lycoming County's Heroin Task Force) and Be Wise Campaign will screen "An American Epidemic," a documentary about heroin and opiate addiction, at 6:30 p.m. June 30 at Pennsylvania College of Technology's Klump Academic Center Auditorium.
The film's producer, Michael DeLeon, will be present to comment on the documentary and answer questions.
The screening event is free and open to the public.

Independence Day
"Fish-for-Free" Day!
The Pennsylvania Fish and Boat Commission will sponsor a free Fish-for-Free Day on Saturday, July 4. To help get your family prepared for this event, and for more information, click here.


Supporting Trade Development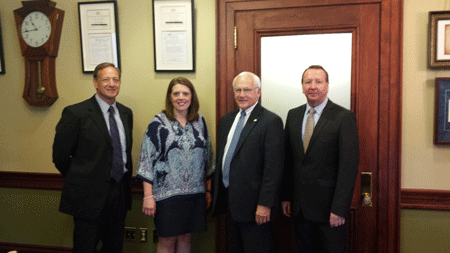 On June 26th, I was pleased to meet with Thomas Tillman, Vice President Sales of Jersey Shore Steel, Noelle Long, Director of Export Development at SEDA-COG and Peter O'Neill, Executive Director, Center for Trade Development, DCED's Office of International Business Development (OIBD) to discuss the important role OIBD plays in supporting rural PA based companies, increasing their export sales and encouraging foreign companies to invest right here at home.
Jersey Shore Steel Company has been a leading producer of high-strength rail steel products since 1938. With facilities in Jersey Shore and the Borough of Montoursville, JSS currently employs over 275 people making them a strong contributor to the local economy.

---
If you do not wish to receive this email, click here to unsubscribe.
Privacy Policy
2015 © Senate of Pennsylvania
senatorgeneyaw.com