Monday, August 10, 2015
Dear Friends,
Hello! Thank you for subscribing to my E-newsletter. I am honored to serve the 23rd Senate District and look forward to working with you toward building a better future for Pennsylvania!
This E-newsletter serves to keep you updated on what is happening throughout Bradford, Lycoming, Sullivan, Susquehanna and Union counties and what I am doing as your state senator in Harrisburg. I hope that you will find this E-newsletter helpful, and if you have any questions or concerns, please feel free to contact me.
Gene Yaw
State Senator
www.SenatorGeneYaw.com
Senator Yaw & Representative Everett to Host Senior Expo September 15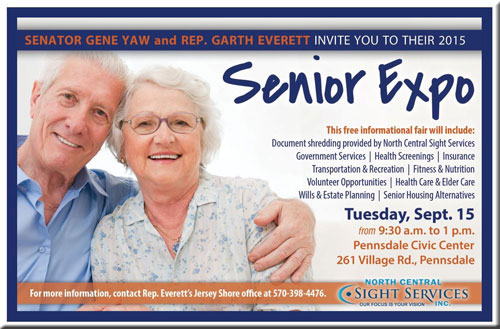 Click here for photos from last year's event.
Local senior citizens are invited to attend our annual Senior Expo on Tuesday, September 15th from 9:30 a.m. to 1 p.m. at the Pennsdale Civic Center.
Participants will have the opportunity to meet with representatives and receive information from many state and local agencies and community organizations, as well as local senior homes and senior centers and more.
This event is a one-stop shop for information that our community's older residents will find helpful. I welcome all seniors from my district to attend this informative event and learn more about the many resources that are available to them. For more information, contact Representative Everett's District Office at 570-398-4476.

Facts About Gov. Wolf's Budget
Can You Afford Governor Wolf's Budget?
Governor Wolf's budget proposes massive tax increases for the upcoming fiscal year – the largest increase in state history. He wants to increase the personal income tax by 21 percent, increase the state sales tax by 40 percent and increase state spending by 16 percent. His proposal would raise taxes by $12 billion over the next two fiscal years – an additional $1,000 for every man, woman and child in Pennsylvania.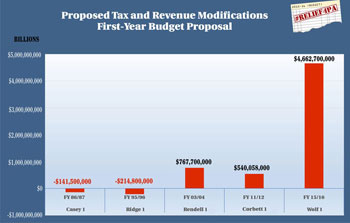 Governor Wolf wants you to pay a lot more without offering solutions to truly address drains on the state budget. And while he promises that revenue generated from his proposed expansion of the sales tax will go toward property tax reductions, Governor Wolf provides no assurances that property taxes won't go right back up next year.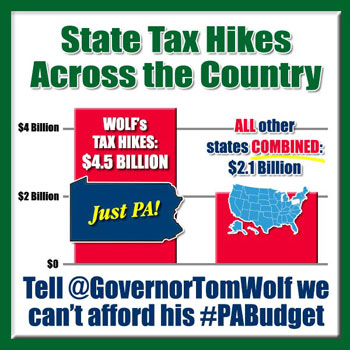 In my recent Op-Ed titled, Gov. Wolf – Politics before People, I write that the Governor's plan is not a viable option, and this opinion is validated by the fact that many of his Democrat allies in the legislature have not publicly endorsed his plan. The taxpayers simply cannot afford a plan that drastically increases spending at a rate greater than the last four governor's first budget proposals combined, as noted above.

90th Annual Union County Fair
90th Annual Union County West End Fair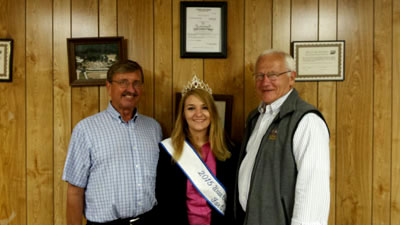 Pictured L to R: Union County Commissioner Preston Boop,
2015 Fair Queen Dawn Franck and Senator Gene Yaw.
Click here for more photos.
The Union County West End Fair was held August 2nd through August 8th this year at Lincoln Park in Laurelton. During my visit, I had the pleasure of meeting up with the 2015 Fair Queen Dawn Franck of Mifflinburg. Dawn is a 20-year-old graphic design student at the Pennsylvania College of Technology in Williamsport. Be sure to mark your calendar for the 2016 Fair to be held July 31st through August 6th. It's an exciting time filled with plenty of fun for the entire family!

Broadband Service Expansion
Lycoming, Sullivan and Union Counties to Benefit from Broadband Expansion
Approximately 3,000 Homes and Businesses to be Supported
According to a recent announcement made by the Federal Communications Commission, Windstream Communications Inc. has accepted $13,001,364 in ongoing, annual support from the Connect America Fund to expand and support broadband to approximately 69,614 statewide, rural customers in Pennsylvania. Over $887,000 is earmarked for 3,000 rural customers located in Lycoming, Sullivan and Union counties.
The Connect America Fund support will enable Windstream to deliver broadband at speeds of at least 10 Mbps for downloads and 1 Mbps uploads to approximately 34,807 rural homes and businesses in Pennsylvania where the cost of broadband deployment might otherwise be prohibitive.
Like telephone service in the 20th Century, broadband has become essential to life in the 21st Century. But, according to the FCC's latest Broadband Progress Report, nearly one in three rural Americans lack access to 10/1 broadband, compared to only one in 100 urban Americans. The Connect America Fund is designed to close that rural-urban digital divide.
In addition to Windstream, Frontier Communications Inc. has also accepted funding. Overall, the FCC's Universal Service Fund allocates $4.5 billion annually through various universal service programs for high-cost areas to support voice- and broadband-capable networks in rural America.

Apply Now For Urban Stormwater Projects In Chesapeake Bay Watershed
The Department of Environmental Protection is now accepting applications for the construction of urban stormwater Best Management Practices (BMP) to reduce the discharge of nutrients and sediments delivered to local waters and to the Chesapeake Bay (formal notice). Applications are due October 9th.
Counties, cities, boroughs, townships, incorporated towns and municipal authorities within the Chesapeake Bay drainage area are eligible to apply. Other parties interested in promoting stormwater BMP construction are encouraged to approach local officials and offer to assist in application development and project management.
The maximum funding amount per applicant is $200,000. Construction must be complete within 2 years. Federal requirements will apply to construction procurement. Funding recipients will be selected on a competitive basis.
More information and a copy of the application will be posted on DEP's MS4 Stormwater webpage. Questions should be directed to Leif Rowles at DEP by calling 717-783-2290 or send email to: lerowles@pa.gov.

PFBC Announces New Trout Program
PFBC Unveils New, Big Trout Program for 2016
Seeks Public Help to Pick Name
Trout anglers will have an exciting opportunity to fish for big trout in eight streams next year under a new program being launched by the Pennsylvania Fish and Boat Commission (PFBC), and the PFBC wants anglers to help name the program by casting votes online at http://fishandboat.com/stocking/large-trout.htm.
Under the program, approximately 10 percent of the larger 2- to 3-year-old trout in the PFBC hatchery system that are stocked each year will be allocated to eight streams currently managed under Delayed Harvest Artificial Lures Only regulations. These fish will measure from 14" to more than 20" in length and will be stocked at a rate of up to 250 trout per mile, which is comparable to the numbers of fish of this size in Pennsylvania's best wild trout waters. By contrast, the current stocking rate for 2- to 3-year-old fish statewide in the adult stocked trout program is about 5 to 10 per mile.
PFBC staff will review all of the suggestions and a name will be selected prior to the next PFBC quarterly business meeting on September 28-29. Both the program name and the names of the selected waters will be released at the September meeting.
The public voting process will close on Sept. 4, 2015. To vote, click here.

---
If you do not wish to receive this email, click here to unsubscribe.
Privacy Policy
2015 © Senate of Pennsylvania
senatorgeneyaw.com