Thursday, August 27, 2015
Dear Friends,
Hello! Thank you for subscribing to my E-newsletter. I am honored to serve the 23rd Senate District and look forward to working with you toward building a better future for Pennsylvania!
This E-newsletter serves to keep you updated on what is happening throughout Bradford, Lycoming, Sullivan, Susquehanna and Union counties and what I am doing as your state senator in Harrisburg. I hope that you will find this E-newsletter helpful, and if you have any questions or concerns, please feel free to contact me.
Gene Yaw
State Senator
www.SenatorGeneYaw.com
House of Representatives Attempts Veto Override
On Tuesday, House Republicans moved to fund programs which support vulnerable populations across the Commonwealth through a series of veto override votes while additional budget discussions continue. The veto override votes, which require a two-thirds vote in favor, failed after they were unanimously opposed by House Democrats.
Specific line-items voted on by the House included: rape crisis and domestic violence programs, cancer screening services, community based health care services, school lunch subsidies, school district health services, services for children with special needs, and textbooks and other materials for non-public schools, among other items.
Governor Wolf's complete veto of the budget has caused many human service organizations statewide to curtail or stop their services due to lack of funding.


2015 Little League Baseball World Series Underway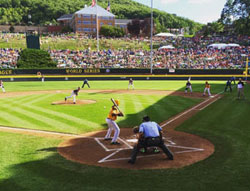 The eyes of the world are again focused on South Williamsport, Pennsylvania, for the 69th Annual Little League Baseball World Series. Sixteen teams from across the globe come to Lycoming County every year to compete for the title of LLB World Series Champions.
There is no question this is an exciting time for the players, coaches, family members, fans and all of Pennsylvania. A special congratulations to Pennsylvania's very own Red Land Little League, hailing from York County, who defeated Texas on Wednesday evening. Red Land now advances to the U.S. championship game Saturday for the right to play in Sunday's World Series championship against the international bracket winner. #WhyNotUs
Little League Facts:

2.4 million boys and girls play Little League, worldwide.

Little League is played in more than 80 countries and in all 50 states.

As of 2014, there are 48 members of the Little League Hall of Excellence. Mariano Rivera will be the 49th when he is enshrined at the 2015 Little League Baseball World Series on Tuesday, Aug. 25.

Pictured Right: Sen. Yaw joins (L) Sen. Pat Vance (R-York) and (R) Sen. Lisa Baker (R-Luzerne) during the 2015 Little League World Series
CRP Holds Heroin Hearing in York
With Heroin Overdoses on the Rise, Center for Rural Pennsylvania Addresses National Epidemic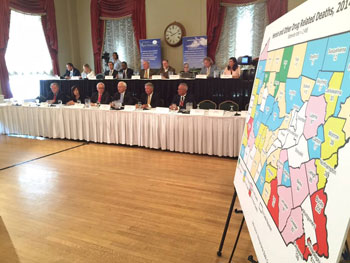 Statewide Hearings on Heroin Addiction & Treatment Generate Intense Interest
The Center for Rural Pennsylvania concluded its seventh public hearing on Tuesday, August 18, on heroin and opioid addiction, specifically prevention, recovery, treatment and law enforcement efforts.
The 11-member Center for Rural Pennsylvania Board of Directors, area legislators, state officials, law enforcement officials and state and local treatment service providers participated in the five-hour-long hearing at the Yorktowne Hotel in York County.
Heroin addiction has reached epidemic proportions, and has taken center stage on the local, state and national levels. The Center for Rural Pennsylvania is leading the way to educate policymakers, inform the public, and enhance current policies in Pennsylvania related to heroin and opioid addiction treatment. To date, the Center has received over 30 hours of verbal testimony and 350 pages of written testimony from 90 presenters. The Center has certainly taken a leadership role in this fight.
To read more, click here.

PA's Largest Outdoor Ag Exposition Held
Supporting Pennsylvania Agriculture
| | |
| --- | --- |
| | |
| Sen. Yaw meets with 2015 Dairy Royalty. | Sen. Yaw speaks with Ben Trapani of Lewisburg. |
Click here to view more pictures
On Wednesday, August 19, I attended Ag Progress Days, Pennsylvania's largest outdoor agricultural exposition, in Rock Springs, PA. Ag Progress Days features the latest technology and research exhibits and educational programs.
This year, the Pennsylvania House and Senate Agriculture and Rural Affairs committees held a joint session to learn more about efforts to prepare for a potential outbreak of avian influenza in the state. Speakers included College of Agricultural Sciences Dean Rick Roush, Secretary of Agriculture Russell Redding and other experts from academia and industry.
According to the U.S. Department of Agriculture, more than 48 million birds nationwide — mostly on commercial egg and turkey farms in the Midwest — have been lost during the current outbreak of highly pathogenic H5N2 avian flu. Although the outbreak has not yet reached Pennsylvania, officials believe the probability is high that the disease will be brought into the state by migratory birds flying south for the winter.

Congratulations to the Sullivan County Trap Shooting Team
Local High School International Trap Shooting Team Participates in National Championships
It is my pleasure to congratulate Dane Carpenter, Mick Wertz and Trevor Evelhair - members of the Sullivan County High School International Trap Team - who recently participated in the National Shotgun Championships in Colorado Springs, Co.
On July 23 and 24 the team participated in the Junior Olympics with a field of 113 participants. On August 1 and 2, the three young men also participated in the SCTP National Shotgun Championships for International Trap. The 92 participants ranged in age from high school freshmen to college seniors.
In the open class for teams, the Sullivan County High School International Trap Team captured the silver medal with a combined score of 309.
Congratulations on a job well-done!

PCT Alum Leads Multi-Million Dollar Project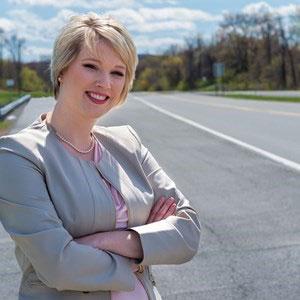 As state Senator for the 23rd Senatorial District and Chairman of the Pennsylvania College of Technology Board of Directors, I am very pleased to see one of our local, recent graduates take on a new role to manage the $669 million Central Susquehanna Valley Transportation Project (CSVT) for the Pennsylvania Department of Transportation.
Maggie (Powers) Jackson, a 2008 Pennsylvania College of Technology graduate with a bachelor's degree in civil engineering technology, has taken the wheel to bring this important project to fruition.
Each day over 40,000 vehicles travel Route 15 – conjoined with Route 11 – through Hummels Wharf and Shamokin Dam, about an hour south of Williamsport. The 4.5-mile "strip" contains 24 intersections, nine traffic signals and 101 driveways that lead to homes, restaurants and retailers of every sort.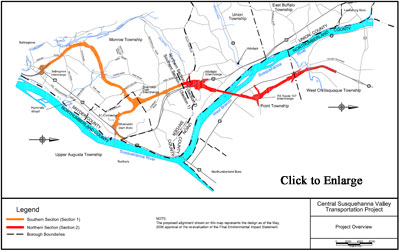 After forty years of false starts, the CSVT will soon become a reality. This is a smart, strategic transportation investment in our region that will create hundreds of jobs and bring relief to thousands of motorists traveling daily along US 11/15. As one of those motorists, I have no doubt that the planned thruway will provide for a safer interstate system by relieving traffic congestion, improving the flow of goods and services throughout the region, and benefiting the environment by reducing auto emissions.
Keep up the good work, Maggie!
Read the complete article by Jennifer A. Cline, writer/editor-One College Avenue.

---
Union County Resident Named Finalist for Annual "Art of the State" Exhibition
The Pennsylvania Historical and Museum Commission (PHMC) recently named the finalists for "Art of the State: Pennsylvania 2015," an exhibition showcasing the talent, creativity and diversity of Pennsylvania's established and emerging artists. One of the finalists included my constituent, Pamela Souders of Union County.
The 48th annual exhibit opened on June 28 at the State Museum and will run through September 13, and includes 126 works of art by 122 artists from 27 counties. This year's exhibit attracted 1,601 entries from 563 artists.

---
New Website Offers Updates on Act 89 Projects, Act 88 Projects and Overall Planned Transportation Projects
Pennsylvania's motorists can now access real-time information on transportation projects that have been completed or scheduled through 2026 at a new website developed by the Pennsylvania Department of Transportation (PennDOT).
The new PennDOT website, www.Projects.PennDOT.gov, includes interactive maps and explanations of these improvements, including:
The website allows users to view projects according to categories such as county, statewide, legislative district and more. The construction section also allows users to better understand the estimated start and end dates of projects as well as to view projects of regional significance along Pennsylvania's interstate system.

Panda Patriot Power Project
Panda Patriot Tour with Lycoming College President, Faculty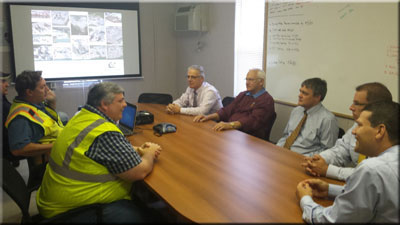 For more pictures, click here.
On Wednesday, August 26, Lycoming College President Kent Trachte; Philip Sprunger, Provost and Dean of the College; Jonathan Williamson, Associate Professor and Political Science Department Chair; and Chip Edmonds, Vice President for College Advancement and I visited the Panda Patriot Power Project located in Montgomery, Clinton Township, Lycoming County.
The Panda Patriot Power Project is a clean natural gas-fueled, 829-megawatt combined-cycle generating station. Once built, the plant is expected to supply the power needs of up to 1 million homes and is expected to make a significant contribution to the area's economy.
The Panda Patriot Generating Station will utilize the latest, most advanced emissions-control technology, making it one of the cleanest natural gas-fueled power plants in the United States; use Siemens H-class gas turbines — the world's first generation technology to achieve operating efficiencies of 60 percent; be cooled with air rather than water — not drawing water from, or discharging water into, the Susquehanna River — eliminating potential impacts to sensitive species in the watershed; and minimize sound using special blade designs, low-output motors and building enclosures.

School Bus Safety - Be Aware!
School bus safety is a high priority in Pennsylvania. Students, parents, teachers, administrators, transportation personnel and the motoring public all play important roles in keeping our children safe while on or around the school bus.
Penalties for violating Pennsylvania's School Bus Stopping Law include a $250 fine, five points on your driving record and a 60-day license suspension. The start of the school year is a good time to brush up on PA school bus safety laws:
To read more, click here.


Special Labor Day Mentored Youth Fishing Opportunity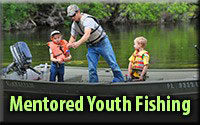 Special Mentored Youth fishing opportunities are available on 21 PA waterways this Labor Day, September 7. On that day, adults and children can fish for trout, but only kids with a voluntary youth fishing license or free mentored youth permit may keep up to two trout of 7 inches or greater.
To read more, click here.
Funding Announcements
Funding for youth-based environmental programs: The deadline for spring and summer projects is Sept. 30. The Captain Planet Foundation funds projects that give the next generation of environmental stewards an active understanding and love for the natural world in which they live.
Safe Places to Play Grant: Deadline: Oct 2, 2015. Sponsor: US Soccer Foundation.
Community HealthCorps: Applications accepted on an ongoing basis. Offers monetary sums for education or loan repayment in exchange for full-time service in a rural or underserved community. Community HealthCorps Members perform a variety of activities associated with health services and programs for patients and communities, often by functioning as community health workers. Sponsor: National Association of Community Health Centers.
Community Response Fund: Applications accepted on an ongoing basis. Supports organizations, activities, and events that offer short-term, immediate solutions to oral healthcare challenges in underserved communities. Sponsor: DentaQuest Foundation.
SBA 7a Loans: Applications accepted on an ongoing basis. Provides loans to small businesses (including small healthcare practices) for working capital; equipment purchase; real estate purchase; building construction or renovation; business acquisition; and debt refinancing. Sponsor: Small Business Administration.
USDA Community Facilities Loan and Grant Program: Applications accepted on an ongoing basis. Funding to construct, enlarge, or improve essential community facilities for healthcare, public safety, education, and public services in rural areas. Sponsor: USDA Rural Development.

---
If you do not wish to receive this email, click here to unsubscribe.
Privacy Policy
2015 © Senate of Pennsylvania
senatorgeneyaw.com