Wednesday, September 2, 2015
Dear Friends,
Hello! Thank you for subscribing to my E-newsletter. I am honored to serve the 23rd Senate District and look forward to working with you toward building a better future for Pennsylvania!
This E-newsletter serves to keep you updated on what is happening throughout Bradford, Lycoming, Sullivan, Susquehanna and Union counties and what I am doing as your state senator in Harrisburg. I hope that you will find this E-newsletter helpful, and if you have any questions or concerns, please feel free to contact me.
Gene Yaw
State Senator
www.SenatorGeneYaw.com
ICYMI: Senator Yaw & Representative Everett to Host Senior Expo
September 15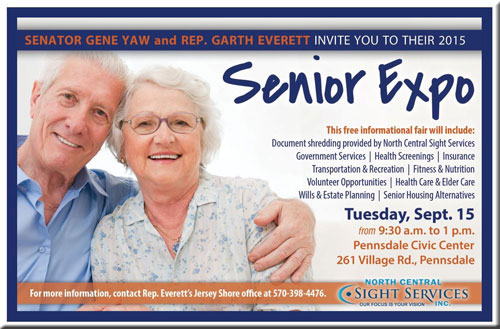 Click here for photos from last year's event.
Local senior citizens are invited to attend our annual Senior Expo on Tuesday, September 15th from 9:30 a.m. to 1 p.m. at the Pennsdale Civic Center.
Participants will have the opportunity to meet with representatives and receive information from many state and local agencies and community organizations, as well as local senior homes and senior centers and more.
This event is a one-stop shop for information that our community's older residents will find helpful. I welcome all seniors from my district to attend this informative event and learn more about the many resources that are available to them. For more information, contact Representative Everett's District Office at 570-398-4476.

2015 Bradford-Tioga Equipment Show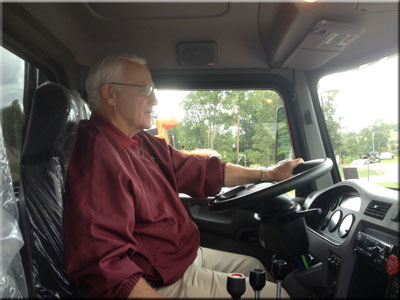 On Thursday, August 27, I stopped by the Tioga and Bradford County Annual Equipment Show at Alparon Park in Troy. The show is organized each year to bring together local municipalities and vendors of products and services used by municipalities.
---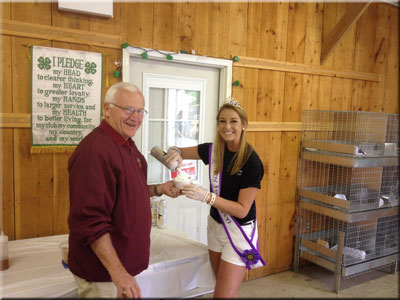 Sen. Yaw pictured with Troy Fair Queen Emily Elsbree at Alparon Park.

---
Fall Calendar of Events Across the 23rd District
From rolling farmland in the summer to snow-covered mountains in the winter, from breathtaking views in the spring to stunning foliage in the fall, the 23rd Senatorial District has it all. Outdoor recreation is also a key part of our region's appeal, offering numerous activities and facilities.
For a look at upcoming Fall Events throughout Bradford, Lycoming, Sullivan, Susquehanna and Union counties, visit some of the local links below.
NorthCentralPA.com
Braford County, PA
Endless Mountain Visitors Bureau
Greater Susquehanna Valley Chamber of Commerce
Montrose Area Chamber of Commerce
Sullivan County Chamber of Commerce
Williamsport/Lycoming Chamber of Commerce
VisitPA.com

Drive Sober or Get Pulled Over...
As part of a focus on reducing drug- and alcohol-related crashes, PennDOT, state police and municipal police will take part in the national "Drive Sober or Get Pulled Over" enforcement initiative through Labor Day.
During last year's Labor Day weekend, there were 144 alcohol-related crashes and 16 fatalities as well as 44 drug-related crashes and three fatalities.
PennDOT statistics for 2013 show there were 3,267 drug-related crashes statewide, with 143 fatalities in those crashes. In 2014, there were 3,332 drug-related crashes statewide with 125 fatalities.
---
PennDOT Driver License, Photo Centers Closed for Labor Day
Also in PennDOT news…. all driver license and photo centers, including its full-service center in Harrisburg, will be closed Saturday, September 5, through Monday, September 7, for the Labor Day holiday.
Customers may still obtain a variety of driver and vehicle products and services online through PennDOT's Driver and Vehicle Services website.
Driver and vehicle online services are available 24-hours-a-day, seven-days-a-week and include driver's license, photo ID and vehicle registration renewals; driver-history services; changes of address; driver license and vehicle registration restoration letters; ability to pay driver license or vehicle insurance restoration fee; driver license and photo ID duplicates; and driver exam scheduling. There are no additional fees for using online services.

New State Law Allows Pharmacists to Administer Flu Shots to Children
A new state law allowing pharmacists to offer flu vaccines to children ages 9 and older, with parental permission, is now in effect.
Act 8 of 2015 also allows licensed pharmacy interns, under the direct supervision of a pharmacist, to administer the vaccine. It will also positively impact active duty members of the military, veterans and their dependents. Under TRICARE, the military's health care plan, all immunizations administered by a pharmacist are covered without a co-payment.

Lycoming County Comprehensive Plan
Public Asked to Help "Plan the Possible" at Kickoff Meetings
for Lycoming County Comprehensive Plan Update
Public input is sought to help "plan the possible" future of Lycoming County and its communities by establishing priorities for growth, development, transportation, resource protection, recreation, and more in the next 10 to 20 years.
Four open-house public meetings have been scheduled in locations around Lycoming County to gather the public's views as the Department of Planning and Community Development begins the process of a required 10-year update to the county comprehensive plan. The comprehensive plan update, titled "Lycoming 2030: Plan the Possible," will be completed in early 2017 and will be adopted and used as the primary guide for decision-makers at the county and municipal levels of government.
The public kickoff meetings will feature interactive stations, brief presentations by county staff, and opportunities for participants to record their ideas and comments. Those interested may choose any of the four meeting locations and drop in at any time during a three-hour period.
The meeting dates and locations are:
Monday, September 14 from 3:30-6:30 p.m.
Trout Run Fire Hall, 241 Route 14 Highway, Trout Run
Wednesday, September 16 from 3:30-6:30 p.m.
Jersey Shore Public Library, 110 Oliver Street, Jersey Shore
Monday, September 28 from 3:30-6:30 p.m.
Hughesville Public Library, 146 S. Fifth Street, Hughesville
Wednesday, September 30 from 3:30-6:30 p.m.
James V. Brown Library, 19 E. 4th Street, Williamsport

Capturing 100 Years of PA Agriculture
One hundred years of Pennsylvania agriculture comes to life in "Hold Your Horses", according to Pennsylvania Farm Show officials. A collector's item, 176-page hardcover book is being sold for $25 and captures agricultural stories from the Commonwealth's 67 counties. Proceeds support the PA Farm Show Scholarship program.
The book chronicles the first farm show in an agricultural implements building at Tenth and Market Streets in Harrisburg through the 1929 stock market crash and the construction of the early North Cameron and Maclay Streets Complex. The military repaired airplanes and trained mechanics at that location during WWII, while undaunted farmers continued with meetings absent exhibits.
Today the annual PA Farm Show covers more than a million square feet of floor space and brings a taste of farm life to more than 400,000 visitors.

---
If you do not wish to receive this email, click here to unsubscribe.
Privacy Policy
2015 © Senate of Pennsylvania
senatorgeneyaw.com