Wednesday, September 16, 2015
Dear Friends,
Hello! Thank you for subscribing to my E-newsletter. I am honored to serve the 23rd Senate District and look forward to working with you toward building a better future for Pennsylvania!
This E-newsletter serves to keep you updated on what is happening throughout Bradford, Lycoming, Sullivan, Susquehanna and Union counties and what I am doing as your state senator in Harrisburg. I hope that you will find this E-newsletter helpful, and if you have any questions or concerns, please feel free to contact me.
Gene Yaw
State Senator
www.SenatorGeneYaw.com
Senate Reconvenes Today to Consider Stopgap Budget Measure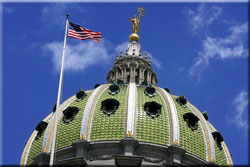 The state Senate returns to voting session today, September 16th, to begin the process of moving a 'stopgap budget,' while budget negotiations remain ongoing. The measure would specifically authorize funding for human service agencies, schools, and other government programs that have had to limit services and borrow money to function as the result of a lack of a state budget.
On June 30th, the General Assembly passed a state budget with no tax increases and the highest level of state education funding in the history of Pennsylvania. Governor Wolf agreed with nearly 70% of what was in the budget presented to him, but decided to fully veto the plan because it didn't increase taxes. He certainly could have vetoed only portions of the budget and kept funds available for vital services that so many Pennsylvanian's rely on. But instead, he fully vetoed the plan - placing partisan ideology and his wish for massive taxes above the needs of our citizens.

DEP Announces Listening Sessions on Clean Power Plan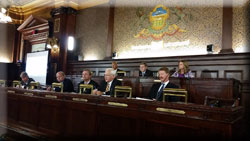 The Pennsylvania Department of Environmental Protection (DEP) has announced more than a dozen listening sessions and a two-month comment period on the federal Clean Power Plan to hear from Pennsylvanians about the plan to cut carbon pollution. Fourteen listening sessions in locations across the state will take place during September through November.
For more information, dates and locations, click here.

Open House Set for Community Cup Apartments
Community Cup Apartment Project in Bradford County Completed
Open House Set for September 17th
A state and local effort to expand and revitalize affordable housing in the Borough of Towanda, Bradford County, has become a reality.
With assistance by the Pennsylvania Housing Finance Agency (PHFA), through a Pennsylvania Housing Affordability and Rehabilitation Enhancement (PHARE) grant, several apartments located at 421 Main Street have been fully renovated and refurbished. The Community Cup Apartment Project will provide needed housing for low- to moderate income residents and the disabled.
The Bradford-Sullivan Housing Task Force has been working diligently to find solutions for safe and affordable housing for some time. Through collaboration with the Community Alliance Church, Partners in Family and Community Development, Allied Services, and Bradford-Sullivan Housing Task Force, as well as with the cooperation of county government, grants were submitted through PHFA for both the 2012 and 2013 grant funding years. I was happy to lend assistance in this effort.
To read more, click here.

Congratulating the Mifflinburg Young Farmers
Mifflinburg Young Farmers Celebrate 75 Years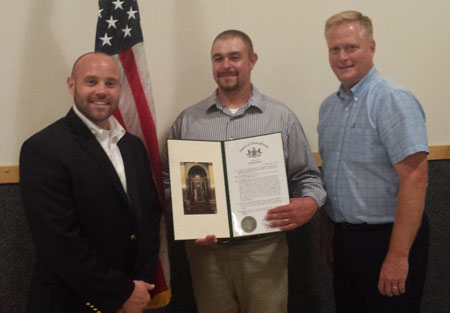 On Thursday, September 3rd, I was pleased to sponsor a congratulatory citation recognizing the Mifflinburg Young Farmers on their 75th Anniversary. The evening banquet was held at Christ United Lutheran Church and welcomed a number of attendees including state and local officials, educators, FFA students and members of the farming community.
The program was dedicated to the life of John R. Walter, who served as former President of the organization.
Individuals interested in joining the Mifflinburg Young Farmers can contact Steve Kline, coordinator, at (570) 658-6592 for more information. The motto is "A Young Farmer Is Anyone Willing To Learn."
Pictured L to R: Nick Troutman, Aide to Sen. Yaw; Jeremiah Zimmerman, President of the Mifflinburg Young Farmers and State Representative Fred Keller

2015 Senior Citizen Expo Held in Pennsdale
Congratulations to Joan Wolfe of Williamsport, who is this year's winner of our Door Prize Raffle!
On Tuesday, September 15th, Representative Garth Everett and I hosted our annual Senior Citizen Expo at the Pennsdale Civic Center, Lycoming County. Each year, the free event serves as a "one-stop resource" for information on a wide range of services available – many of which are free of charge or at a reduced cost. In addition, representatives from state agencies are always on hand to discuss a number of government-related programs.
Other booths were set up to provide seniors with information on health screenings, transportation and recreation opportunities, insurance, wills and estate planning, senior housing options, hunting and fishing and many other programs.
As always, if you are a senior citizen and have questions regarding state programs, please do not hesitate to contact any of my offices for assistance.

Hunter-Trapper Education Classes Planned for Senate District
The Pennsylvania Game Commission (PGC) has scheduled additional basic Hunter-Trapper Education (HTE) courses for September, prior to the fall hunting seasons, throughout the 23rd Senate District.
The courses increase the opportunities for new hunters or furtakers to complete the required basic classes.
As an avid sportsman, I know firsthand that our hunting and fishing heritage plays an important role in our Commonwealth. It is incredibly important that we nurture and encourage the next generation of sportsmen who want to participate in these outdoor opportunities.
To preview the courses, click here.

Game Commission to Host Tour in Bradford County
Those looking to gain perspective into Pennsylvania's wildlife, habitat and hunting heritage will get an opportunity to take a tour being offered by the Pennsylvania Game Commission on Sunday, October 4th, 2015.
The tour will provide an opportunity to talk with personnel directly responsible for managing and protecting game lands. Four-wheel-drive vehicles are recommended for those taking driving tours on some tracts.
Game Commission Executive Director R. Matthew Hough said the tour provides an opportunity for the public to see the many things being accomplished for wildlife and for Pennsylvania's hunters.
For details, click here.

Fire & EMS Grant Opportunity
Fire Company and Volunteer Ambulance Service Grant Program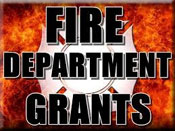 Local fire and ambulance departments within Bradford, Lycoming, Sullivan, Susquehanna and Union counties can once again apply for a Fire Company and Volunteer Ambulance Service Grant for the 2015-16 program year.
The Grant Application is now open through October 22, 2015 at 4:00 p.m.
To read more, click here.

Events in the Susquehanna Valley
VisitCentralPA.org

Cooler temperatures signal the start of a new season, and Pennsylvania's color-soaked leaves are begging to be explored. Fall is an especially amazing and beautiful time for people to explore and discover the Susquehanna River Valley!
Enjoy breathtaking fall foliage driving the many scenic, rural roads or hiking and cycling in our gorgeous State Parks and Forests. Grab that comfy jacket or sweater; jump in the car and explore the numerous antique shops, wineries, breweries and amazing restaurants.
For more information on dining, lodging, shopping and much more, be sure to visit www.visitcentralpa.org, when planning your next getaway.

Tracking Legislation?

Are there specific bills before the PA General Assembly that interest you? You can track them and receive alerts when those bills move, as well as information on committee activity, via the Notifications feature on the General Assembly's website.

---
If you do not wish to receive this email, click here to unsubscribe.
Privacy Policy
2015 © Senate of Pennsylvania
senatorgeneyaw.com