Monday, September 21, 2015
Dear Friends,
Hello! Thank you for subscribing to my E-newsletter. I am honored to serve the 23rd Senate District and look forward to working with you toward building a better future for Pennsylvania!
This E-newsletter serves to keep you updated on what is happening throughout Bradford, Lycoming, Sullivan, Susquehanna and Union counties and what I am doing as your state senator in Harrisburg. I hope that you will find this E-newsletter helpful, and if you have any questions or concerns, please feel free to contact me.
Gene Yaw
State Senator
www.SenatorGeneYaw.com
Yaw Supports "Stop Gap" Budget to Help Schools, Human Service Agencies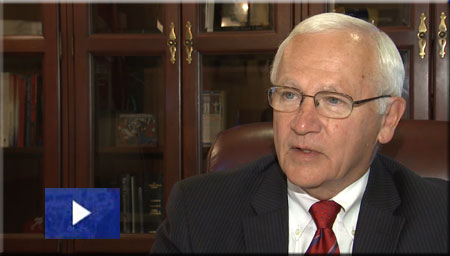 On Friday, September 18th, I voted for a three-bill "stop gap" budget package aimed at providing critical financial relief to school districts and social service agencies impacted by the prolonged budget impasse. The bills were approved and sent to the House of Representatives for consideration. The House will reconvene today.
Passage of the stop gap spending plan is the latest effort by Senate Republicans to help schools, counties, municipalities, agencies and contractors that saw their state payments end July 1st, following Governor Wolf's budget veto on June 30th.
I think the Governor is really overlooking the fact that our government has three co-equal branches, and we all have to get along. So far, he has shown virtually no inclination whatsoever to compromise. Despite the fact that 70 percent of the spending items in the budget passed by the Legislature were the same or greater than what he proposed in his own budget, Gov. Wolf chose to veto the entire bill. The Governor essentially vetoed some of the very things he asked for.
The three-bill budget package approved by the Senate would provide $11.2 billion in state allocations, restoring funding for critical programs and services. The stop gap budget also allocates the federal money Pennsylvania administers for schools and local governments.
These are important local services that affect our most vulnerable citizens: seniors, school children, at-risk youth and women in dangerous domestic situations. It's past time to get funding to these critical programs.

Measure Supporting Rape Victims Sent to Governor
Last week, the Senate concurred on House Amendments to Senate Bill 663, legislation introduced by Senator Vulakovich that will strengthen the rights of rape victims who have conceived a child as a result of the rape. The bill now goes to the Governor's desk for his signature and enactment into law.
Under the legislation, also known as the Rape Survivor Child Custody and Support Act, courts could terminate the parental rights of a convicted rapist, thereby eliminating the abuser's access to full, partial, or supervised custody of a child conceived by rape. The measure maintains an offender's obligation to pay child support even if parental rights are terminated by court order.
Current law only allows for the termination of parental rights of convicted rapists pending adoption. Furthermore, if the parental rights of the offender are terminated, the obligation to pay child support is also terminated.

A Resolution Condemning Economic, Social, Cultural and Other Boycotts of Israel and Growing Incidents of Anti-Semitism
Last week, the Senate also unanimously adopted a resolution condemning economic, social, cultural and other boycotts of Israel and growing incidents of anti-Semitism.
The citizens of the Commonwealth of Pennsylvania have a history of standing against bigotry, oppression, discrimination, and injustice. The Commonwealth and Israel have a long history of friendship and are great allies in support of each other's interests. The State of Israel, the only democracy in the Middle East, is the greatest friend and ally of the United States in the Middle East.
In April, a similar resolution was adopted by the Tennessee General Assembly.

Other Bills Sent to the Governor This Week
House Bill 75 requires out-of-state pharmacies to register with the State Board of Pharmacy if they fill prescriptions for Pennsylvania residents.

House Bill 315 amends the Child Labor Act to permit an individual who is at least 12 years old to be employed as a "youth sports official."

Senate Bill 678 clarifies the arrest powers and jurisdiction of campus police officers employed by Pennsylvania's 14 State System of Higher Education universities.
Last Day to Register to Vote is Monday, October 5
The deadline to register to vote or make changes to your registration before the November 3rd Municipal Election is Monday, October 5th.
You may register to vote or make changes to your registration by the following methods: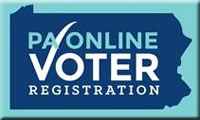 NEW! Register to vote online at http://register.votespa.com.
Download, print and complete a voter registration application from a county voter registration office listed below.
To register to vote, a person must:
Morgan Craft, Deserving Olympian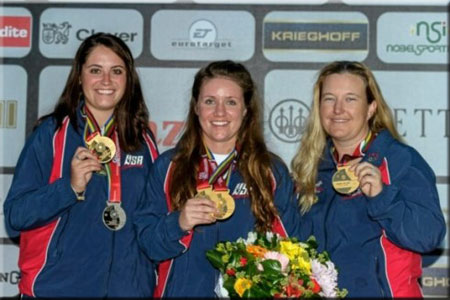 Photo (in Towanda Daily Review) courtesy of Morgan Craft, Gold Medalist, Team of the United States of America.
Morgan Craft, Caitlin Connor and Kimberly Rhode pose with their medals after the Skeet Women Event at the Olympic Shooting Range "Trap Concaverde" during Day 3 of the ISSF World Championship Shotgun on Sept. 13, in Lonato, Italy.
Special congratulations are in order for Sullivan County resident Morgan Craft who recently qualified for the Olympics next year in Rio de Janeiro, Brazil. Craft shot women's skeet and is considered one of the best in the nation.
During the last Olympics the Sullivan County graduate was an alternate and has worked hard to make her first Olympic team. Her Olympic dream will soon become a reality.
Congratulations Morgan on this well-deserved honor! We're routing for you!
READ: "Dreams Come True" by Brian Fees in the Towanda Daily Review

---
If you do not wish to receive this email, click here to unsubscribe.
Privacy Policy
2015 © Senate of Pennsylvania
senatorgeneyaw.com