Tuesday, September 29, 2015
Dear Friends,
Hello! Thank you for subscribing to my E-newsletter. I am honored to serve the 23rd Senate District and look forward to working with you toward building a better future for Pennsylvania!
This E-newsletter serves to keep you updated on what is happening throughout Bradford, Lycoming, Sullivan, Susquehanna and Union counties and what I am doing as your state senator in Harrisburg. I hope that you will find this E-newsletter helpful, and if you have any questions or concerns, please feel free to contact me.
Gene Yaw
State Senator
www.SenatorGeneYaw.com
Governor Vetoes Emergency Funding Bill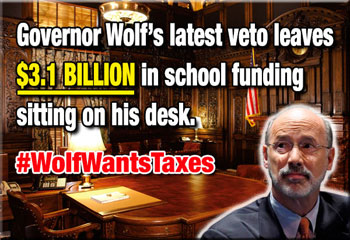 I am dismayed that today Governor Wolf vetoed an emergency funding package approved by the House and Senate to help struggling social service agencies and school districts throughout the state.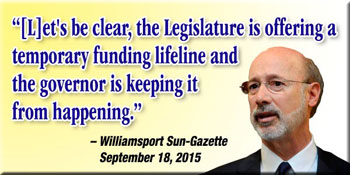 The funding included state appropriations amounting to $11 billion, retroactive to July 1st and carrying through to Oct. 31st. In addition to four months of state aid based on House Bill 1192 levels (which are higher than the 2014-15 state budget), the emergency funding bill would allow $24.3 billion in federal dollars to reach their intended recipients, and PHEAA grants and county child welfare funding would be disbursed at 50 percent.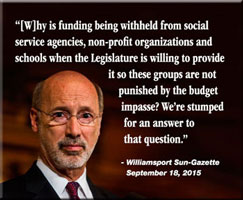 To echo the sentiment of many of my colleagues, we continue to do our job to ensure that taxpayers' money being collected by Harrisburg is returned to schools and communities. Implementing this emergency funding plan was our best option to help fund our schools and human services organizations that are being hit hard by the loss of state funds. This was an opportunity to keep that money flowing back to our communities while we forge a compromise. Unfortunately, the Governor felt otherwise and chose to completely sever those funds.
There is no good explanation for withholding the taxpayer money already paid to Harrisburg from our communities, at the same time that social service agencies are taking out loans, community groups are cutting services and school districts are talking about closing. Again, I am puzzled that the Governor chose to veto this important measure.

Sen. Yaw Hosts Breakfast Meetings on Agriculture
For more pictures, click here.
Last week, I met with more than 200 members of the agriculture community throughout the 23rd Senate District for two "Breakfast Meetings on Agriculture."
On Thursday, September 24th, I held a meeting at the Ulster-Sheshequin Fire Hall in Bradford County and on Friday, September 25th, a second meeting was held at the Country Cupboard Restaurant in Lewisburg. Attendees consisted of farmers, agribusiness professionals, FFA students, dairy and fair royalty. Teachers and elected officials were able to hear from Pennsylvania Secretary of Agriculture Russell Redding, State Senator Elder Vogel Jr., Chairman of the Senate Agriculture and Rural Affairs Committee, and Richard Roush, Dean of the College of Agricultural Sciences at Penn State University.
Both breakfasts were designed to listen to concerns and answer questions on how to improve agricultural conditions throughout our region. I often receive many questions on dairy policy and dairy pricing, crop insurance, flood repair, farm transportation and Marcellus Shale. The gathering is intended to create a friendly dialogue and exchange of ideas on all of these topics and many more.
Avian Influenza Discussion with PA Secretary of Agriculture Russell Redding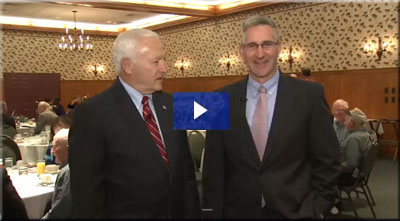 Rusty Rail Brewing Co. Ribbon Cutting
Ribbon Cutting Ceremony Held for Local Business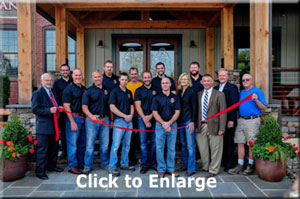 On Friday, September 25th, the Rusty Rail Brewing Company held a ribbon cutting ceremony and officially announced the opening of its brewpub in Mifflinburg.
I was honored to join Rusty Rail owners Paul and Eric John, General Manager Rich Schrader, Rep. Fred Keller and Mayor David Cooney in cutting the ribbon. Congratulations and best of luck for a successful future!
For more pictures, click here.


Tour of Bradford County Dairy Operation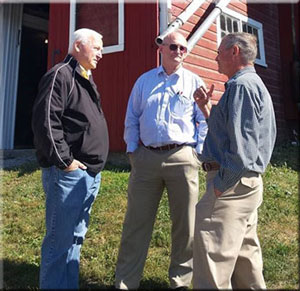 On Thursday, I had the opportunity to tour the Bradford County dairy farm of Jim Van Blarcom, a member of Pennsylvania's Milk Marketing Board. Last year, when nominated by Governor Tom Corbett, I was pleased to support Jim for this position.
The Pennsylvania Milk Marketing Board is an independent agency that establishes minimum milk prices, minimum wholesale prices and minimum retail prices. The three-member Board is overseen by two farmer members and one consumer member.
Jim, a resident of Columbia Cross Roads, currently owns and operates a 500 head dairy herd.
Pictured L to R – Sen. Yaw, Richard Roush, Dean of the College of Agricultural Sciences at Penn State University and Jim Van Blarcom, PA Milk Marketing Board Member

DCNR Plans Series of Public Meetings
To Review Draft State Forest Management Plan
Beginning Tuesday, Oct. 6, in the Wilkes-Barre/Scranton area, DCNR's Bureau of Forestry has scheduled 12 public meetings across the state to seek comment on revisions to its forest management plan.
Starting at 6:30 p.m. and lasting about two and one-half hours, these meetings specifically will focus on proposed plan revisions.
The plan can be found here.
Scheduled meeting dates and locations are:
Wilkes-Barre/Scranton: Oct. 6, The Woodlands Resort;

Stroudsburg: Oct. 7, Stroudsmoor Inn;

Philadelphia: Oct. 8, Fairmount Park Horticultural Center;

Renovo: Oct. 21, Renovo High School Cafeteria;

Coudersport: Oct. 22, Pa. Lumber Museum;

Bedford: Oct. 27, Bedford Travelodge;

Pittsburgh: Oct. 28, Double Tree Hotel, Monroeville;

Clarion: Oct. 29, Park Inn by Radisson;

State College: Nov. 3, Ramada Inn-Nittany Room;

Carlisle: Nov. 10, Comfort Suites;

Williamsport: Nov. 12, Genetti Hotel-Terrace Room;

Harrisburg: Nov. 17 or 18, Rachel Carson State Office Building.
Written comments will be accepted until November 30. Interested parties may submit comments by email; at one of the public meetings; or by postal mail to: Bureau of Forestry Planning Section, P.O. Box 8552, Harrisburg PA 17105-8552. There is also a web-based survey, available at the above website, which is a convenient way to provide feedback on the plan.

SEDA-COG Awarded $50K Grant to Help Homes,
Businesses to Access Natural Gas
SEDA-Council of Governments has been awarded a $50,000 grant to get eight central Pennsylvania counties ready to distribute natural gas to unserved or underserved homes, businesses and industries.
The Appalachian Regional Commission grant will enable SEDA-COG to identify potential locations in Columbia, Juniata, Lycoming, Montour, Northumberland, Perry, Snyder and Union counties to provide natural gas to help attract manufacturers and reduce energy costs to residents, as well as strategies for funding improvements. The project will outline possible next steps and roles for local governments and businesses to consider when planning for expanded natural gas services.
This is the second phase of a successful regional initiative that began in three counties in the SEDA-COG region in 2013. SEDA-COG developed a replicable pilot Regional Gas Utilization Initiative (RGUI) study that identified areas for natural gas distribution line extensions in Centre, Clinton and Mifflin counties. At least one potential demonstration project in each of the three initial counties could be undertaken in the near term. For example, in Clinton County there are two potential projects that would cost about $15 million to develop, with over 600 potential new natural gas users.
To read more, click here.

Department of State Alerts of SCAM
The PA Department of State is alerting businesses, particularly those recently formed, of a scam requesting a credit card payment to file an "Annual Records Statement." The solicitation comes from the "Division of Corporate Services" – a bogus agency. Pennsylvania business corporations are required to keep records relating to accounts, minutes and shares. However, they are not required to file them with the state or a private company.
To read more, click here.

2015 Billing Software Conversion Upgrades to Take Place
Beginning October 5, 2015, Comcast will be upgrading and standardizing their billing system to help ensure that they are providing customers with the best customer experience.
While most of the improvements will be to Comcast's back-office systems and therefore not visible to customers, a few important changes will be immediately noticeable:
All customers will be assigned a new account number.

Some customers may receive their statements on a new date and have a new payment due date. The new date will NOT be earlier than the current due date.
In addition to these changes, there will be a brief period during the transition when customers will not be able to view or change their account information online. Comcast will provide updates on their website to let customers know when their new account information will be available.
Comcast is communicating with their residential and business customers in a variety of ways to make sure they're aware of and understand the changes. E-mail notices will be sent to customers who use automatic bill payment and Comcast's Ecobill program.
While Comcast expects a smooth transition, they are also prepared to help customers and answer questions throughout the process. Customers with questions may visit www.xfinity.com/PAbillchange and address specific questions about their accounts by calling 1-800-XFINITY (934-6489) to speak to a customer service representative. Business customers may visit Comcast Business Billing System Update or call 1-800-391-3000.

---
If you do not wish to receive this email, click here to unsubscribe.
Privacy Policy
2015 © Senate of Pennsylvania
senatorgeneyaw.com