Tuesday, October 6, 2015
Dear Friends,
Hello! Thank you for subscribing to my E-newsletter. I am honored to serve the 23rd Senate District and look forward to working with you toward building a better future for Pennsylvania!
This E-newsletter serves to keep you updated on what is happening throughout Bradford, Lycoming, Sullivan, Susquehanna and Union counties and what I am doing as your state senator in Harrisburg. I hope that you will find this E-newsletter helpful, and if you have any questions or concerns, please feel free to contact me.
Gene Yaw
State Senator
www.SenatorGeneYaw.com
Wolf Tax Plan to be Put to a Vote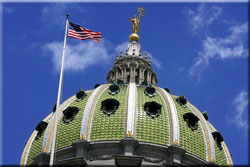 The Governor has opined that there is broad-based support for his budget proposal requiring increases in the Income Tax, Sales Tax, Tobacco Taxes, Severance Tax, as well as a number of other items. On Wednesday, October 7th, the House of Representatives will bring his tax package up for a vote.
If approved by the House, the plan would amount to a $1.7 billion increase in taxes this year and a $3.3 billion tax increase next year - $5 billion in total.
Under the Governor's plan, only seven out of 24 school districts in Bradford, Lycoming, Sullivan, Susquehanna and Union counties would see property tax reductions.
The Senate returns to voting session on Tuesday, October 13th

Bill Would Ban Smoking in Cars with Minors
Last week, I circulated a co-sponsor memo announcing my intention to make it illegal to smoke inside of a vehicle when minors are present.
The legislation would amend the Pennsylvania Vehicle Code to allow police officers to stop and detain drivers suspected of smoking with passengers under the age of 12. Violators would face a fine up to $100.
Health advocates say the bill could help reduce the number of children breathing in secondhand smoke.
Studies by the Centers for Disease Control and Prevention (CDC) also report that secondhand smoke causes numerous health problems in infants and children, including more frequent and severe asthma attacks, respiratory infections, ear infections, and sudden infant death syndrome (SIDS).

Additional Bills Sent to the House from the Senate
Senate Bill 785 clarifies that buildings, whether permanently attached to land, water, gas, electric or sewer facilities, are subjects of taxation for real estate tax purposes.
House Bill 823 amends Act 164 of 2014 regulating local Tax Collectors to make it easier to fill vacancies, expand the criminal history checks, and more. The bill returns to the House of Representatives for concurrence on Senate amendments.
Senate Bill 898 provides clarification on provisions that require the adjustment of property tax rates following a countywide reassessment in Second Class counties to make them revenue neutral.

Rusty Rail Brewing Company
Television Preview : Rusty Rail Brewing Company Tour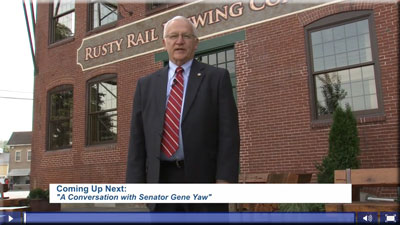 (For more pictures, click here.)
This month, "A Conversation with Senator Gene Yaw" tours Rusty Rail Brewing Company in Mifflinburg, Union County.
The television report will air on: Blue Ridge Communications/Mansfield - Channel 13; Service Electric Cablevision - SECV Productions - Channel 8; Time Warner, Sayre; Adams Cable Service, Channel 7; Comcast/Williamsport - Click On Demand/Get Local/Local Government/State Senate/A Conversation with Senator Gene Yaw. Please check local listings for air times.
"A Conversation with Senator Gene Yaw" is intended to keep residents of the 23rd Senatorial District informed about state and local issues and to showcase the people, places and communities that make this region so unique.
Senator Yaw's television report is also available online at www.senatorgeneyaw.com, click 'Newsroom' and a 'Conversation with Senator Gene Yaw'.

PennDOT Announces Acceptance of Applications for Next Round of Multimodal Grant Funding
The Pennsylvania Department of Transportation (PennDOT) announced that it will begin accepting applications on October 3, 2015, for funding transportation improvement projects under the Multimodal Transportation Fund.
PennDOT will evaluate the applications and make selections based on such criteria as safety benefits, regional economic conditions, the technical and financial feasibility, job creation, energy efficiency and operational sustainability.
PennDOT has $40 million in grants available for fiscal year 2016-17. Applications are due by December 18, 2015. PennDOT expects to announce grant recipients early next year for the funding that becomes available in July 2016.
For more information about the program, visit www.penndot.gov and click on Multimodal Program under the "Projects & Programs" button.

Breast Cancer Awareness Month
October is Breast Cancer Awareness Month

You can help fight this disease by ordering Pennsylvania's breast cancer awareness license plate. Plates can only be ordered through the PA Breast Cancer Coalition. The one-time cost of the specialty license plate is $50, which includes a contribution to the PBCC. Personalized plates are available for $200. For more information, click here.

Sullivan County Holds Veterans Memorial Dedication
On Friday, October 2nd, Sullivan County paid tribute to its local veterans with the unveiling of a new Veterans Memorial at the Courthouse in Laporte.
Undoubtedly, this will be a place for people to reflect on and honor the sacred duty and sacrifice of the brave men and women of Sullivan County.
The memorial recognizes each of the branches of the U.S. Armed Forces.
Rabbit, Dove Seasons to Open to Mentored Youth
Changes likely will become effective in mid-November.
Mentored youth hunters will see new opportunities in the 2015-16 license year.
The Pennsylvania Board of Game Commissioners recently gave final approval to a measure that adds rabbits and mourning doves to the list of species mentored youth hunters may pursue. The changes likely will become effective in mid-November, after a mandatory review process.

The Mentored Youth Hunting Program was established in 2006 as a way to give youth under the age of 12 an opportunity to experience hunting in a tightly controlled setting under the close supervision of an adult mentor. In the interest of safety, the adult mentor and mentored youth, together, may possess only one sporting arm between them while hunting, and the adult must carry it at all times while moving. The mentored youth then may hold the sporting arm once the pair takes a stationary position.
When the measure takes effect, mentored youth hunters also will need a migratory game bird license to hunt and harvest mourning doves.

All Veterans Eligible for ID Cards
Last week, Congress approved plans to offer new veteran ID cards to honorably discharged service members, in an effort to more easily prove their military service.
The measure passed through the Senate and House without objection, but took several years to get through Congress. The Obama administration has expressed reservations about the need for the new IDs, but has not threatened to veto the legislation.
The measure, sponsored by Rep. Vern Buchanan, R-Fla., would create official VA cards for all veterans, instead of only those who qualify for certain health care and financial benefits.
The cards would not replace medical IDs or official defense retiree IDs for veterans, and could not be used as proof of eligibility for obtaining federal benefits. They would serve as easy proof of military service for many veterans who complain they have to carry around copies of their discharge paperwork to get discounts or services at a host of private businesses.

Fall Foliage 2015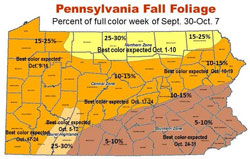 Fall is coming on fast in Pennsylvania's northern tier, according to this week's fall foliage report from the Pennsylvania Department of Conservation and Natural Resources.
In Bradford, McKean, Potter, Tioga and Wayne counties, the bright red of red maple, orange-yellow of sugar maple, gold of honey locust and yellow of hickory are almost at their peaks. Some of the orange-red is developing on the northern red oaks.
Peak fall color is expected Oct. 1-10 in the northern tier.

#StayConnected
---
If you do not wish to receive this email, click here to unsubscribe.
Privacy Policy
2015 © Senate of Pennsylvania
senatorgeneyaw.com