Monday, October 26, 2015
Dear Friends,
Hello! Thank you for subscribing to my E-newsletter. I am honored to serve the 23rd Senate District and look forward to working with you toward building a better future for Pennsylvania!
This E-newsletter serves to keep you updated on what is happening throughout Bradford, Lycoming, Sullivan, Susquehanna and Union counties and what I am doing as your state senator in Harrisburg. I hope that you will find this E-newsletter helpful, and if you have any questions or concerns, please feel free to contact me.
Gene Yaw
State Senator
www.SenatorGeneYaw.com

Senate Reconvenes Today at 1 p.m.
Scheduled Committee Action
Education Committee Hearing
Monday – 10:00 a.m. – North Office Building Hearing Room #1

A joint hearing with the House Education Committee regarding substitute teachers.
Veterans Affairs and Emergency Preparedness Committee Hearing and Meeting
Monday (Hearing) – 10:00 a.m. – Majority Caucus Room

A joint public hearing with the House Veterans Affairs and Emergency Preparedness Committee on disabled veterans' property tax relief.

Tuesday (Meeting) – 11:00 a.m. – Room 8E-B East Wing

SB 1045: Amending Title 51 standardizing the definition of a veteran.

SB 1046: Amending Title 51 standardizing the process for promotion on the retired list of the PA National Guard.

SB 1047: Amending the Administrative Code allowing for veterans homes to retain vending machine funds.
Urban Affairs and Housing Committee Hearing
Tuesday – 10:00 a.m. – Senate Majority Caucus Room

A joint informational hearing with the House Urban Affairs Committee on the Pennsylvania foreclosure process.
Agriculture and Rural Affairs Committee Meeting
Tuesday – 9:30 a.m. – Room 8E-B East Wing

SB 50: An act establishing an industrial hemp industry in this Commonwealth.

SB 735: Amending Title 3 allowing mobile retail food facilities to operate in multiple food safety jurisdictions without having to pay multiple fees in each county in which it operates.
For a look at additional upcoming Senate Committee action, click here.

Yaw Passenger Aid Bill Approved by Senate Committee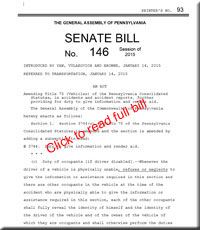 Legislation that I sponsored this session requiring passengers involved in motor vehicle accidents to contact emergency personnel and render reasonable assistance in cases where drivers "refuse" or "neglect" to offer aid was unanimously approved last week by the Senate Transportation Committee.
I introduced this bill at the request of Bradford County constituents who were deeply impacted by an unreported hit-and-run that involved the death of a young man. If the passengers in the vehicle involved immediately reported and aided the victim, he may still be alive today. Unfortunately, they did not. This legislation is about doing the right thing and saving lives.
Current law only requires a passenger to render aid if a driver is physically unable to do so.
Study of Public-Private Partnerships for Veterans' Care Authorized
Last week, the Senate adopted a resolution to study options to provide additional care for veterans.
Senate Resolution 171 directs the Pennsylvania Legislative Budget and Finance Committee (LBFC) to study the potential cost-savings and effectiveness of allowing the state's Department of Military and Veterans Affairs to partner with the private sector to provide additional care for veterans.
The study will determine how many veterans are on waiting lists to be placed in state-owned veterans care homes, the average cost per day for care and treatment for a veteran at a state-owned veterans care facility compared to a privately owned health care facility, and the projected number of veterans who will require care over the next 10 years in Pennsylvania.

Bill to Modernize the State Psychological Practice Act Passes Senate
The first modernization of the Pennsylvania Psychological Practice Act since 1986 was unanimously approved by the Senate last week.
Senate Bill 772 would clarify that diagnosis is within the scope of practice for licensed psychologists; give the State Board the power to deny temporary licenses to those who have had disciplinary actions against them in other states; and require licensed psychologists to disclose other professional licenses held, and any disciplinary actions occurring under those licenses, along with other provisions.

Senate Passes Legislation to Establish Fund for ATV Activities
The Senate approved legislation that would ensure that funds received through the registration, certification and enforcement of all-terrain vehicles (ATVs) in Pennsylvania are used specifically to support ATV activities.
Senate Bill 648 requires that monies generated through ATV-related operations are placed in a restricted account to be used for a variety of purposes including the construction and maintenance of ATV trails and acquisition of equipment, supplies and interests in land.
Currently, the Department of Conservation and Natural Resources does not separate expenditures related to ATV and snowmobile operations. As a result, these funds are being disproportionately allocated between user groups. While ATV operations contribute $1.4 million of the $1.6 million in the current fund, 80 percent of the total funding is allocated to expansion of snowmobile trails. The bill was sent to the House of Representatives.

Joint Hearing on Assessing Government Spending, Programs
A joint public hearing by the Senate Finance Committee and the Senate State Government Committee looked at ways to better assess government spending and programs.
Testimony was provided by Auditor General Eugene DePasquale, Executive Director of the Pennsylvania Legislative Budget and Finance Committee, Philip Durgin, and Inspector General Grayling Williams. Hearing video & testimony is available by clicking here.

Join me for a Tele-Town Hall Discussion This Evening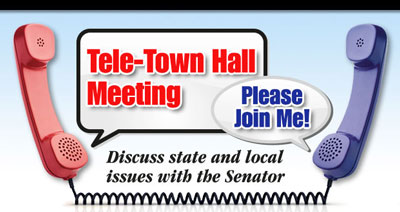 This evening, from 6 p.m. – 7 p.m., I will be holding a telephone town hall event to discuss the ongoing budget impasse and many other important issues before the state Senate. It's also an opportunity for me to hear directly from you.
You may be one of thousands of residents in Bradford, Lycoming, Sullivan, Susquehanna and Union counties who will receive a call alerting you to the town-hall. If you do not receive a call, there is still an opportunity for you to participate by calling 877-229-8493 and entering PIN 111880. Also, you can sign up by texting "PASENYAW" to 828282.
This type of meeting allows callers to listen in, offer opinions, and even ask questions from the comfort of their own home. It's a simple and straightforward way to have a good dialogue, given many people's hectic schedules.
Residents also have the option to stream the event on a computer, tablet or smartphone by clicking here.

Sullivan County Health Fair
30th Annual Sullivan County Health Fair Held
On Saturday, October 24th, I stopped by the 30th Annual Sullivan County Health Fair at the Sullivan County High School gymnasium in Laporte. This year's theme was titled "Wellness for Everyone." The event featured a new Kids' Health Fair, which encouraged entire families to attend. While at the fair I also had an opportunity to get my flu shot courtesy of Commissioner Darla Bortz. The event provided a great opportunity for Sullivan County residents to obtain screening services and other information.
Left: Sullivan County Commissioner Darla Bortz preps to give Senator Yaw his flu shot.
Right: Senator Yaw visited with Sandy Pardoe, Sullivan County 4-H Coordinator, and her students while at the Health Fair.
For more photos, click here.

Recognizing Outstanding Law Enforcement
I was pleased to participate in an award ceremony last week recognizing two law enforcement professionals from Lycoming County for outstanding service to area residents.
County Detective Alberto E. Diaz Sr. was named "Policeman of the Year" 2015 for his work in the fight against heroin, and State Police Trooper Adam Kirk received a "Merit Award" for his heroism in saving residents of a burning apartment house in Williamsport earlier this year.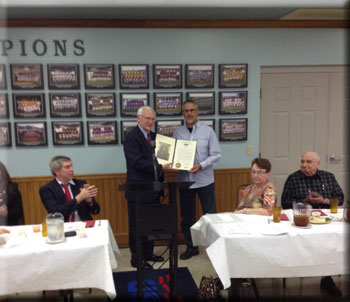 During the ceremony, I had the opportunity to present Detective Diaz and Trooper Kirk with congratulatory Senate Citations. On behalf of the Senate of Pennsylvania, we appreciate your service and dedication!

Office of Rural Health Presents Award
'Legislator of the Year' Award Presented to Senator Yaw
To watch the ceremony, click here.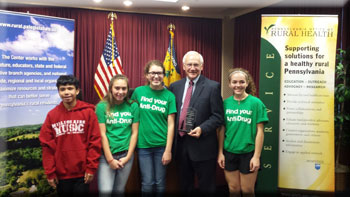 On Thursday, October 22nd, I was honored to be the recipient of this year's 'Legislator of the Year' award, presented by the Office of Rural Health.
I was shocked and very surprised, as it was something I never expected. When we started off with the heroin hearings a year ago, the goal was to raise the awareness of the heroin problem in rural Pennsylvania, but we've now gotten to the point where it's a much bigger problem statewide. As a result of the hearings, The Center for Rural Pennsylvania has completed the most definitive report that's been done on the heroin problem in the state. The fact that the work of the Center has led to this award is very rewarding to me.
The public hearings, as well as the report released by the Center for Rural Pennsylvania titled Heroin: Combating this Growing Epidemic in Pennsylvania, have been a milestone in generating awareness and support to combat the growing epidemic. Click here for more information.

Senate Aviation Caucus News
Senate Aviation Caucus Tours Penn College, Lycoming Engines
For more photos, click here.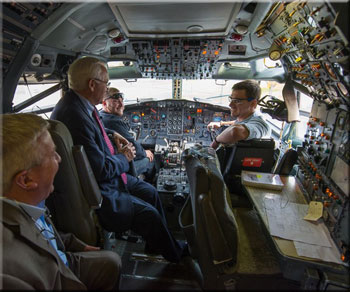 On Thursday, October 22nd, I hosted members of the Pennsylvania Senate Aviation Caucus in Lycoming County. The Caucus had the opportunity to tour the Pennsylvania College of Technology's Aviation Center, as well as Lycoming Engines, a local company specializing in engineering, manufacture, service and support of piston aircraft engines.
Penn College's aviation technology program has its origins in the 1930s, training Lycoming Engine employees. The program draws students from the mid-Atlantic region and is unique in its Bachelor of Science degree option. The large and varied fleet of aircraft, including a Boeing 727 cargo plane, on which students learn, as well as the avionics offered in the junior and senior year, sets Penn College's aviation technology majors apart. The program also functions as an FAA-approved repair station.
The Senate Aviation Caucus is focusing on four key areas within the aviation industry. I am leading the caucus's efforts to examine the state's aviation efforts for education, awareness, research and technology.

Students from Red Rock Job Corps Visit the State Capitol

Students from Red Rock Job Corps Center, located in Sullivan County, visited the State Capitol and State Museum last week. RRJC is an alternative to high school in which students can get a GED or high school diploma and receive technical skill certifications. Job Corps also offer career planning, on-the-job training, job placement and much more. Rep. Tina Pickett and I joined them for a photo in the Capitol Rotunda.

Great Opportunity for Food Businesses – If They Want It
Food entrepreneurs and producers may have the opportunity to grow their businesses with a shared-use food processing center in Union County – if they make that need known and show the demand for such a facility in the area by completing a survey by this December.
Union County, in partnership with SEDA-Council of Governments, has received a $30,000 Appalachian Regional Commission grant to find out if there is sufficient demand in the region for a shared-use food processing center. If there is demand, a business plan will be developed by Smithson Mills Inc., a consulting firm that specializes in community economic development.
Food entrepreneurs and producers would have access to a U.S. Food and Drug Administration-approved food manufacturing facility to produce value-added (finished) food or natural products, such as baked goods, jarred and canned foods, pickles, hot sauces, and other specialty or gourmet food products for commercial sale.
To read more, click here.

Red Land Little League Recognized by the State Senate
To watch the ceremony, click here.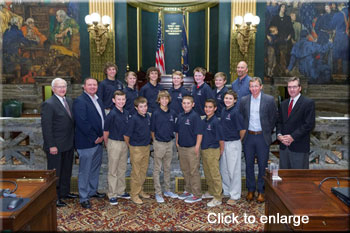 On Monday, October 19th, I had the honor of joining my colleagues Senator Pat Vance, Senator Mike Folmer and Senator Jake Corman in welcoming and congratulating Red Land Little League at the State Capitol. Red Land went 20-0 in winning this year's U.S. Little League World Series title. The 13-member Mid-Atlantic Region team from Lewisberry, PA captured the Little League U.S. title on August 29, defeating the Southwest Region Team of Pearland, Texas, 3-2. This talented York County team had only one loss in the World Series, and that was to Japan, 18-11, in the championship game.
Pictured Left: Senator Yaw and Stephen Keener, President and CEO of Little League Baseball, welcome Red Land Little League to the State Capitol Building

Be Safe This Halloween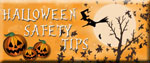 Twice as many children are hit and killed by cars between the hours of 4 p.m. and 10 p.m. on Halloween compared to the same timeframe on any other day of the year, based upon information from Safe Kids Worldwide. Parents of trick-or-treaters can reduce the risk for their children by taking a few steps of precaution while not taking any of the fun out of Halloween. Click here for more information.

#StayConnected
---
If you do not wish to receive this email, click here to unsubscribe.
Privacy Policy
2015 © Senate of Pennsylvania
senatorgeneyaw.com