Tuesday, November 10, 2015
Dear Friends,
Hello! Thank you for subscribing to my E-newsletter. I am honored to serve the 23rd Senate District and look forward to working with you toward building a better future for Pennsylvania!
This E-newsletter serves to keep you updated on what is happening throughout Bradford, Lycoming, Sullivan, Susquehanna and Union counties and what I am doing as your state senator in Harrisburg. I hope that you will find this E-newsletter helpful, and if you have any questions or concerns, please feel free to contact me.
Gene Yaw
State Senator
www.SenatorGeneYaw.com
Honoring Our Nation's Veterans

This Veterans Day, November 11th, communities across the 23rd District will again gather together to honor those who have served in our country's military. As we celebrate this day, we honor all those who have worn our nation's uniform and sacrificed so much in service to our country.

I want to thank all of our veterans on this very special day for all you have done to give us the chance we have to live in freedom.
Special Committee on Senate Address Holds Public Hearing

On Monday, November 9th, the Special Committee on Senate Address held a public hearing to hear testimony from a panel of county district attorneys on issues that have developed when referring cases to the Office of Attorney General and on other related matters.
Those participating included David Heckler, District Attorney of Bucks County, John Adams, District Attorney of Berks County, and Lisa Lazzari-Strasiser, District Attorney of Somerset County.
Future hearings will be streamed live on my website, www.senatorgeneyaw.com. (Click on Special Committee on Senate Address Banner)

Jury Duty Exemption for the Elderly, Breastfeeding Mothers,
and Judges Signed into Law
I supported a new PA law, Act 54 of 2015, that permits persons 75 years of age and older to opt out of jury duty. The legislation also provides an exemption for breastfeeding mothers and judges. Judges who take the time to report for jury service are already excluded in the vast majority of instances.
Pennsylvania now joins the 26 other states that currently exempt elderly persons from serving on juries.

---
Union Anti-Intimidation Bill Signed by Governor
Legislation I supported prohibiting harassment, stalking and threats by parties involved in a labor dispute has been signed into law. Act 59 of 2015 does not impact unions engaged in lawful disputes or protests, but addresses issues in previous labor disputes in which violent protests by the union workers ensued, including intimidation and harassment in the form of physical abuse of on-site contractors and property damage.
It is the duty of the General Assembly to recognize the importance and necessity of fostering economic development and job creation and further to recognize that both employers and employees have rights governed by the National Labor Relations Act. However, employers, employees, management, labor organizations and their respective representatives and agents, all must exercise their rights so as not to commit criminal violations that can make the Commonwealth an unwelcoming and dangerous place for employer-employee relationships, harm existing businesses, or suppress job growth.
I was pleased to support this important measure.

Hughesville-Based Business - 'Upper Desk' - Chases the American Dream
Pennsylvania start-up company, Upper Desk, Inc., is chasing the American Dream. With a "work hard, dream big" mentality, the Upper Desk team is preparing to roll-out its award winning product—Upper Desk's Portable Tablet Mount for Cabinets across the nation in 205 Sam's Club locations. It is always great to highlight local small businesses that are making a huge impact throughout the five-county region I represent.
"We couldn't be more excited," says the product inventor, Roderick Phillips, Hughesville, PA. The opportunity is part of Sam's Club's 2nd Annual 30 Minutes to Win It Program - an innovative initiative that brings new, exciting, quality products to club locations. "The program demonstrates Sam's support of small businesses and its dedication to delivering value driven choices to its members," says Phillips. "We are honored for the opportunity to be part of that."
Together, with his daughter, Stephanie Phillips-Taggart, and Upper Desk CEO, Matthew Fidler, the team has successfully transformed an idea into a retail ready product that has received international, national and local innovation awards. Most recently, the company was nominated for a 2015 PA Small Business Impact Award.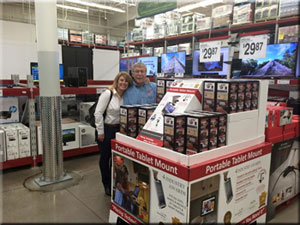 "Our success has been a team effort," says Phillips-Taggart. "Not only have we counted on each other during this entrepreneurial journey, but we have turned to Pennsylvania resources for guidance." Both Bucknell University's Small Business Development Center, Lewisburg, and the Innovative Manufacturers' Center, Williamsport, have been instrumental in assisting the start-up company.
"The Sam's Club opportunity, did not come over night," says Phillips. "It has taken a lot of hard work and support from our Pennsylvania partners. I can't say enough good things about Bucknell's SBDC and IMC. They give small companies the fuel to keep chasing the dream."
For more information, visit http://www.upperdesk.com.
Photo: Stephanie Phillips-Taggart and Roderick Phillips pictured with their award winning product - Upper Desk's Portable Tablet Mount.

TELEVISION REPORT: Senate Caucus Tours PCT Aviation School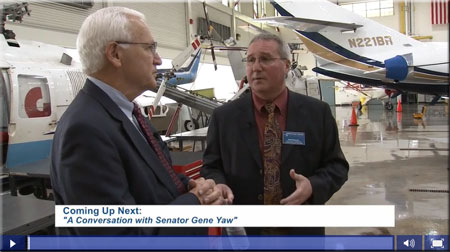 Members of the Pennsylvania State Senate Aviation Caucus recently toured the Pennsylvania College of Technology's Aviation Center, located at the Williamsport Regional Airport in Montoursville. For a look at the video program, be sure to click the video link above.
Penn College's aviation technology program has its origins in the 1930s, training Lycoming Engine employees. The program draws students from the mid-Atlantic region and is unique in its Bachelor of Science degree option. The large and varied fleet of aircraft, including a Boeing 727 cargo plane, on which students learn, as well as the avionics offered in the junior and senior year, sets Penn College's aviation technology majors apart. The program also functions as an FAA-approved repair station.
The Senate Aviation Caucus, on which I serve as a member, is focusing on four key areas within the aviation industry. I am pleased to lead the caucus's efforts for "education, awareness, research and technology."

Claverack Holds Open House

Recently, while in Bradford County, I stopped by the Claverack Rural Electric Open House in Wysox. Claverack's mission is to provide a source of electrical energy to its members at the lowest possible cost consistent with quality service and sound management.

Claverack Rural Electric Cooperative was incorporated on Oct. 24, 1936, and serves a 2,250 square mile area in eight counties of Northeastern Pennsylvania. They have over 2,671 miles of line and serve over 17,847 locations.

Left: Sen. Yaw talks with Bobbi Kilmer, President & CEO of Claverack Rural Electric Cooperative
Deadline Extended for 2016 Trail of the Year Nominations
Pennsylvanians have some more time to nominate their favorite trail for 2016 Trail of the Year honors. Deadline for submitting nominations has been extended from Nov. 6 to Nov. 27.
The designation is coordinated by DCNR's Pennsylvania Trails Advisory Committee to elevate public awareness of the thousands of miles of trails available for public enjoyment in Pennsylvania. To honor the 2016 Trail of the Year, the advisory committee and DCNR will create a commemorative poster for statewide distribution.
Nominations must be submitted by Nov 27 on the DCNR website here. The Trail of the Year will be announced in early 2016.
For more information on the nomination process or on trails, visit www.explorePAtrails.com and choose the 2016 Trail of the Year slide.

---
DCNR's Public Meetings Continue to Review Draft State Forest Management Plan
Outdoors enthusiasts, environmentalists and other state forest visitors are reminded that statewide meetings are continuing across the state to seek public input on changes to the Dept. of Conservation and Natural Resources' master management plan charting the course of Pennsylvania's state forests for future generations.
"We urge all to let their voice be heard on how they think our magnificent state forest system should be managed into the future," said DCNR Secretary Cindy Adams Dunn. "I invite all our state forest visitors to attend these sessions and learn more about the woodlands they know and love. Their attendance is crucial for the understanding of proposed updates, and these meetings are in line with the bureau's ongoing commitment to continuously interact with the public on state forest management."
To read the plan, click here.

"Honoring our Veterans" Special Registration Plate Available
As Veterans Day approaches, motorists are reminded that there are multiple ways to support the brave men and women who have served our country.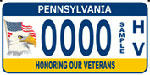 For the past several years, the "Honoring Our Veterans" license plate has been available to those wishing to show their patriotism. And last month, a motorcycle plate was put into production. Each costs $35, and $15 of the fee goes directly to helping veterans in need through the Veterans Trust Fund. Individuals can also make a $3.00 donation through a voluntary check-off on their driver's license and vehicle registration renewals.
For more information, click here.

This week, the Pennsylvania Department of Health launched the "Stopping the Flu Starts with YOU" campaign, which urges Pennsylvanians to protect themselves and their loved ones against the seasonal flu by getting vaccinated and taking other preventive measures. The department will be holding flu shot clinics throughout the state, including in the 23rd District:
November 17 - 11:30 a.m. to 3:30 p.m.
Sullivan County Terrace
135 North German St., Dushore
Call (570) 265-2195 to schedule an appointment

November 17 - 8:30 a.m. to 12:30 p.m.
Bradford County State Health Center
142 Colonial Drive, Towanda
Call 570-265-2195 to schedule an appointment

November 17 - 9 a.m. - 1 p.m.
Sojourner Truth Ministries
501 High Street, Williamsport
Call 570-327-3400 to schedule an appointment

November 18 - 9 - 11 a.m. & 1 - 3 p.m.
Lycoming County State Health Center
1000 Commerce Park Drive, Suite 109, Williamsport
Call 570-327-3400 to schedule an appointment

November 19 - 8:30 a.m. – 12:30 p.m.
St. John's United Church of Christ
417 Market Street, Mifflinburg
Call 570-523-1124 to schedule an appointment
Time to Replace Smoke and Carbon Monoxide Detector Batteries
Pennsylvania residents are being reminded by the PA Office of the State Fire Commissioner to replace the batteries in their smoke and carbon monoxide detectors, when resetting their clocks.
Families are also encouraged to develop and review their fire emergency plan. Plans should include multiple escape routes, identification of a meeting place and regular fire drills.
The losses from the more than 370,000 residential fires annually are often preventable, according to the OSFC. These losses include over 2,500 fire-related deaths, 13,000 associated injuries and direct damages in excess of $6.9 billion. The Office provides links to valuable home fire safety tips ranging from reacting to a kitchen fire to managing a fire extinguisher.

#StayConnected
---
If you do not wish to receive this email, click here to unsubscribe.
Privacy Policy
2015 © Senate of Pennsylvania
senatorgeneyaw.com