Wednesday, November 18, 2015
Dear Friends,
Hello! Thank you for subscribing to my E-newsletter. I am honored to serve the 23rd Senate District and look forward to working with you toward building a better future for Pennsylvania!
This E-newsletter serves to keep you updated on what is happening throughout Bradford, Lycoming, Sullivan, Susquehanna and Union counties and what I am doing as your state senator in Harrisburg. I hope that you will find this E-newsletter helpful, and if you have any questions or concerns, please feel free to contact me.
Gene Yaw
State Senator
www.SenatorGeneYaw.com
Calls for Governor to Suspend Resettlement of Syrian Refugees in Pennsylvania
As many of you know, Governors around the country have lined up refusing to accept any refugees who have fled war-torn Syria in the aftermath of the terrorist attacks in Paris. They are responding to heightened concerns that terrorists might use the refugees as cover to sneak across borders. Governor Wolf, on the other hand, has agreed that Pennsylvania's borders must remain open.
In a statement Monday, I noted that while I feel very bad for the plight of innocent Syrians, I think it is time that our government leaders make the safety of Americans and especially Pennsylvanians, the top priority. If outsiders are affected by protecting our own residents, so be it. Security in our homeland should and must come first.
As a result, on Tuesday I signed on to a Senate Resolution directing Governor Wolf to reject the placement of Syrian refugees within the Commonwealth until the federal government establishes increased security procedures to screen refugees coming from this region.
In light of the terror attacks that occurred in Paris last week, the resolution will request the President of the United States to direct the Department of Homeland Security to review its security procedures for vetting refugees and to send a report detailing the increased measures to the states that are under consideration to receive refugees. The federal government has already indicated that it will accept 10,000 Syrian refugees over the next year but has not detailed the security measures that will be used to screen these refugees.
It has now become evident that terrorists have exploited the wave of refugees to further their attacks, and I believe that immediate measures need to be taken in order to mitigate the threat that these individuals potentially pose to the Commonwealth and to our country.

---
Coal Caucus Hearing Discusses EPA's Clean Power Plan
On Tuesday, November 17th, I co-chaired a joint public hearing of the Senate and House Coal Caucuses to discuss the impact of the EPA's Final Clean Power Plan on Pennsylvania's coal and associated industries. To watch the hearing in its entirety, click here.

---
Continuing Medical Education Legislation Update
I have joined with my Senate colleague Sen. John Wozniak in seeking co-sponsorship for legislation to ensure that "pain management" and "prescribing practices of opioids" are a part of continuing medical education credits for those professionals licensed to prescribe in the Commonwealth.
According to a National Survey of Primary Care Physicians, nine out of 10 doctors reported prescription drug abuse as a moderate to large problem in their communities, and 85 percent believed that prescription drugs are overused in clinical practice.
To date, The Center for Rural Pennsylvania, a bipartisan, bicameral legislative research agency of the General Assembly, has held seven public hearings on the heroin and opioid epidemic plaguing the Commonwealth.
During the hearings, testimony offered indicated that approximately 80 percent of heroin addicts can trace their addiction back to prescription opioids. A Centers for Disease Control and Prevention Vital Signs Report also confirmed that health care providers wrote 259 million prescriptions for painkillers in 2012, enough for every adult in the United States to have a bottle of prescription painkillers.
Effective medical education is a critical part of this complex issue, and we believe this will help alleviate the rising abuse of prescription opioids.

---
State Senate Approves Passenger Aid Bill
Legislation requiring passengers involved in motor vehicle accidents to contact emergency personnel and render reasonable assistance in cases where drivers "refuse" or "neglect" to offer aid was approved yesterday by the full Senate.
I introduced this bill at the request of Bradford County constituents who were deeply impacted by an unreported hit-and-run that involved the death of a young man. If the passengers in the vehicle involved immediately reported and aided the victim, he may still be alive today. Unfortunately, they did not. This legislation is about doing the right thing and saving lives.
Current law only requires a passenger to render aid if a driver is physically unable to do so.
Under the legislation, Senate Bill 146, drivers who violate this law would commit a misdemeanor of the third degree. Any occupant who violates the law would commit a summary offense.
Senate Bill 146 now moves to the House of Representatives for consideration.

Project Bald Eagle Receives Award
Project Bald Eagle Honored as Exemplary Health Program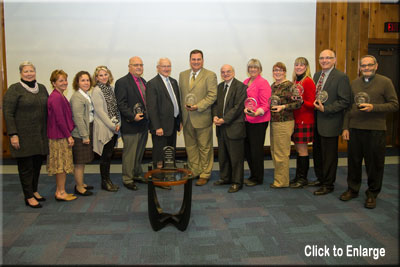 On November 13th, Project Bald Eagle, a product of Lycoming County's Heroin Task Force, was presented with a Rural Health Program of the Year award by the Pennsylvania Office of Rural Health.
The award recognizes "an exemplary health program that addresses an identified need in a rural community."
Established in May, Project Bald Eagle is a nonprofit organization that seeks to reduce drug-related deaths and combat the misuse and abuse of prescription drugs by focusing on prevention and early intervention. The group features cooperation among a variety of community groups, local and state law enforcement agencies, and first responders.
Lisa Davis, Director of the Pennsylvania Office of Rural Health, bestowed the award in a ceremony held at Pennsylvania College of Technology's Thompson Professional Development Center.


From left: Sen. Gene Yaw (R-23), Standard Journal Publisher Amy Moyer and Editor Chris Brady, and Sen. John Gordner (R-27), as the Standard Journal received a Senate citation for 125 years of service to the community. (Click photo to enlarge.)

Standard Journal Recognized for 125 Years

On November 12th, Senator John Gordner and I had the opportunity to present a congratulatory Senate Citation to the Milton Standard Journal on the publication's 125th Anniversary.

In addition to the celebration of 125 years, the newspaper's parent company, Sample Media Group, recently announced the acquisition of a number of newspapers in commonwealth, including the Towanda Daily Review, Shamokin News-Item and the Citizen Standard in Valley View.
Sports Facility Holds Ribbon Cutting
Williamsport's Liberty Arena Opens

On Saturday, November 14th, a new sports arena opened its doors in the City of Williamsport. The 81,000 square-foot, state-of-the-art sports facility offers a wide range of sports options for both youth and adults. The brand new facility houses two large indoor turf fields, one small indoor turf field, two high-school-sized basketball and volleyball courts, an 11,000 square foot trampoline park in FlyWorld, and various concession areas for food and beverages. (Click photo to enlarge.)
Transportation Alternatives Program (TAP)
Applications are being accepted for the federally-funded Transportation Alternatives Program (TAP) through January 8, 2016. Funding assists projects that enhance pedestrian and bicycle facilities, improve access to public transportation, create safe routes to school, and more. Eligible applicants include local governments, regional transportation authorities, transit agencies, natural resource or public land agencies, school districts, and more. For detailed infomation, click here.

---
Environmental Education Grants
Schools, municipalities, community groups and businesses can now apply for state grants of up to $3,000 to develop projects geared toward environmental education. The deadline to apply is December 18. Click here for additional information.


FOLLOW THE MAP TO WHITETAILS
Deer Hunter Focus Areas point hunters to some of the best deer habitat on state game lands.
Scouting for deer is all about looking for signs.
And this year, hunters also can look for signs – green-and-yellow paper placards reading "Deer Hunter Focus Area" – and follow them to some of the best whitetail habitat on state game lands.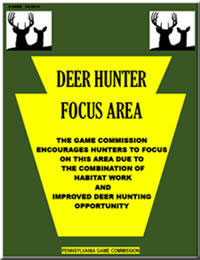 Sections of game lands posted as Deer Hunter Focus Areas recently have undergone timber harvests or other habitat modifications that typically cause deer to concentrate because of an abundance of newly available food. Many of these areas are off the beaten path, and have been posted to alert hunters to their presence and the potential they hold.
But drawing enough hunting pressure to these areas is key to maintaining that habitat. And as part of the program, more game lands roads will be opened to vehicles. That should help hunters cut the time it takes to travel and hike to their hunting spots, whether they're hunting in a Deer Hunter Focus Area or somewhere else.
Of course, as a result of this new program, there also will be hunters who end up with more company where they hunt currently in game lands interiors. But the program, in its first year, will occur on only 30 or so tracts of game lands. Hunters seeking to avoid the crowds still have plenty of room and places to hunt on most forested game lands.
Signs identifying Deer Hunter Focus Areas contain a yellow keystone, surrounded by a green background with images of deer silhouettes in all four corners.
Maps of state game lands with sections posted as Deer Hunter Focus Areas can be found on the Game Commission's website. Go to the homepage and select Deer Hunter Focus Area link.

#StayConnected
---
If you do not wish to receive this email, click here to unsubscribe.
Privacy Policy
2015 © Senate of Pennsylvania
senatorgeneyaw.com