Tuesday, November 24, 2015

~ A Thanksgiving Message ~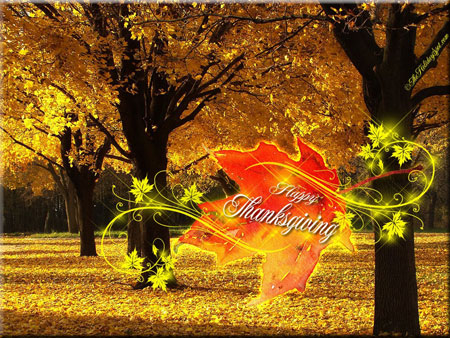 As we gather around the dinner table with friends and family this Thanksgiving, I'm reminded of the many things to be thankful for this year. I am eternally grateful for the servicemen and women who serve to protect the freedoms we hold near to our hearts. These men and women, who are often far and away from loved ones during the holidays, serve for a cause much greater than their own.

To those of you receiving this E-Newsletter, I continue to appreciate and am thankful for the opportunity to serve you in the 23rd Senate District. I'm thankful to God, for blessing me with good health and the love of family; my wife Ann, daughter Mackenzie and son Scott and his wife and children.

As you join together in good company this holiday season, I hope you may also reflect on the many things that bring you and your family happiness and joy this year. I wish you a very warm beginning to your holiday season.
Gene

Senate Reconvenes Today at 11 a.m.
Watch LIVE
---
Vote Taken on 'Senate Bill 76' Amendment
Yesterday, the Senate voted on an amendment to House Bill 683. This amendment contained the language included in Senate Bill 76, commonly known as the Property Tax Independence Act. The amendment failed to receive a majority vote.
I have heard from many of you on this legislation, both in support and opposed to the bill. As you know, the legislative proposal would have sought to eliminate school property taxes by increasing the state's sales tax from 6 to 7 percent, and increasing the personal income tax from 3.07 to 4.95 percent.
It's very important to note that, under the 76 amendment, not all school taxes would be eliminated. Taxes for long term debt service would still remain, in some cases this could be 20 years or more. The way to voice displeasure with school taxes is to get involved and walk into the voting booth and change the makeup of the school board, which has been done in my district.
Senate Bill 76 sounds great on the surface, but it leaves many unanswered questions….too many in my opinion to be viable now. For example, businesses like US Steel, McDonalds, Lowes, Walmart, DuPont, etc. would pay nothing in property taxes, yet the workers in those companies would pay significantly higher taxes.
Under the 76 amendment, the personal income tax would increase 61%. The sales tax increase would be 16%. I am not voting for any bill which raises taxes in this magnitude where the sponsors of the bill repeatedly have said the bill is "not perfect" and have said that we should vote for the bill just to "move the process" forward. We are talking about a $13 billion decision based on a bill that is still a work in progress and admittedly flawed.
Moreover, SB 76 will be the end of local school boards for all practical purposes. Funding will now come from the state and be controlled by the state. We all know how well the state manages its operations.
Also the makers of the bill stated that they did not consult with bond counsel to determine the impact of this bill on the school districts of state's borrowing capability. That literally affects billions of dollars in borrowings which school districts have undertaken.
The 76 amendment would have imposed a tax on a number of additional items including:
Personal Services

Dry cleaning and laundry services
Personal care services
Funeral parlors, crematories, and death care services
For-profit ambulatory health care, nursing care facilities, substance abuse facilities and retirement communities
All other personal services

Recreation Services

Spectator sports admissions (excludes schools)
Theater, dance, music and performing arts
Amusement and recreation industries
Museums, historical sites, zoos and park

Transportation Services

Transit and ground transportation
Air transportation
Truck transportation
Other transportation

Professional Services

Legal (except business-to-business, domestic relations matters and criminal defense matters)
Architectural, engineering and related services (except business-to-business)
Accounting, auditing and bookkeeping services (except business-to-business)
Specialized design (except business-to-business)
All other professional and technical services (except business-to-business)

Miscellaneous Services

Basic TV
Veterinary fees (except business-to-business)
Finance and insurance
Waste management and remediation
Recreational parks, camps & campgrounds
Custom programming, design and data processing (except business-to-business)
Parking lots and garages
Non-tuition and non-housing-related charges imposed by junior colleges, colleges, universities, and professional schools
With respect to the property tax relief, discussion in the Senate is focused on assuring that school districts do not continue raising taxes without accountability. One solution is to require school districts to submit all budgets to voter approval. That way the local taxpayers can control spending.

Highway Worker Safety Legislation Heading to Governor for Signature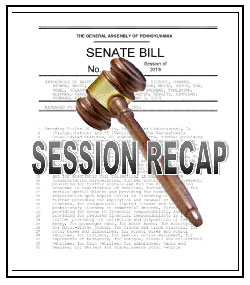 Legislation geared toward preventing distracted and aggressive driving in work zones is heading to the Governor's desk for signature after unanimous concurrence by the Senate last week.
Senate Bill 887, which originally passed the Senate in June, toughens penalties for drivers who endanger or kill a highway worker or first responder in a construction zone. The bill also broadens the scope of "highway workers" to include emergency personnel, local government and municipal workers, members of the Pennsylvania State Police and law enforcement community, and contractors or utility company workers.
Under the bill, violators could face fines and penalties exceeding $1,000 for irresponsible driving in work zones. More serious offenses involving injuries to highway workers or emergency responders could result in a fine of up to $5,000 and a six-month suspension of the violator's driver's license. Drivers causing the death of a worker would pay a fine of up to $10,000 and surrender their license for one year.
Committee Recommends Creation of Voluntary Veterans Preference Hiring Program in Private Sector
Following in the footsteps of 27 other states, Pennsylvania recently took the first step in allowing private sector companies to create their own Veterans Preference hiring programs. Senate Bill 1013 was unanimously approved by the Senate Veterans Affairs and Emergency Preparedness Committee on Wednesday.

Special Senate Committee on Senate Address Holds Third Hearing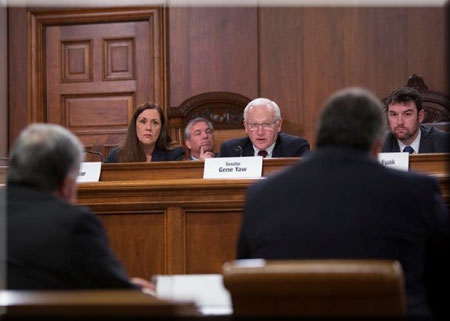 On November 18th, the state Senate's Special Committee on Senate Address convened for the third hearing at the state Capitol Building.
During the hearing, testimony was received from senior staff attorneys in the Office of Attorney General including Bruce R. Beemer Esq., First Deputy Attorney General, James A. Donahue, III Esq., Executive Deputy Attorney General, Robert A. Mulle Esq., Executive Deputy Attorney General, and Lawrence Cherba Esq., Executive Deputy Attorney General.
The committee is charged with examining Attorney General Kathleen Kane's ability to perform the functions of her position with an indefinitely suspended law license, as well as possible other areas that may impact her performance.
A written report will be issued by the Committee with preliminary findings, as well as an outline of procedures that the Committee will utilize should they elect to move forward. The Committee is also tasked with determining if there is sufficient evidence that warrants notice and a hearing as required under the PA Constitution before the Special Committee on Senate Address.

Honoring Excellence in Education
Lewisburg Superintendent Recognized as
2016 Pennsylvania Superintendent of the Year
On November 19th, Dr. Mark DiRocco, Superintendent of the Lewisburg Area School District (Union County), was recognized by the PA Association of School Administrators as the 2016 Pennsylvania Superintendent of the Year. It was my honor to provide a Congratulatory Senate Citation, which was presented to Dr. DiRocco, for his outstanding accomplishments and dedication to excellence.
Dr. DiRocco has served as superintendent of the Lewisburg Area School District since 2002. His focus on communication, team leadership, student learning and financial stability have steered the small, rural and increasingly diverse district toward high levels of achievement.
His leadership has resulted in numerous recognitions, including the Tech-Savvy Superintendent's Award from eSchool News, the Victor Skotedis Award for Excellence in the Teaching of Economics, the "Educator of the Year" Award from Economics Pennsylvania, and the 2015 Distinguished Educator Award by the Society of Honors at Mansfield University.
As the Pennsylvania honoree, he and 49 other state honorees will be recognized in February during the AASA National Conference on Education in Phoenix.

PHEAA Reminds Recent College Graduates to
Prepare for Student Loan Repayment
Spring graduates are approaching the end of their six-month grace period .
The Pennsylvania Higher Education Assistance Agency (PHEAA) is reminding federal student loan borrowers who graduated in May or June that the six-month grace period on their student loan is soon ending and repayment will begin.
New graduates typically take advantage of their six-month grace period to find employment and get their finances in order before beginning repayment of their student loans.
Federal student loan repayment plans offer borrowers many benefits, such as Graduated Repayment with payments that are initially lower but increase later, or Income-Driven Repayment with monthly payments based on loan debt, income and the number of people in their household.
Borrowers who are having difficulty securing employment or who have recently lost their job, should contact their servicer to determine if they could qualify for a reduced payment plan or if they are eligible for an economic hardship or unemployment deferment or forbearance which could temporarily suspend their payments until their situation improves.
To read more, click here.

PA LIHEAP Program Is Open
The Commonwealth's federally-funded Energy Assistance Program has begun taking applications before winter weather arrives, according to the PA Department of Human Services.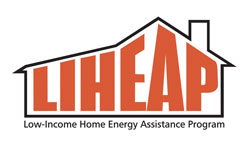 The Low-Income Home Energy Assistance Program (LIHEAP) provides qualified applicants financial help with paying home heating bills and weatherization expenses. Cash grants are sent directly to the utility company, while crisis grants are directed to households in immediate danger of being without heat.
The application form may be completed online, on paper, or in person at a local county assistance office. Approval of a LIHEAP application may require up to 30 days.

#StayConnected
---
If you do not wish to receive this email, click here to unsubscribe.
Privacy Policy
2015 © Senate of Pennsylvania
senatorgeneyaw.com