Thursday, December 10, 2015

Dear Friends,
Hello! Thank you for subscribing to my E-newsletter. I am honored to serve the 23rd Senate District and look forward to working with you toward building a better future for Pennsylvania!
This E-newsletter serves to keep you updated on what is happening throughout Bradford, Lycoming, Sullivan, Susquehanna and Union counties and what I am doing as your state senator in Harrisburg. I hope that you will find this E-newsletter helpful, and if you have any questions or concerns, please feel free to contact me.
Gene Yaw
State Senator
www.SenatorGeneYaw.com
BUDGET UPDATE: Senate Approves 2015-16 Spending Plan

On Monday, December 7th, the state Senate approved a bipartisan budget bill, Senate Bill 1073, by a vote of 43-7. Today marks the 164th day the Commonwealth does not yet have a signed budget, despite numerous attempts to do so.
The $30.8 billion plan is approximately $1.15 billion less than Governor Wolf's original budget request.
The plan does not include the governor's proposed increases to the Personal Income Tax or severance tax.
Senate Republicans have worked for the past 10 months to develop a fiscally responsible budget that avoids massive tax increases that were the lynchpin of Governor Wolf's original budget proposal.
Although passage of a state spending plan is long overdue, the new budget framework offers significant progress on three priorities shared by a majority of Pennsylvanians – educating our children, getting the state out of the liquor business, and reforming our broken public employee pension system.
The plan offers historic levels of education funding. An additional $460 million would be invested in education, including increases in funding for pre-K and Basic Education. Higher education will be increased by 5 percent.
Most importantly, the framework ensures those new dollars invested in schools are put to good use in the classroom and not lost to ever-increasing pension obligations.
Pension costs are the main cause of property tax increases at the local level and spending increases at the state level. Reforming the system to deal with the $50 billion unfunded liability is the key to ensuring school districts can invest in students instead of grappling with constant funding shortfalls.
While the pension reforms will set Pennsylvania on a more sustainable spending path for future generations, it is not the only change demanded by state residents.
Pennsylvanians overwhelmingly favor a better approach to the sale of liquor, and the framework includes several of the reforms most frequently requested by our constituents. The plan provides for the private sale of wine at restaurants and grocery stores, as well as many other changes that will result in increased customer convenience. The plan also offers a roadmap to permanently divest the state from the business of selling liquor in the future.
The key to achieving these reforms is compromise. Negotiation is a two-way street, and Governor Wolf made it clear he would not sign a budget that did not close the structural deficit that lawmakers have battled since the final year of Governor Rendell's tenure.
In order to deal with this deficit, the framework includes about $600 million from a variety of revenue options, including some modernization to the sales tax. Although this is substantially less than what Governor Wolf proposed, the Governor's concurrence is needed in order to secure pension and liquor reforms. This is negotiation.
While the agreement is not perfect, it represents a plausible solution to a crisis that has threatened core services of government.
Other highlights of the plan include:
The Senate-approved budget is currently in the House of Representatives for consideration.

Center for Rural Pennsylvania Releases Second Report
on Pennsylvania's Heroin Epidemic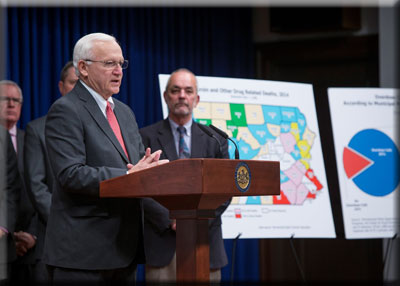 The Center for Rural Pennsylvania announced the release of its most recent report, "Heroin: Combating this Growing Epidemic in PA," which reflects testimony collected during a second round of statewide public hearings held in July and August.
Focusing on treatment and recovery services in Pennsylvania, the Center for Rural Pennsylvania Board of Directors and legislators heard from 40 experts, including treatment professionals, family, law enforcement officials, government officials, and educators, who presented testimony on a range of issues related to treatment and recovery services, and what could be done to help addicts get the treatment they need.
To read more, click here.

Combatting Blight In Our Communities
Fighting Blight
Communities would get a new tool to eliminate blight under a measure passed by the Senate and now before the House of Representatives. Senate Bill 482 would give counties the option of establishing a new fund to be used for the demolition or rehabilitation of blighted properties. The new fund would be capitalized through a fee assessed for each property sold for delinquent taxes.
To read more, click here.

Protecting Royalty Owners
Action Taken Against Chesapeake Energy, Corp.
On Wednesday, December 9th, the Pennsylvania Office of Attorney General took action against Chesapeake Energy, Corp. after investigating claims of unfair natural gas royalty deductions.
Since first hearing the concerns raised by many of my constituents, I have said many times that any violation of a contract should be examined by the court system. Over the years, my office has received numerous complaints from landowners frustrated over the business practices of Chesapeake Energy and, in my opinion, the Office of Attorney General was best equipped to investigate those claims.
As announced yesterday by the Pennsylvania Office of Attorney General: "The lawsuit, which was filed in the Bradford County Court of Common Pleas, seeks restitution for thousands of consumers, civil penalties and legal costs. It was the result of an extensive investigation by the Office of Attorney General's Antitrust Section and Bureau of Consumer Protection. The investigation focused on counties in northern Pennsylvania."
To read more, click here.

TELEVISION REPORT: Senate Caucus Tours Lycoming Engines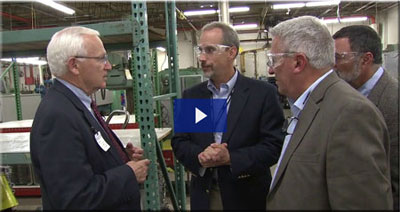 I recently invited members of the Pennsylvania State Senate Aviation Caucus to tour Lycoming Engines, located in Williamsport, Lycoming County. For a look at the video program, be sure to click the link above.
Lycoming Engines specializes in engineering, manufacture, service and support of piston aircraft engines. Lycoming piston engines power more than half of the world's general aviation fleet - both rotary- and fixed-wing - and also provide engines for military training schools and other specialized applications.
The Senate Aviation Caucus, of which I serve as a member, is focusing on four key areas within the aviation industry. I am pleased to lead the caucus's efforts for "education, awareness, research and technology."

The Pennsylvania Department of Health launched the "Stopping the Flu Starts with YOU" campaign, which urges Pennsylvanians to protect themselves and their loved ones against the seasonal flu by getting vaccinated and taking other preventive measures. The department will be holding flu shot clinics throughout the state, including in the 23rd District:
For more information, click here.

PA Ranked Among Nation's Most Supportive of Students With Financial Need
The Pennsylvania Higher Education Assistance Agency (PHEAA) recently announced survey findings from the National Association of State Student Grant and Aid Programs (NASSGAP) which analyzes state-sponsored need-based financial aid programs.
The survey shows that Pennsylvania continues to rank at or near the top in the nation in terms of total public funding in support of higher education and in the number of students who benefit.
Pennsylvania ranks first in support of grant aid to students, as a percentage of public funding for higher education, among states with the highest dollar support for need-based aid.
While the Commonwealth is the sixth most populous state in the nation, the Pennsylvania State Grant Program ranked third behind California and New York in the total amount of need-based funding provided to students. Pennsylvania also ranked third in the number of students who benefited from state grant awards during the survey period.
To read more, click here.

Funding and Financing Opportunities
ECONOMIC DEVELOPMENT ADMINISTRATION (EDA) is seeking applicants in rural and urban areas to provide investments that support construction, non-construction, technical assistance, and revolving loan fund projects under EDA's Public Works and Economic Adjustment Assistance programs. Grants and cooperative agreements made under these programs are designed to leverage existing regional assets and support the implementation of economic development strategies that advance new ideas and creative approaches to advance economic prosperity in distressed communities. EDA provides strategic investments on a competitive- and merit-basis to support economic development, foster job creation, and attract private investment in economically distressed areas of the United States. Deadline: applications are accepted on an ongoing basis. Click here to review funding guidelines.
USDA is offering grants to nonprofit and public agencies to acquire, construct, or improve energy generation, transmission, or distribution facilities serving communities where average annual residential expenditure for home energy exceeds 275 percent of the national average. Deadline: 12/14/2015 . Click here to review funding guidelines.
NATIONAL TELECOMMUNICATIONS COOPERATIVE ASSOCIATION: RURAL BROADBAND ASSOCIATION will provide up to $5,000 to support the development and implementation of innovative broadband-enabled solutions to support rural healthcare, public safety, economic development, education, energy, or other community-oriented initiatives. The successful applicant(s) will demonstrate how the broadband-enabled technology will generate improvements to community strength and growth consistent with the goals of this program. Deadline: 12/31/2015. Click here to review program guidelines and to apply.
HUD has announced the availability of $9,977,500 of FY 2015 Self-Help Homeownership Opportunity Program (SHOP) grant funds. SHOP funding is intended to facilitate and encourage innovative homeownership opportunities on a national and geographically-diverse basis. The program supports self-help housing programs that require a significant amount of sweat equity by the homebuyer toward the construction or rehabilitation of his or her home. Deadline to apply: 1/4/2016. Click here to view the NOFA.
HUD is offering grants through the Juvenile Re-entry Assistance Program (JRAP) to PHAs and nonprofits with legal service experience for programs that remove barriers young people returning from prisons and jails face upon reentry. Deadline: 1/4/2016. Click here for application guidelines.
THE FEDERAL OFFICE OF RURAL HEALTH POLICY is offering funding for needs related to planning and establishing integrated healthcare networks with the goal of strengthening or expanding access to essential healthcare services. Deadline: 1/8/2016. Click here for program guidelines.
THE CITIZENS' INSTITUTE ON RURAL DESIGN™ (CIRD) 2016-2017 Request for Proposals is open to rural communities facing design challenges, from Main Street revitalization to art-based community development and more. CIRD will select up to six communities, with populations 50,000 or less, to host a two-and-a-half-day design workshop aimed at solving local design challenges and planning for the future. Selected communities receive a CIRD stipend of $10,000 dollars and in-kind professional assistance to organize the workshop and follow up activities. The workshops are interdisciplinary and feature a wide range of design, planning, and creative placemaking professionals, bringing together local leaders from non-profits, community organizations, and government agencies to develop actionable solutions to a community's pressing design challenges. Deadline: 1/12/2016. To learn more about this opportunity and to apply, click here.
THE SODEXO FOUNDATION AND YOUTH SERVICE AMERICA (YSA) are looking for 125 of the best ideas from young people about how they can help end childhood hunger in their communities. Sodexo Foundation Youth Grants of $400 are available for youth-led service projects that bring together young people, families, Sodexo employees, and other community members to address childhood hunger. Young people in the United States, ages five to 25, are eligible to apply. Funded projects should take place on or around Global Youth Service Day, April 15-17, 2016. Application deadline: 1/15/2016. Visit the YSA website here to access the online application.
THE U.S. DEPARTMENT OF LABOR has announced the availability of approximately $20 million in grant funds authorized by the Workforce Innovation and Opportunity Act (WIOA) and the Second Chance Act of 2007 for Training to Work 3 – Adult Reentry. This program provides the opportunity for organizations to develop and implement career pathways programs in demand sectors and occupations for men and women, including veterans, and people with disabilities, who are at least 18 years old and who are enrolled in work release programs. Deadline: 1/15/2016. Click here for funding guidelines.
HUD has announced the availability of funding through the Choice Neighborhoods Planning Grant initiative. Funds are available for public housing authorities, local governments, nonprofit organizations, and tribal entities. Because this is the first time that Action Activities funds are offered, eligible past Planning Grantees can apply for the Action Activities portion of the Planning and Action Grant, which is up to $1.5 million. Deadline: 2/9/2016. Click here for funding guidelines. More information, including a webinar that will be posted in the coming weeks, can be found here.

#StayConnected
---
If you do not wish to receive this email, click here to unsubscribe.
Privacy Policy
2015 © Senate of Pennsylvania
senatorgeneyaw.com