Monday, January 11, 2016

Dear Friends,
Hello! Thank you for subscribing to my E-newsletter. I am honored to serve the 23rd Senate District and look forward to working with you toward building a better future for Pennsylvania!
This E-newsletter serves to keep you updated on what is happening throughout Bradford, Lycoming, Sullivan, Susquehanna and Union counties and what I am doing as your state senator in Harrisburg. I hope that you will find this E-newsletter helpful, and if you have any questions or concerns, please feel free to contact me.
Gene Yaw
State Senator
www.SenatorGeneYaw.com
Focus On Cutting Spending; Not Raising Taxes
As you might imagine, given the large number of complex budget-related proposals moving back and forth between the House and the Senate to resolve our five-month budget stalemate with Governor Wolf, the media's coverage—and the attacks on the bills from a variety of special interest groups on the right and the left—have included a number of significant errors. The "budget" is actually many different pieces of legislation.
I do not support the large tax hikes that were proposed by the governor. Instead, I support a budget balanced with such meaningful reforms as fixing our current pension system, which has been a major contributor to staggering property taxes, and privatizing our state-owned liquor store system.
Please know that I share your goal to save taxpayers' money and curb wasteful spending.
As a member of the Senate Majority Policy Committee, chaired by my colleague Senator Dave Argall (R-Schuylkill), the Committee is currently undertaking a number of plans to reduce state spending which I have highlighted below:
Consolidating school district health care, prescription drug plans – the results of the Legislative Budget and Finance Committee's study found that if this plan were to be implemented, it would in fact save hundreds of millions of dollars each year.

Reducing the size of the legislature as a cost-saving measure.

Evaluating the current practices of real estate utilization policies of state-owned and leased office space, storage facilities, garages and other property.

Determining how to best reduce taxpayers' costs of $85 million in overtime costs for corrections officers within our state prisons without sacrificing public safety.

Working to assess opportunities for the private sector to partner with the state to provide additional care for veterans at a lower cost to taxpayers.

Consolidating the Pennsylvania Department of Corrections and Department of Probation and Parole in order to streamline and enhance operations and reduce costs. (*SB 859 of which I am a co-sponsor)

A review of additional savings within the Department of Education to consolidate school district costs and eliminate wasteful duplication.

A review of additional savings within the Department of Human Services, to put into place welfare reforms that have already proven successful in other states.
I'm always open to your suggestions on how we can work together to lower the cost of and increase efficiencies in state government.

Farm Show 2016: Come Celebrate 100 Years of Showcasing PA Agriculture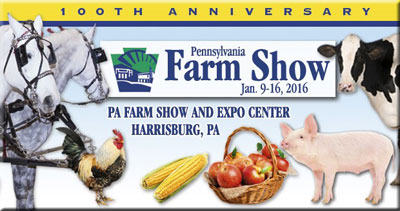 Pennsylvania is proud to host the largest indoor agricultural exposition in the nation, with nearly 6,000 animals, 10,000 competitive exhibits and 300 commercial exhibits. The 100th edition of the Pennsylvania Farm Show started on Saturday and continues through Saturday, January 16th. This year's milestone theme is: "Our Commonwealth's Blue Ribbon Experience." Admission to the show is free, but parking is $15 per vehicle. Shuttle service is provided. More information is available at FarmShow.State.PA.us.
---
As seen in the Towanda Daily Review:
Canton FFA Ready for People to Visit the 100th PA Farm Show
On Friday, students of the Canton FFA finished setting up their landscape displays at the PA Farm Show Complex in Weis Hall. They had an opportunity to meet with the Secretary of Agriculture, Russell Redding after the official ribbon cutting of the Weis Hall Exhibit featuring PA Preferred Products.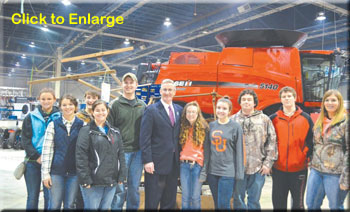 Canton FFA is in front of their Lancaster Farming Department 35 display which includes a reaper-binder loaned from the Troy Heritage Museum and Farm Museum, a thresher, and a combine supplied by Hoober, Inc. From left to right are: Lauryn Watkins, Tricia Hojnowski (Troy FFA graduate), Mak Gleckner, Alex Smith, Ben Engel, Secretary of Agriculture Russell Redding, Alyssa Blazer, Hannah Fleury, Logan Flook, Eric Schrader and Vanessa Wesneski. (Submitted Photo)

Disaster Funding Approved for District
$1.5 Million in CDBG Disaster Recovery Funding
Awarded to Bradford and Lycoming Counties
The Pennsylvania Department of Community and Economic Development (DCED) has approved $1.5 million in Community Development Block Grant – Disaster Recovery (CDBG-DR) funding for Bradford and Lycoming counties.
Of the $1.5 million, Bradford County has requested and will receive $500,000 for the Gateway Commons Project in Athens Township. The project is for the new construction of 11 two-story townhomes, consisting of 40 one, two, and three bedroom units for general occupancy.
Lycoming County has requested and will receive $1 million for rehabilitation and mitigation in Loyalsock Township ($500,000) and Muncy Borough ($500,000).
To read more, click here.

More Funding Approved for District
PIDA Loan Funds Bradford County Economic Development Project
The Department of Community and Economic Development (DCED) has approved a Pennsylvania Industrial Development Authority (PIDA) program low-interest loan for a project located in Bradford County.
The Northern Tier Regional Planning and Development Commission has been awarded a $253,000, 15-year loan at 2.5 percent for the first seven years, on behalf of Oak Hill Veneer, Inc.
The financing will be used to construct a building on the existing project property located in Troy Township in response to increased production of spliced veneer cuts and new veneer board products. The funding will also help create 13 new jobs and retain 62 existing jobs.
To read more, click here.

Funding Opportunities Available/Deadlines Approach
Community Conservation Partnerships Program Grants
Two grant program webinars for recreation and conservation projects will be held for those interested in applying for DCNR's 2016 grant funding. The Jan. 21 webinar will cover grant funding for recreation and conservation projects. The Feb. 11 webinar is for the DCNR Statewide and Regional Partnerships Program. Each webinar is held from 10 to 11:30 a.m. To register, click here and select the webinar you would like to attend and click "Register" located on the right side of the screen under the DCNR logo. For additional information, contact Linda Manning at linmanning@pa.gov. The Community Conservation Partnership Program, or C2P2, opens Jan. 20 and closes April 13.
Assistance to Firefighters Grant Program
The Assistance to Firefighters Grant (AFG) Program enhances the safety of the public and firefighters with respect to fire and fire-related hazards. It provides direct financial assistance to eligible fire departments, nonaffiliated EMS organizations, and State Fire Training Academies for critically needed resources to equip and train emergency personnel to recognized standards. Visit www.fema.gov/grants for information. Application deadline is Friday, Jan. 15, 2016.
Department of Justice Grant Program
The Department of Justice is offering grants to nonprofits, public agencies, states, Indian Tribes, and local governments under the Rural Sexual Assault, Domestic Violence, Dating Violence and Stalking Assistance Program. Funds will be used to enhance the safety of victims of sexual assault, domestic violence, dating violence, and stalking by supporting projects uniquely designed to address and prevent these crimes in rural jurisdictions. Application deadline is Monday, Feb. 1, 2016. Click here to review funding guidelines.

Lycoming County Coalition Combats Drug Epidemic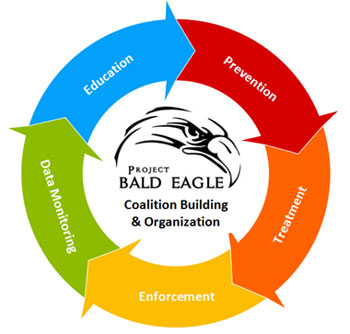 Project Bald Eagle is a coalition of organizations, community leaders, professionals and citizens like you working together to stem the tide of the heroin epidemic.
This epidemic has the potential to affect everyone regardless of age, race or socio-economic status and is being referred to as the single largest threat to community health in Pennsylvania.
Big problems demand big solutions. Project Bald Eagle employs a comprehensive model in partnership with organizations, resources and people from every cross-section of society. You are invited to get involved and discover where you fit into the solution. Visit Project Bald Eagle at www.ProjectBaldEagle.com.

As Seen in PENNLIVE:
What Do You Think Were Pa.'s Top Stories of 2015?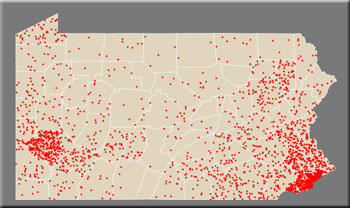 Mapping Heroin Deaths
Assuredly, and unfortunately, heroin will be as much of a newsmaker in 2016 as it was in 2015, despite the work of groups like The Center for Rural Pennsylvania, which spent the year holding meetings across the state to make more people aware of how much the addiction has us in its clutches. Of all the images and stories that PennLive published in 2015, perhaps the most powerful was this graphic assembled in early December by PennLive staffer Nick Malawskey, which takes the latest data available on heroin deaths from 2012, and lays it out in a sobering timeline. The data was compiled from the Pennsylvania Department of Health.

Pennsylvania Residents Urged to Test Homes for Radon
Harrisburg – The Department of Environmental Protection (DEP) is urging all Pennsylvanians to test their homes for radon, a deadly radioactive gas that's the leading cause of lung cancer in non-smokers in the United States. DEP is also urging residents to take action to reduce radon levels in their homes if they are high.
January is Radon Action Month, and a great time to test. The U.S. Environmental Protection Agency sets the "action level" for radon at 4 picocuries per liter (pCi/L) of air. Residents with levels at or above that figure should take steps to lower them.
To read more, click here.

2016 Calendars – Helpful and Beautiful
Treat yourself to a copy of the Pennsylvania Game Commission's beautiful 2016 Pennsylvania Wildlife Calendar or the Birds of Pennsylvania Calendar - both full of helpful information and striking photographs.
Season stickers, wildlife tidbits, and major fishing season details accompany an overview of the PA Game Commission and its six regional offices in the Wildlife Calendar. Enjoy agency biologist's introductions for each bird profiled, timely nature notes, special birding event listings, holiday schedules, and moon phases in the Birds of PA Calendar.
Proceeds from each calendar support wildlife in Pennsylvania, focusing on preservation, conservation, and management of the state's wildlife resources and habitats.

#StayConnected
---
If you do not wish to receive this email, click here to unsubscribe.
Privacy Policy
2016 © Senate of Pennsylvania
senatorgeneyaw.com