Tuesday, February 16, 2016

Dear Friends,
Hello! Thank you for subscribing to my E-newsletter. I am honored to serve the 23rd Senate District and look forward to working with you toward building a better future for Pennsylvania!
This E-newsletter serves to keep you updated on what is happening throughout Bradford, Lycoming, Sullivan, Susquehanna and Union counties and what I am doing as your state senator in Harrisburg. I hope that you will find this E-newsletter helpful, and if you have any questions or concerns, please feel free to contact me.
Gene Yaw
State Senator
www.SenatorGeneYaw.com
Governor Outlines 2016-17 Budget
New Tax Hikes Proposed Under Wolf 2016-17 Budget Plan
For the second straight year, Governor Tom Wolf has proposed a state budget with massive tax increases, unsustainable spending and no reform of major cost-drivers.
On February 9th, the Governor proposed $3.6 billion in tax hikes to support his $33.28 billion spending plan for 2016-2017. The tax hikes include a 10.7% increase in the state Personal Income Tax (PIT), from a rate of 3.07% to 3.4%, an expansion of the state Sales Tax to include cable bills and other items, and a new tax on fire, property and casualty insurance.
Under the Governor's plan, the PIT increase would be retroactive to January 1, 2016, meaning taxpayers will owe an extra six months in back tax payments if the budget is enacted June 30.
The governor continues to use kids and threatens thousands of teacher layoffs as a means to promote his misguided budget, and then attacks members of the legislature for it. The person who created this crisis is the governor himself. He talked about compromise but he has no interest to make it happen. He could have very easily signed any of the previous budgets to move Pennsylvania forward.
The Governor's budget proposal includes a 3.4% increase in Basic Education funding, but abandons efforts to reform the number-one cause of school cutbacks and school property tax increases: the public pension system.
The proposal includes restoration of the $3.3 billion in aid to schools that Governor Wolf slashed from the 2015-2016 appropriation passed by the General Assembly in December, in a widely criticized bid to pressure lawmakers into approving his massive tax hikes.
It's unfortunate that the governor has said it's either his way or the highway, and I am really worried whether or not Pennsylvania can survive three more years of this irresponsible leadership.

Education In Pennsylvania: By the Numbers
School Characteristics

Number of school districts: 500
(12th nationwide)

Number of public school students: 1,780,820 (7th nationwide)

Number of public school teachers: 118,135
(6th nationwide)

Student to teacher ratio: 14.6

National Average: 15.9

Expenditures

Total public school funding: $26,455,893,000

Local – $14,749,185 (55.8%)
State – $9,561,500 (36.1%)
Federal – $2,145,208 (8.1%)

Per student spending: $15,061
(11th nationwide)

National Average: $11,355



School Finances

Average teacher salary: $63,701

National Average: $56,610


Achievement
Percent proficient on NAEP (2015)

4th grade math
45.0% (11th nationwide)

8th grade math
36.0% (17th nationwide)

4th grade reading
41.2% (8th nationwide)

8th grade reading
39.1% (7th nationwide)

Bill Would Legalize the Sale of Consumer Fireworks in PA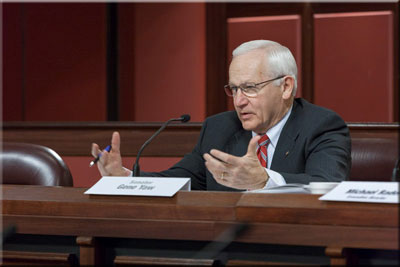 On February 10th, the Senate Agriculture & Rural Affairs Committee, of which I serve as a member, held a public hearing on a bill that would legalize the sale of fireworks in Pennsylvania.
Senate Bill 1055, legislation introduced by Senators Don White (R-41), Elder Vogel (R-47) and myself would lift the ban on the sale of "consumer" fireworks, known as "Class C" fireworks, and allow businesses legally operating in the state to sell consumer fireworks -- such as bottle rockets, roman candles and mortars -- to Pennsylvania residents without the need for a permit.
Currently, Pennsylvanians can buy Class C fireworks in surrounding states, but not in Pennsylvania. What we are proposing is a common sense approach. Pennsylvania is losing money and jobs by limiting the sale of consumer fireworks.
The bill remains under review in the Senate Agriculture Committee.

23rd District Congratulations
WASD Construction Trade Program Wins
Back to Back NAHB Championships
The Williamsport Area High School Construction Trades Program won the 2016 National Association of Home Builder Student Chapters Residential Construction Management Competition (RCMC) in Las Vegas earlier this year. The WAHS program also won the championship in 2015.
RCMC is a competition that gives students the opportunity to apply skills learned in the classroom to a real construction company by completing a management project proposal. Proposals are submitted to a group of construction company executives who act as judges. During the convention, students defend their proposals to the judges in front of an audience.
Special congratulations to Randy Williamson, WAHS construction trades teacher; students Mackenzie Bowman, Tabitha Weiss, Joshua Crane, Hayden Beiter and Conner Oldt!

PPL Heating Help
PPL Electric Utilities, working with the Pennsylvania Public Utility Commission, is looking for your help in locating homeowners to participate in a special pilot program that would provide free heating upgrades.
Specifically, they're looking for income-eligible homeowners (up to 150 percent of the federal poverty level) who have broken, unfixable oil furnaces and are using space heaters to heat their homes. The pilot program would replace the oil furnace with ductless multi-split heat pumps and also weatherize the home. This is all free to the customer.
They need to act quickly! Since the program ends April 30, they'd like to be able to install the heat pumps before the end of winter.
If you know anyone who might be interested in the program and would qualify, please call Angela R. Tracy, regulatory programs specialist, at 717-257-5707 or 717-579-0535.

Around the District
Ronald McDonald Drive Continues
The Bradford/Sullivan County Farm Bureau continues its drive to collect non-perishable products, monetary donations, etc. to be presented to the Ronald McDonald House during a Farmers Care Day Program on March 8th, which includes local farm families. Items may be dropped off at these locations until March 4th.
Dushore: The Sullivan Review, Redeemer Church, Dushore Market and Hurley's Market

Laporte: Sullivan County Courthouse

Forksville: Forksville Post Office, St. Peter's Church – Elkland Township

New Albany: Jan's Beauty Shop

Overton: St. Paul's Church

---
Seeking Input
The Brandon Park Commission and the City of Williamsport have created a survey to collect input from the public about their experiences with and desires for the future of Brandon Park in the City of Williamsport. The survey will be available online until February 29th.
The input collected will assist the Brandon Park Commission and the City of Williamsport in understanding the needs of the public as a Master Plan for the park is created. All users of the park are invited to complete this survey, whether they live in Williamsport or beyond.
This survey should take approximately ten minutes to complete and is completely anonymous. Thank you.

#StayConnected
---
If you do not wish to receive this email, click here to unsubscribe.
Privacy Policy
2016 © Senate of Pennsylvania
senatorgeneyaw.com