Monday, February 22, 2016

Dear Friends,
Hello! Thank you for subscribing to my E-newsletter. I am honored to serve the 23rd Senate District and look forward to working with you toward building a better future for Pennsylvania!
This E-newsletter serves to keep you updated on what is happening throughout Bradford, Lycoming, Sullivan, Susquehanna and Union counties and what I am doing as your state senator in Harrisburg. I hope that you will find this E-newsletter helpful, and if you have any questions or concerns, please feel free to contact me.
Gene Yaw
State Senator
www.SenatorGeneYaw.com
Senate Budget Hearings Begin This Week
PA Senate Appropriations Committee Holds Public Hearings on Proposed Budget
February 22nd - March 8th
The Senate Appropriations Committee will hold a three-week series of Budget Hearings beginning today February 22nd. These hearings provide an opportunity for the Appropriations Committee to hear cabinet secretaries, agency officials and other members of the Administration detail their plans for the upcoming fiscal year.
All hearings will be held in Hearing Room 1 of the State Capitol's North Office Building in Harrisburg. Video, audio and summaries of the hearings will be available at the Senate Republican website: www.pasenategop.com.

Tele-Town Hall Set for
Wednesday, February 24th – 1PM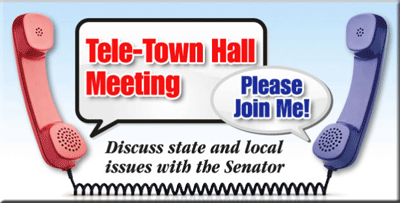 Please join me on Wednesday afternoon, February 24th at 1PM for a LIVE tele-town hall. Residents of Bradford, Lycoming, Sullivan, Susquehanna and Union counties can also register for the event by visiting my website at www.senatorgeneyaw.com.
The tele-town hall format encourages community residents to participate in a discussion on the issues without the need to travel throughout the region. Participants can ask questions or simply remain on the line to listen to the discussion.
The event will also feature a live audio stream page that allows smartphone, tablet and computer users to listen in and submit questions online. Click here for the link to the live audio stream.
While I realize that this town-hall is set during the workday for many, residents interested in submitting a question may still do so ahead of time by emailing me at gyaw@pasen.gov and a recap of the discussion will be found here. If you're using social media to ask your question, be sure to use #AskGeneYaw.

Legislation to Expunge Minor Criminal Records Signed Into Law
Legislation that will allow individuals who have served a sentence for nonviolent second and third degree misdemeanors to petition the court in order to completely erase their criminal histories from public view has been signed into law.
Senate Bill 166, which I supported, provides for an order of limited access for second and third degree misdemeanors, meaning that these criminal histories would still be available to law enforcement, but not available to potential employers. An individual may petition the court for an order of limited access after 10 years of maintaining a crime-free record. Second and third degree misdemeanors include crimes such as criminal trespassing, vandalism, or indecent assault.
Senate Bill 166 provides neither expungement nor orders of limited access for any felony or first degree misdemeanor.
This legislation is expected to help counter high rates of recidivism, relieve an overburdened pardon system, and provide more opportunities for ex-offenders to join the workforce. The legislation will take effect in 270 days.

Shingles Vaccine Available
Shingles Vaccination Available in Bradford County
On Thursday, February 25th, residents are encouraged to visit the Bradford County State Health Center, 142 Colonial Drive in Towanda, to obtain a shingles vaccination.
The vaccinations will be given from 8:30 - 11 a.m. and 1 – 3:30 p.m.
You are eligible for vaccines at LOW or NO COST if you are:
underinsured (your insurance does not cover the vaccine); or

uninsured (you have no insurance)
Maximum $5.00 cost – payable by check or money order.
FACTS
It is caused by the same virus that causes chickenpox. The virus stays in your body and can resurface any time as shingles – a painful, blistering rash. Even if you feel healthy, your risk for shingles increases as you get older.
One out of three people will develop shingles. Risk factors include age (50+ years), weakened immune system (due to diseases, cancer treatments, medications), and history of chickenpox.
The shingles vaccine (Zostavax®) can reduce the risk of developing shingles and its associated pain.

IRS: Do Your Federal Taxes for Free
Free tax preparation and e-filing services are available through the IRS' Free File program. Powered by The Free File Alliance, a coalition of 13 industry-leading tax software companies partnered with the IRS, the Free File program provides free access to the industry's most innovative and secure tax software.
Every taxpayer with a 2015 Adjusted Gross Income of $62,000 or less may visit www.IRS.gov/freefile to prepare, complete and e-file their federal tax returns at no cost. Free state return options are also available. In addition, Free File provides basic online e-filing services, called Free File Fillable Forms, to all taxpayers regardless of income. Free File can also be used to e-file an extension.
To learn more, click here.

PA Treasury to Host Free Webinars on Personal Finance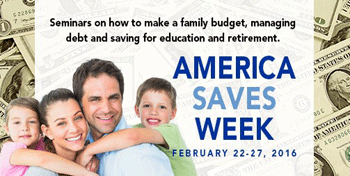 The Pennsylvania Treasury is joining with partners in the public and private sectors to host a free, five-part webinar series to help Pennsylvanians learn more about a variety of financial planning topics during America Saves Week, February 22nd – 27th. Topics covered include how to make a budget, create a savings plan, manage debt, plan for retirement and save for higher education. Additionally, to help Pennsylvanians get on the path of saving for college, Treasury is offering free enrollment in the PA 529 Guaranteed Savings Plan – a $50 savings – with the enrollment code ASW2016.
Each free, 60-minute webinar is presented by an experienced financial professional and provides guidance on common financial challenges. For more information, click here.

Help End Hunger in Pennsylvania
10th Annual "Soup & a Bowl" Event Held in Williamsport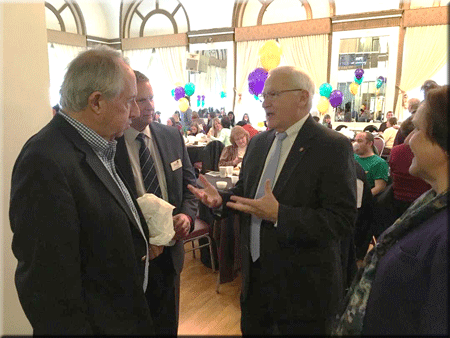 On Friday, I was happy to attend the Central Pennsylvania Food Bank's 10th Annual "Soup & a Bowl" at the Genetti in downtown Williamsport where funds raised help feed the hungry throughout our region. The Mardi Gras themed event included a variety of soups, breads, desserts, and entertainment.
The non-profit distributes more than 40 million pounds of food and grocery products, equivalent to nearly 33 million meals, every year to more than 800 soup kitchens, shelters, and food pantries in 27 central Pennsylvania counties.
I'm looking forward to next year's event!

Williamsport's Qayyim Ali Recognized for Winning State High Jump Title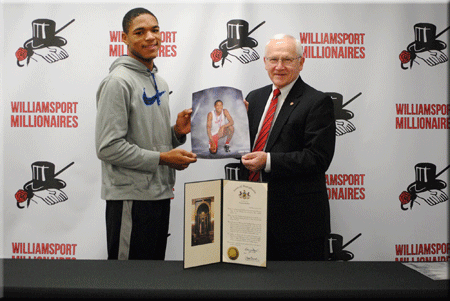 Last week I was very proud to recognize Qayyim Ali, the 2015 high jump (AAA) state champ from Williamsport Area High School. Now a high school junior, Qayyim became the Millionaires' first state track and field champion since 2012 to win the gold medal during the PIAA Track and Field Championships at Shippensburg University last year.
Qayyim cleared 6'-6" at the meet, at one point last year he also reached 6'-8". He is an honor roll student and also plays for the Williamsport Millionaires basketball team.
The high school also presented Qayyim with the same portrait that hangs in the Commons for his athletic achievements.
Congratulations on this outstanding accomplishment!

ARC Summer 2016 Oak Ridge Lab Programs
The Appalachian Regional Commission (ARC) is pleased to announce that it is collaborating with the U.S. Department of Energy's Oak Ridge National Laboratory (ORNL) and Oak Ridge Associated Universities (ORAU) in Oak Ridge, Tennessee, to provide a two-week residential hands-on learning institute focusing on math, science, and technology for high school students and teachers from July 9 to July 22, 2016. There will also be a one-week residential hands-on science academy focusing on math, science and technology for middle school students from July 17 to July 22, 2016.
Twenty-six students and twenty-six teachers from throughout Appalachia will participate in the hands-on learning program that will focus on the application of math and science principles in the world of work.
Interested applicants must submit application forms to the ARC state program manager in which the participant's school is located on or before March 18, 2016. Some states may have earlier deadlines. Please contact your ARC state program manager before applying. Individual states may have specific requirements and/or application procedures.
A list of all ARC state program managers, application forms, and further information is available on the ARC Website.



#StayConnected
---
If you do not wish to receive this email, click here to unsubscribe.
Privacy Policy
2016 © Senate of Pennsylvania
senatorgeneyaw.com