Monday, March 21, 2016
Dear Friends,
Hello! Thank you for subscribing to my E-newsletter. I am honored to serve the 23rd Senate District and look forward to working with you toward building a better future for Pennsylvania!
This E-newsletter serves to keep you updated on what is happening throughout Bradford, Lycoming, Sullivan, Susquehanna and Union counties and what I am doing as your state senator in Harrisburg. I hope that you will find this E-newsletter helpful, and if you have any questions or concerns, please feel free to contact me.
Gene Yaw
State Senator
www.SenatorGeneYaw.com
Letter Writing Campaign Kick-Off
Last week, the Legislature voted to restore funding to a number of programs that were vetoed by Governor Wolf in December, including critical funds for education, agriculture and rural hospitals.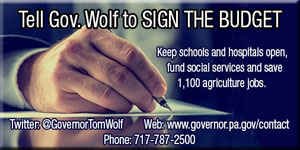 The supplemental budget passed would increase state support for education by $200 million and restore much of the $6 billion in funding eliminated by the Governorís line-item vetoes. The $30.031 billion spending plan would utilize existing revenues without the need for a tax increase.
Iím urging residents in Bradford, Lycoming, Sullivan, Susquehanna and Union counties to write to the Governor directly. Be sure to contact the Governor and let him know you would like to see a completed 2015-16 budget.
Letters can be mailed to:
Governor Tom Wolf
225 Main Capitol
State Capitol Building
Harrisburg, PA 17120

Williamsport Kiwanis Club Meeting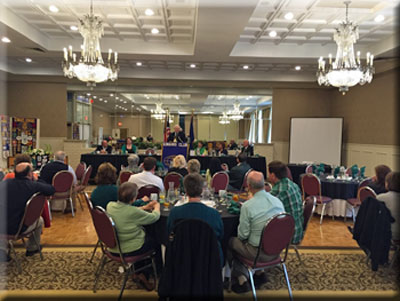 During the recent meeting of the Williamsport Kiwanis Club, I had the opportunity to discuss passage of the fourth state budget by the PA Legislature. The Governor has already said that he will veto the proposal, which fully funds our schools, critical access hospitals and agriculture.
To read a recent Williamsport Sun Gazette story, click here.

The Senate recently approved Senate Bill 1013 to let Pennsylvania employers adopt and use a veteransí preference employment policy. The bill would exempt employers with a written veteransí employment policy from violations of state and local equal employment opportunities law. The bill now goes to the House of Representatives for consideration.
To read more, click here.

---
The Senate Majority Policy Committee held a public hearing to examine the use of unmanned aerial vehicles (drones) in Pennsylvania. Among the topics discussed were the impact of drones on privacy and businesses, and legislation that would place a two-year Pennsylvania moratorium on the use of government unmanned aircraft.
To read more, click here.

Pennsylvania Aggressive Driving Enforcement and Education Project
State Police and more than 235 local police departments will be participating in an Aggressive Driving Wave from March 21 to May 1, 2016. The focus is Speeding, Work Zones Safety and Keeping Right-Passing Left. Police will also be on the lookout for motorists driving too fast for conditions, following too closely, or other aggressive actions.
To read more, click here.

PennDOT District 3-0 Recognized in Sullivan County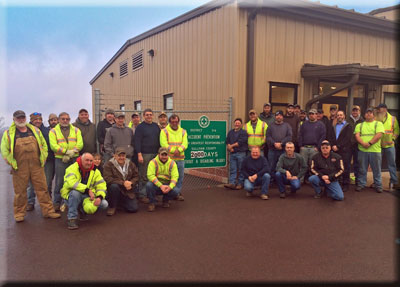 PennDOT Sullivan County Maintenance achieved 2,000 days without a disabling injury on December 6, 2015. They celebrated the milestone recently with PennDOT Deputy Secretary Suzanne Itzko and Erik Houser of my office at their annual Safety Day.

---
Pa. Farmers Encouraged to Share Chesapeake Success Stories
With the Chesapeake Bay watershed on the mend on both sides of the Mason-Dixon line, farmers in Pennsylvania are invited to participate in a survey to inventory conservation practices on their farms to help show the progress that has been made.
Pennsylvania farmers have done much to improve water quality and soil health. Yet, many of the conservation practices that farmers have implemented are not accounted for in tracking progress toward priority water quality goals, including cleaning up the Chesapeake Bay. This is especially true where farmers have implemented practices on their own initiative, using their own means to do so.
The survey period closes on April 30, 2016. For more information or to take the survey, click here.

Popular Mentored Youth Trout Fishing Days
Return on March 26 and April 9
The Pennsylvania Fish and Boat Commissionís (PFBC) popular Mentored Youth Trout Fishing Days return again this season, with the first special day taking place on Saturday, March 26, in the 18-county southeast region. The second special fishing day will be April 9 in the remaining 49 counties.
Participants can fish in any PFBC stocked trout water in the region from 8 a.m. to 7:30 p.m. A majority of the trout waters will be stocked in advance of the mentored youth days. Anglers are encouraged to visit the PFBC stocking page for an updated list so they know exactly what waters are being stocked.
Adult anglers (16 years or older) must have a valid fishing license and trout/salmon permit and be accompanied by a youth. Youth anglers must obtain a free PFBC-issued permit, or a voluntary $1 youth fishing license.
A new change implemented this year allows kids to keep two trout, which must measure at least seven inches. Mentors can fish, but must practice catch and release.
The mentored youth fishing days precede the April 2nd Regional and April 16th Statewide Opening Days of Trout Season.
Click here for more detailed information.

Project Bald Eagle to Hold Heroin Symposium

What: The Heroin epidemic is being called the single greatest threat to community health in Pennsylvania. Bring your family and friends to hear from industry experts on the most important issue of our time. Learn what Project Bald Eagle is doing in our communities to stem the tide of the heroin epidemic. Then sit back and listen to two eye-opening presentations as part of Project Bald Eagleís Inaugural Open Nest Symposium.
Who: Project Bald Eagle
When: Wednesday, March 23 at 7 PM
Where: Community Arts Center, 220 West 4th Street, Williamsport, PA

Local Veterans Town Hall

What: The Department of Veterans Affairs (VA) Medical Center, Wilkes-Barre, Pennsylvania, is hosting a Community Town Hall event for Veterans, family members and other individuals. The meeting is intended as a means of fostering communications between Veterans and the Medical Center. Subject matter experts will be present to field questions on a variety of topics, as well as assist veterans with information on benefits and services.
Who: Wilkes-Barre VA Medical Center Leadership and Program staff
When: Thursday, March 31 at 5 PM
Where: American Legion Post 1, 10 East Third Street, Williamsport, PA

Confronting the Heroin/Opioid Epidemic in Pennsylvania

What: For the third year in a row, the Center for Rural Pennsylvania has scheduled three public hearings to solicit testimony on confronting the heroin and opioid epidemic in Pennsylvania. The first will be held at the University of Pittsburgh-Bradford, and hosted by Center Board Member and Pitt-Bradford President Dr. Livingston Alexander. The public hearings are intended to continue informing the public of the health crisis of heroin/opioid addiction and fatalities, and to bring greater focus and attention to treatment and recovery services.
Click here for a copy of the Agenda for Hearing 1 Ė Bradford, PA
Who: The Center for Rural Pennsylvania Board of Directors
Senator Gene Yaw, Chairman
Senator John Wozniak, Vice Chairman
Representative Garth D. Everett, Treasurer
Dr. Nancy Falvo, Clarion University, Secretary
Representative Sid Michaels Kavulich
Dr. Livingston Alexander, University of Pittsburgh
Dr. Theodore R. Alter, Pennsylvania State University
Stephen M. Brame, Governorís Representative
Taylor A. Doebler III, Governorís Representative
Dr. Stephan J. Goetz, Northeast Regional Center for Rural Development
Dr. Karen M. Whitney, Clarion University
When: Friday, April 1 at 9:30 AM
Where: University of Pittsburgh-Bradford, The Bromeley Theatre, Blaisdell Hall (Campus Map)
---
If you do not wish to receive this email, click here to unsubscribe.
Privacy Policy
2016 © Senate of Pennsylvania
senatorgeneyaw.com
Harrisburg Office
Senate Box 203023
362 Main Capitol
Harrisburg, PA 17120-3023
717-787-3280
FAX: 717-772-0575
TTY: 800-364-1581
Williamsport Office
330 Pine Street
Suite 204
Williamsport, PA 17701
570-322-6457
800-443-5772
FAX: 570-327-3703
Towanda Office
1 Elizabeth Street
Suite 13
Towanda, PA 18848
570-265-7448
FAX: 570-268-4313