Wednesday, April 13, 2016

Dear Friends,

Hello! Thank you for subscribing to my E-newsletter. I am honored to serve the 23rd Senate District and look forward to working with you toward building a better future for Pennsylvania!

This E-newsletter serves to keep you updated on what is happening throughout Bradford, Lycoming, Sullivan, Susquehanna and Union counties and what I am doing as your state senator in Harrisburg. I hope that you will find this E-newsletter helpful, and if you have any questions or concerns, please feel free to contact me.

Gene Yaw
State Senator
www.SenatorGeneYaw.com
Governor Wolf's School Cuts – How Do They Affect You?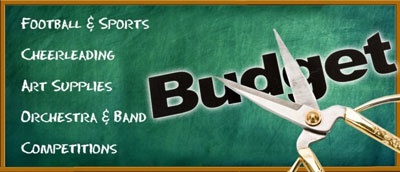 In March, the state Legislature passed a budget that added $200 million in new funding for Pennsylvania schools. This money was supposed to be distributed to school districts based on a bipartisan funding formula that was developed after months of public hearings and compromise among lawmakers, school administrators, education advocates, teachers and parents. It was a plan the Governor applauded.
Earlier this month, when Governor Wolf vetoed the Fiscal Code, he created his own funding formula to distribute funds for public education. As a result, 86 percent of Pennsylvania's 500 public school districts will receive less money under this plan. All but two school districts in the 23rd Senatorial District will receive less money under the governor's plan.
See how Governor's Wolf's school cuts affect your community, click here.
Governor's Fiscal Code veto costs local schools over $8.1 million in construction reimbursement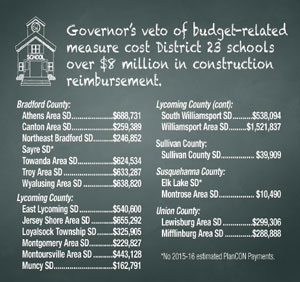 In addition to school funding cuts created by Governor Wolf's Fiscal Code Veto, 18 school districts across the 23rd Senatorial District will lose approximately $8.1 million in reimbursements for construction projects.
Commonly known as PlanCON (Planning and Construction Workbook), school districts are provided reimbursements for construction and improvement projects from the state.
While local taxpayers already bear much of the burden of needed school construction and renovation projects, the Governor's cutting of this program means local taxpayers will be forced to carry an even greater share of the load. Many school districts are more likely to be put in the unsound position of being forced to cut educational programs and staff to free up resources to address critical facility needs such as failing HVAC systems or leaking roofs.
To read more, click here.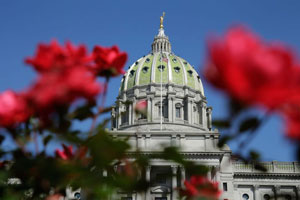 Senate Approves Medical Marijuana Bill
On Tuesday, April 12th, the state Senate approved a measure, Senate Bill 3, to legalize the medical use of cannabis in the Commonwealth. The bill was sent back to the House of Representatives for concurrence.
The Senate addressed a number of technicalities in the bill, including:
Ensuring dispensaries are clearly authorized to operate

Establishing a clear certification renewal process, which is critical for patients after 60-days

Providing free background checks for caregivers

Strengthening oversight – including background checks for employees of medical marijuana organizations, stronger seed-to-sale tracking, and stronger seed-to-sale tracking for storage and new tracking requirements for transportation

Clarifying required distances between dispensaries and schools and daycare centers, which is especially important in urban areas like Philadelphia – the amended SB 3 provides a dispensary waiver for cities like Philadelphia where 1,000 foot restrictions would otherwise preclude dispensaries in these urban areas

Clarifying the term "registration," which had been used for multiple purposes and entities – the amended SB 3 makes it clear practitioners are "registered," medical marijuana organizations receive a "permit," and identification cards for patients and caregivers are "certified" by the Department of Health

Clarifying the certification of medical marijuana identification cards – while maintaining safeguards to protect against fraud

Making a number of other technical changes to ensure SB 3 will work as law – including reorganizing the bill to make it easier to implement without delay
Senate Environmental Committee Disapproves Oil and Gas Regulations
On Tuesday, April 12th, the Senate Environmental Resources & Energy Committee, of which I serve as Chairman, disapproved Chapter 78/78a regulations, which would modify operating standards for both Marcellus Shale and traditional oil and gas companies.
In a 9-2 vote, the Committee recommended to send a "disapproval letter" to the Independent Regulatory Review Commission (IRRC) regarding the new oil and gas regulations proposed to Chapter 78. This comes as a direct result of the PA Department of Environmental Protection's (DEP) circumventing various aspects of the Regulatory Review Act. DEP did not properly differentiate in its standards between sophisticated, large-scale shale operations and traditional, shallow oil and gas wells operated by small businesses, as required by a 2014 law. DEP also failed to comply with a PA Supreme Court opinion.
For audio and video of the Senate Committee meeting, click here.
Senate Environmental Committee Approves Bills to Protect Energy-Related Jobs
The Senate Environmental Resources & Energy Committee on Tuesday also approved two bills intended to protect family-sustaining Pennsylvania jobs placed at risk by Governor Wolf's veto of the Fiscal Code, House Bill 1327.
Senate Bill 1011 would spare Pennsylvania's conventional oil and gas well operations from the Administration's onerous new regulations intended for Marcellus Shale gas extraction operators.
Senate Bill 1195 amends the PA Greenhouse Gas Regulation Implementation Act by updating State plan submission deadlines made necessary by the stay of the Clean Power Plan by the United States Supreme Court. In addition, this bill also provides more transparency for the General Assembly and the public in examining the State's plan.
Legislation Calls for Increased Education in Pain Management, Opioid Prescribing Practices
I have introduced legislation, along with Sen. John Wozniak, to require Continuing Medical Education (CME) training for those professionals licensed to prescribe medication in the Commonwealth of Pennsylvania.
Senate Bill 1202 is intended to help stem the tide of opioid and prescription drug abuse in the state, which often leads to heroin use.
The bill would require state licensing boards to call for two hours of CME in "pain management" and two hours of CME in "opioid prescribing practices" for individuals applying for an initial license or renewal of an existing license or certification in the Commonwealth.
To read more, click here.
Senate Approves Bill Boosting Littering Fines
Legislation to increase fines for littering has been approved by the state Senate. Currently, fines for littering under Title 18 (Crimes and Offenses) run from $50 to $300 for a first-time offense, and $300 to $1,000 for a second and subsequent offense. Senate Bill 973 boosts fines up to $2,000 for multiple offenses based on the weight or cubic feet of litter.
This legislation will also increase the littering fines outlined in Title 75 (Vehicles), with heavier penalties for littering from vehicles on highways, properties and water, including in an agriculture security area.
The measure now goes to the House of Representatives for consideration.
Legislation Provides Permit for Parents of Disabled Children
I joined Senate colleagues in passing legislation to allow parents or guardians with adult children in their care to receive disability license plates and placards. Senate Bill 983 would provide access to vehicle disability license plates to parents, including adoptive parents or foster parents, of adult children in their care who qualify for a disability license plate. This is a small measure of assistance for these special caregivers.
"Private Walter L. Smith Spanish-American War Memorial Bridge" Designation Approved
On June 25, 2015, Rep. Garth Everett sponsored legislation, House Bill 1407, which would designate a bridge on State Route 2014 over the Muncy Creek in Muncy Creek Township, Lycoming County, as the Private Walter L. Smith Spanish-American War Memorial Bridge.
On Wednesday, April 13th, the language contained in House Bill 1407 was incorporated into Senate bill 1153 and approved by the full state Senate. The bill returns to the House of Representatives for consideration.
Combatting Heroin/Opioid Addiction
Center for Rural Pennsylvania Examines Heroin, Opioid Abuse in Northwestern Pennsylvania
Pennsylvania's broadening crisis of heroin and opioid addiction again took center stage April 1st during a public hearing hosted by the Center for Rural Pennsylvania.
Held on the campus of the University of Pittsburgh – Bradford, the Friday hearing marked the eighth held by the Center since 2014.
If there is one thing we've learned over the course of three years of public hearings, it is that a community-wide effort is needed to address the heroin and opioid epidemic. During these hearings, it's important that we hear what works, what doesn't work and what communities across Pennsylvania are doing to address addiction.
For more information on the heroin epidemic in Pennsylvania, click here.
Loyalsock Creek Rivers Conservation Plan Public Outreach Meetings
Lycoming and Sullivan County municipalities, partners and the public will be holding three open houses to discuss the Loyalsock Creek Rivers Conservation Plan. The open houses will be an opportunity for the public to learn about the plan and help identify significant natural, cultural, and recreational features and opportunities within the Loyalsock Creek watershed in Bradford, Lycoming, Sullivan and Wyoming counties.
The open houses will be held:
April 18, 7-8:30PM
Plunketts Creek Fire Hall
327 Dunwoody Road, Williamsport, PA 17701

April 19, 7-8:30PM
Community Baptist Church
853 Rt. 81, Montoursville, PA 17754

April 20, 7-8:30PM
Worlds End State Park
82 Cabin Bridge Road, Forksville, PA 18616
Lycoming College Representatives Visit the State Capitol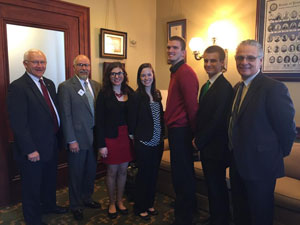 President Kent Trachte, Dr. Dan Miller, Pat Marty & students from Lycoming College visited with Senator Yaw on Tuesday for AICUP's Student Aid Advocacy Day at the State Capitol.
---
Mifflinburg 4-H Citizenship Group Tours State Capitol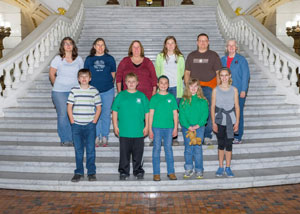 Recently, students and advisors representing Mifflinburg 4-H toured the State Capitol Building during their trip to Harrisburg. The students were also treated to a special visit to the Floor of the Senate.
Local School Earns State Recognition
Jersey Shore Environmental Stewardship Project Earns Governor's Award for Environmental Excellence
A local school organization in the 23rd Senatorial District is the recipient of the prestigious Governor's Award for Environmental Excellence. The award winner represents the best in using innovation, collaboration, and public service to improve and protect Pennsylvania's environment.
As announced today by the Wolf Administration, the Jersey Shore Outdoor Club at Jersey Shore Area High School is the award recipient.
To earn the award, the volunteers of the Jersey Shore Outdoor Club removed a damaged flood culvert on a tributary of Pine Creek, cleaned up the Tomb Flats Picnic and Campground area, and restored 28 miles of the Tiadaghton Hiking Trail.
I would like to offer my sincere congratulations to the Jersey Shore Outdoor Club for their tremendous undertaking. Their work is a positive example for other schools to emulate. I have no doubt that this project will inspire other young people to become leaders, helping them develop a deep sense of commitment to preserving our natural resources.
To learn more about the Governor's Awards for Environmental Excellence, click here or visit the Pennsylvania Environmental Council's website.
USDA Seeks Applications for Loans and Grants to Help Grow Rural Businesses and Spur Economic Development
The USDA is seeking applications for loans and grants to help support the start-up or expansion of rural businesses.
The funding is being provided through the Rural Economic Development Loan and Grant (REDLG) program. Under this program, USDA provides zero-interest loans and grants to local utilities, which use the funding to create revolving funds for projects that will create or retain jobs in rural areas.
USDA is making $37 million in loans and $11 million in grants available. A recipient may receive a loan of up to $1million, or a grant of up to $300,000.
To read more, click here.
2015-16 Senior Community Center Grants Available
Senior Community Centers have until April 19 to apply for grants from the state Department of Aging. The grants provide funding for centers to increase participation, provide innovative programs, attract a new generation of older adults and provide a safe and healthy environment for participants.
To read more, click here.
Business In Our Sites Loans Available
The Commonwealth Financing Agency is accepting applications for the Business in Our Sites Program until May 31, 2016. The program provides loans to acquire and develop key sites for future use by businesses, private developers and others. Eligible recipients include municipalities, municipal authorities, redevelopment authorities and more. http://www.newpa.com/programs/business-in-our-sites-grants-and-loans-bos/
To read more, click here.
PA Department of Agriculture News
Dog Wardens to Conduct License, Rabies Compliance Checks in Susquehanna County
During the week of April 18th, dog wardens will canvass homes throughout Susquehanna County ensuring all dog owners have current licenses and rabies vaccinations for their dogs.
The Department of Agriculture reminds dog owners that a license is one of the best ways to be reunited with your dog if you were to become separated.
Under Pennsylvania law, all dogs three months or older must be licensed by January 1 of each year. The fee is $6.50 for each spayed or neutered dog and $8.50 for other dogs. Older adults and persons with disabilities may purchase a license for $4.50 for spayed or neutered dogs and $6.50 for others.
Additionally, all dogs and non-feral cats (three months of age and older) must be vaccinated against rabies. Booster vaccinations must be administered periodically to maintain lifelong immunity.
Violators can be cited with a maximum fine of $300 per violation plus court costs.
Licenses may be purchased through your County Treasurer, by calling your county courthouse, or from a registered issuing agent.
For more information, visit www.licenseyourdogPA.com or call 717.787.3062.
State Police Youth Week is sponsored by The American Legion Department of Pennsylvania and The Pennsylvania State Police
The Pennsylvania State Police and Pennsylvania American Legion are seeking applicants for "State Police Youth Week," a week-long leadership camp held at York College designed for teenagers, ages of 15-17, who are interested in a career in law enforcement or the military. During the June 12-18 camp, cadets take part in team-building exercises, physical fitness training, classroom activities and a marksmanship course.
To read more, click here.
---
If you do not wish to receive this email, click here to unsubscribe.
Privacy Policy senatorgeneyaw.com