Wednesday, April 20, 2016
Dear Friends,
Hello! Thank you for subscribing to my E-newsletter. I am honored to serve the 23rd Senate District and look forward to working with you toward building a better future for Pennsylvania!
This E-newsletter serves to keep you updated on what is happening throughout Bradford, Lycoming, Sullivan, Susquehanna and Union counties and what I am doing as your state senator in Harrisburg. I hope that you will find this E-newsletter helpful, and if you have any questions or concerns, please feel free to contact me.
Gene Yaw
State Senator
www.SenatorGeneYaw.com

Senate Approves Legislation to Ensure Fair Funding for School Districts
Last week, the state Senate again passed legislation that would fairly distribute education funds to school districts and ensure schools receive reimbursements for previously paid construction costs.
House Bill 1589, which was approved by a strong bipartisan vote of 37-11, directs all new state money for the current 2015-16 school year to be allocated to districts using a bipartisan funding formula established by a Basic Education Funding Commission. It also authorizes the release of state reimbursements under the state's Planning and Construction Workbook, otherwise known as PlanCon.
The state budget approved by lawmakers in March included an additional $200 million in basic education funding and more than $350 million in PlanCon reimbursements. The language to implement the new basic education funding formula and authorize the PlanCon reimbursements was contained in House Bill 1327, the Fiscal Code.
---
Governor Wolf Signs Medical Marijuana Bill
On Sunday, Governor Wolf signed Senate Bill 3, which legalizes the use of medical marijuana in the state.
The bill sets standards for tracking plants, certifying physicians and licensing growers, dispensaries and physicians. Patients could take marijuana in pill, oil, vapor, or ointment form. Patients with serious medical conditions will be able to access medical marijuana with a prescription, and access it at an approved dispensary. The new law authorizes the Department of Health to license up to 150 dispensaries in the state.
Here's what you need to know about the new law, click here.
---
Legislation Encourages Biennial (Two-Year) Budget
Senate Bill 1171, legislation that would establish a biennial (two-year) budget cycle in Pennsylvania, has been introduced in the state Senate. Through a constitutional amendment, this proposal would require the enactment of a budget covering a two-year period.
---
Senate Approves Special Vehicle License Plate
for Members of the U.S. Armed Forces
Senate Bill 1155, which was recently approved by the state Senate, establishes a special vehicle license plate for members of the U.S. Armed Forces, adding special recognition for active members of the military, reserves, and Pennsylvania National Guard. This would be an addition to the currently available license plates with special recognition for World War II veterans, Purple Heart recipients and Operation Iraqi Freedom veterans.
The bill was sent to the House of Representatives for consideration. To read more, click here.
---
Child Car Seat Law Updated
The Senate recently voted to require children under the age of two be secured in a rear-facing child seat while traveling in a vehicle. Pennsylvania's current child seat law does not specify which direction the car seat should face. The National Highway Traffic Safety Administration recommends that infants should be in a rear-facing car seat until they weigh at least 20 pounds and are at least one year old. According to the American Academy of Pediatrics, a rear-facing car seat better protects the head, neck and spine of an infant because it distributes the force of a collision over the entire body.
To read more, click here.
---
Lycoming County Conservation District Holds Legislative Breakfast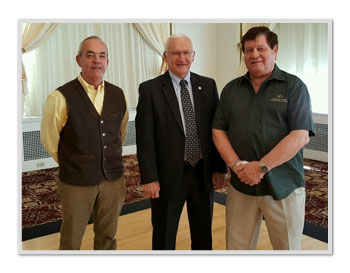 On April 14th, I joined the Lycoming County Conservation District for their Annual Legislative Breakfast at the Genetti Hotel in Williamsport. I had the opportunity to discuss the recent DEP Chesapeake Bay Program "Reboot" Initiative, as well as other legislative issues before the state Senate.
Sen. Yaw pictured with Rep. Garth Everett and Carl Schlappi, chairman of the board, Lycoming County Conservation District.
---
PSATS Convention Brings Heroin Epidemic Front and Center

On Tuesday, April 19th, I joined 2,000 members of the Pennsylvania State Association of Township Supervisors to discuss the surge in heroin and opioid abuse around the state. From the reaction of those in the audience, it was clear that many in attendance have been impacted in one way or another by this growing epidemic, whether through a family member, friend or relative.
I want to thank PSATS for bringing needed attention to this issue, and also for allowing me to participate in order to share what is happening both locally and on the state level to address this important issue.

April 21st Hearing on Heroin and Opioid Epidemic
Set for Lewistown, Mifflin County
On Thursday, April 21st, the Center for Rural Pennsylvania will hold its ninth public hearing to solicit testimony on confronting the heroin and opioid epidemic in Pennsylvania. The hearing will be held at the Geisinger-Lewistown Hospital, in Lewistown, PA and will be hosted by the Center, as well as Senate Majority Leader Jake Corman.
The hearings are intended to continue informing the public of the health crisis of heroin/opioid addiction and fatalities, and to bring greater focus and attention to treatment and recovery services.
For more information, click here.

ICYMI: Williamsport Strolling Strings Perform in the State Capitol Building
On March 10th, I joined the Millionaire Strolling Strings during their performance in the State Capitol East Wing Rotunda. The Millionaire Strolling Strings have been in existence since 1987 and have been entertaining audiences in the Williamsport area, the Commonwealth of Pennsylvania, and across the country. The students are admitted by an audition process and memorize all the music that is performed.
I hope you enjoy their performance!

Attention Seniors!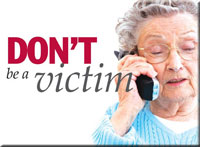 As part of Financial Education Month, Pennsylvania senior citizens are urged to be on guard for identity theft and tax-related scams. Family, friends and caregivers are encouraged to remind the older adults in their lives not to give out personal information over the phone, through the mail or on the internet unless they initiate contact and are absolutely certain of the recipient. Here are some tips to identify potential scams, click here.

Applications Available for DCNR Fire Assistance Grants
Applications are now available for Volunteer Fire Assistance Grants through the Department of Conservation and Natural Resources (DCNR).
The application period is open through May 19.
The grants, made available in coordination with the U.S. Department of Agriculture, are designed to facilitate a partnership with state officials to organize, train and equip local forces in preventing, controlling and suppressing fires that have the potential to threaten human life, livestock, crops, pastures, woodlands, orchards and farmsteads. The grants are available to rural areas or communities with fewer than 10,000 residents.
Grants can be used for the purchase of wildfire suppression equipment, wildfire protective gear, wildfire prevention and mitigation, wildfire training, mobile or portable radios and installation of dry hydrants.
To read more, click here.

---
If you do not wish to receive this email, click here to unsubscribe.
Privacy Policy
2016 © Senate of Pennsylvania
senatorgeneyaw.com