Thursday, May 5, 2016
Dear Friends,
Hello! Thank you for subscribing to my E-newsletter. I am honored to serve the 23rd Senate District and look forward to working with you toward building a better future for Pennsylvania!
This E-newsletter serves to keep you updated on what is happening throughout Bradford, Lycoming, Sullivan, Susquehanna and Union counties and what I am doing as your state senator in Harrisburg. I hope that you will find this E-newsletter helpful, and if you have any questions or concerns, please feel free to contact me.
Gene Yaw
State Senator
www.SenatorGeneYaw.com

The state Senate will reconvene on Monday, May 9th at 1PM. For a look at upcoming Senate Committee meetings/hearings, click here.
The state House of Representatives returned to session this week
to begin discussion on the 2016-17 state budget.
Yaw Initiative Approved with Passage of State Fiscal Code
I am pleased to report that a new state program expanding access to natural gas infrastructure for schools, hospitals, businesses and other entities was approved as part of the Fiscal Code.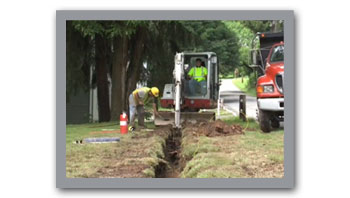 With Governor Wolf choosing not to sign the state's Fiscal Code, thus allowing it to become law, the legislation establishes the "Natural Gas Infrastructure Development Fund" and transfers $12 million from an existing program to provide grants to fund projects which expand access to natural gas infrastructure. Grants to eligible entities would be issued through the Commonwealth Financing Authority (CFA).
This legislation will provide Pennsylvania hospitals, businesses, economic development organizations, municipalities, counties, and school districts with a funding opportunity to expand natural gas infrastructure, providing an alternative to their current heating source, and potentially lower overall costs. Improving the accessibility and availability of natural gas service throughout our region would also give more residents the opportunity to benefit from this low-cost, more environmentally-friendly fuel.
To read more, click here.
---
ABLE Savings Program Signed Into Law
Legislation I supported allowing people with disabilities to set up tax-exempt ABLE savings accounts has been signed into law. It allows people with disabilities to save up to $14,000 annually and use these funds for a wide range of community living expenses, including housing, assistive technology, education and transportation. Qualified withdrawals from ABLE accounts will be exempt from federal and state income tax. People with ABLE accounts will be able to save money and still be eligible for Supplemental Security Income, Medicaid and other means-tested federal programs.
To read more, click here.
Roundtable Held in Williamsport
Roundtable Discussion Focuses on Heroin/Opioid Use
Sen. Yaw and Governor Tom Wolf discuss treatment options following Thursday's roundtable. Photo Courtesy of the Pennsylvania College of Technology.
On April 28th, Governor Tom Wolf and I were joined by Rep. Jeff Wheeland, state and local officials, college presidents, educators, chamber representatives, treatment providers, law enforcement and health care professionals at the Pennsylvania College of Technology to discuss local and statewide efforts to lead the nation in combating the opioid abuse and heroin use epidemic in Pennsylvania.
We appreciated the opportunity to sit down with Governor Wolf in order to increase public awareness of the heroin and opioid crisis facing our rural counties. However, this is not just a rural issue. It's a statewide issue. Fortunately, we have a coalition in Lycoming County called Project Bald Eagle that is working to stem the tide of heroin and opioid abuse through education, prevention, treatment, enforcement and data monitoring. Undoubtedly, it will take a statewide-wide effort to combat this issue and we thank the Governor for his involvement.
NRA Banquet in Bradford County
Bradford County Area Friends of the NRA
Hold Annual Fundraising Banquet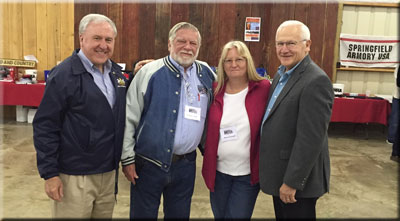 Sen. Yaw joined state Sen. John Rafferty and Buddy & Nancy Crockett
during the NRA banquet in Troy.
The Bradford County Area Friends of the NRA sponsored its 2016 Annual Fundraising Banquet on Saturday, April 30th in Troy. Participants have the opportunity to enjoy a delicious meal, exciting auctions and special drawings for limited edition art, exclusive NRA merchandise, and commemorative firearms.
The National Rifle Association is an organization dedicated to preserving the lawful ownership and use of firearms.
The 2016 Great American Cleanup of PA

The 2016 Great American Cleanup of PA runs through May 31. You can participate by cleaning up litter and trash along roadsides, streams and neighborhoods. Community and civic associations, schools and youth groups, families and friends, business employees, hunting and fishing clubs, conservation organizations, sports teams, and others can organize an event. Find a local event or register your own event here.
Local Students Visit the State Capitol
On May 3rd, my Chief of Staff, Rita Zielonis, met with Sullivan County High School students and their advisor Rebecca Aldinger, representing the American Lung Association Mid-Atlantic Chapter. The students discussed the importance of the Clean Indoor Air Act and other legislative issues during their visit.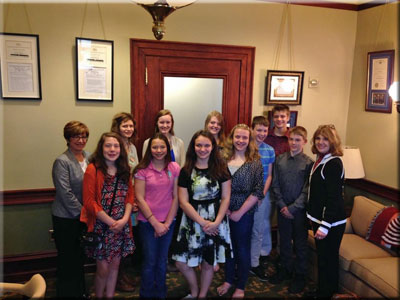 On April 18th, my Communications Director, Nick Troutman, met with students from Bradford, Sullivan and Tioga counties and their advisor Sasha Diederich, Tioga County 4-H Extension Educator, during 4-H Capital Days in Harrisburg. Nick also met with students from Lycoming County and advisor Jeanette Blank, Lycoming 4-H Youth Development Educator.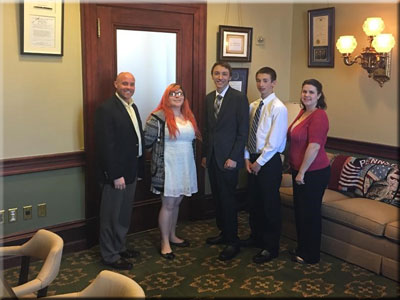 Gypsy Moth Spraying
Spraying for gypsy moths on more than 32,000 acres of state game lands is getting underway, the largest spraying effort since 2008. Spraying will occur on nine different game lands, as soon as leaf-out occurs and gypsy-moth egg masses hatch. According to the Pennsylvania Game Commission, the spray – Bacillus thuringiensis (Bt) – is not harmful to humans, and it usually will take only a few hours to complete each spray block.
To read more, click here.
Volunteer Fire Assistance Grants Available
Volunteer fire companies in rural and small communities with fewer than 10,000 residents have until May 19 to apply for Department of Conservation and Natural Resources Volunteer Fire Assistance Grants. Funds can be used to organize, train and equip local forces in preventing, controlling and suppressing wildfires that have the potential to threaten human life, livestock, crops, pastures, woodlands, orchards and farmsteads.
To read more, click here.
---
If you do not wish to receive this email, click here to unsubscribe.
Privacy Policy
2016 © Senate of Pennsylvania
senatorgeneyaw.com