Wednesday, May 11, 2016
Dear Friends,
Hello! Thank you for subscribing to my E-newsletter. I am honored to serve the 23rd Senate District and look forward to working with you toward building a better future for Pennsylvania!
This E-newsletter serves to keep you updated on what is happening throughout Bradford, Lycoming, Sullivan, Susquehanna and Union counties and what I am doing as your state senator in Harrisburg. I hope that you will find this E-newsletter helpful, and if you have any questions or concerns, please feel free to contact me.
Gene Yaw
State Senator
www.SenatorGeneYaw.com

Senator Tom Killion Sworn Into Office
Senator Tom Killion (R-9) was formally sworn into office during a ceremony at 11 a.m., Wednesday in the Senate Chamber.
Senator Killion was elected to the State Senate on April 26, winning a special election to represent the citizens of the 9th Senatorial District, which includes portions of Chester and Delaware counties.
---
Today's Committee Action
The Senate Education Committee, chaired by Sen. Lloyd Smucker (R-Lancaster), held a public hearing on Adult Literacy, and a meeting to amend SB 1194 (State Military College Legislative Appointment Initiative).
The Senate State Government Committee, chaired by Sen. Mike Folmer (R-Lebanon, held a public hearing on the Governor's Recent Executive Orders.

Work Experience for High School Students with Disabilities Act
The General Assembly recently passed House Bill 400, the Work Experience for High School Students with Disabilities Act. Under this measure, which I supported, the Office of Vocational Rehabilitation will support the placement of high school students with disabilities in work-based learning experiences, including in-school or after-school opportunities or experience outside the traditional school setting, such as internships, at competitive wages in integrated settings with public or private sector employers.
To read more, click here.
---
Legislation Considered This Week
Senate Bill 1077 – removes the requirement of costly physical mailings to parents by school districts using audio on school buses.
Senate Bill 359 – provides new procedures to be followed when a child becomes truant and additional procedures if a child becomes habitually truant.
House Bill 805 – eliminates the process of seniority-based layoffs in public schools.
House Bill 1574 – adds public and private secondary schools, and organizations not affiliated with schools in which students participate, to anti-hazing requirements.
House Bill 1310 – prohibits the release of all or part of a public record that contains a 9-1-1 caller's name, telephone number, address or location.
House Bill 1788 – addresses circumstances with Neighborhood Improvement Districts overlap with Tax Increment Financing Districts.

Senator Yaw Welcomes 'Stock Market Challenge' Winners from Montgomery Area High School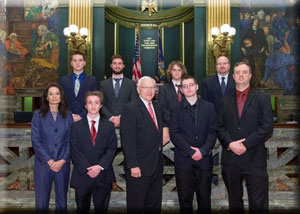 [Bottom Left to Right]: Daphne Bowers, School Superintendent; Josh Glover; Senator Gene Yaw; Austin LaChappelle; Ryan Monoski, Teacher & Advisor. [Top Left to Right]: Dylan Rupert; Nephi Barnhart; Colby Barto; and Joseph Stoudt, High School Principal.
On May 10th, I had the opportunity to welcome students from Montgomery Area High School, Lycoming County, to the Pennsylvania Senate and recognize them on their 2015 Stock Market Game Challenge statewide victory.
The Stock Market Game Challenge is an award-winning educational program used in classrooms to help teach math, social studies, business, economics and language skills, while focusing on the importance of long term savings and investments. Students compete regionally and statewide with other school students. Montgomery Area High School participated in the fall 2015 game and won first place in the state for the game ending December 2015.
To read more, click here.

Bucknell SBDC Receives 'Excellence and Innovation Award'
from the U.S. Small Business Administration
On May 6th, the Pennsylvania Small Business Development Centers honored Bucknell SBDC with the "Excellence and Innovation Award" from the U.S. Small Business Administration (SBA). Arnie Kriner, Executive Assistant in my office, participated in the ceremony.
Bucknell University SBDC was the first in the nation to be hosted by a College of Engineering and leverages its relationship with the College to provide entrepreneurs, manufacturers, and technology firms with specialty Engineering Development Services helping them develop and commercialize innovative products. The center's connection with Bucknell's College of Engineering has long been a foundation for the Pennsylvania SBDC network's Technology Services, and the PA program is one of only 12 in the country to earn supplemental accreditation for these services.
For more on the Bucknell SBDC, click here.
| | |
| --- | --- |
| | Left to Right: Dennis Swank, Associate Vice President for Finance at Bucknell University; State Representative Fred Keller; Arnie Kriner representing state Senator Gene Yaw; Carol Kilko, special assistant for DCED's Agency Development Initiatives; Steven Stumbris, Director, Bucknell University SBDC; Christian Conroy, Pennsylvania SBDC Network Director; Antonio (Tony) Leta, U.S. SBA Eastern Pennsylvania Director; State Representative Lynda Schlegel Culver; Judy Wagner, Mayor of Lewisburg |
The Center for Rural Pennsylvania
Research Examines Financial Fitness of Volunteer Fire Companies
Volunteer fire companies have a strong history in Pennsylvania but have been challenged by a decrease in volunteers and a range of financial constraints over the past 30 years.
To better understand the financial condition of Pennsylvania's volunteer fire companies (VFCs), Dr. Melanie Anderson of Slippery Rock University examined rural and urban VFCs statewide to analyze trends in revenue, expenditures, operating budgets, capital budgets, cash reserves, and long-term savings.
The research, sponsored by the Center for Rural Pennsylvania, used data from the Pennsylvania Department of Community and Economic Development, the Governor's Center for Local Government Services, Internal Revenue Service (IRS) 990 Forms, and Guidestar for the 5-year period of 2008 to 2012.
According to the research, in 2012, urban municipalities spent a median of $117,030 on fire protection, and rural municipalities spent a median of $17,091 on fire protection.
Among urban municipalities, townships of the first class spent the most on fire protection (median of $391,869 or 2.98 percent of total budgets) in 2012, followed by cities (median of $340,659 or 3.22 percent of total budgets), townships of the second class (median of $228,558 or 4.40 percent of total budgets), and boroughs (median of $50,051 or 2.38 percent of total budgets).
To read more, click here.

Rev. Joseph M. Adams, O.S.B., Captain, United States Army Reserve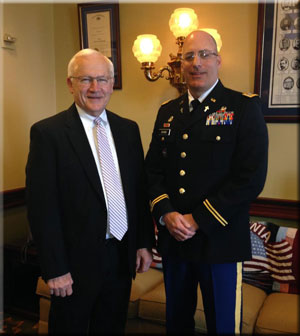 On May 9th, I was honored to welcome the guest Chaplain to the state Senate, the Rev. Joseph M. Adams, O.S.B., Captain, United States Army Reserve.
A native of Wheaton, Maryland, Father Joseph served in the United States Air Force after high school, and entered the Benedictine monastic community of Saint Vincent in 1996. He continued to have the desire to serve his country and became a United States Army Reservist as an Emergency Medical Technician and Field Medic. He continued his studies in History and Divinity and was ordained to the priesthood in 2009, now serving in the Reserves as Chaplain. Father Joe was called for active duty twice, first with a deployment in Afghanistan, then with a deployment in both Iraq and Jordan. At Saint Vincent College he has served as an electrician, miller, residence hall director, fire chief, assistant pastor, and now serves as Director of Public Safety.

Flashing Yellow Arrow (FYA) Implementation
PennDOT is installing new Flashing Yellow Arrow signals in limited locations, where they will be monitored before widespread use. The current signal configuration features a green left arrow to allow left turns followed by a yellow arrow and then a circular green indication. The additional flashing yellow arrow means drivers must yield to oncoming traffic and pedestrians before completing the left turn. The signal has slashed accidents by up to 20 percent in states that use it.
To read more, click here.

---
If you do not wish to receive this email, click here to unsubscribe.
Privacy Policy
2016 © Senate of Pennsylvania
senatorgeneyaw.com