Monday, May 16, 2016
Dear Friends,
Hello! Thank you for subscribing to my E-newsletter. I am honored to serve the 23rd Senate District and look forward to working with you toward building a better future for Pennsylvania!
This E-newsletter serves to keep you updated on what is happening throughout Bradford, Lycoming, Sullivan, Susquehanna and Union counties and what I am doing as your state senator in Harrisburg. I hope that you will find this E-newsletter helpful, and if you have any questions or concerns, please feel free to contact me.
Gene Yaw
State Senator
www.SenatorGeneYaw.com

Senate Reconvenes Today at 1 p.m.
Watch LIVE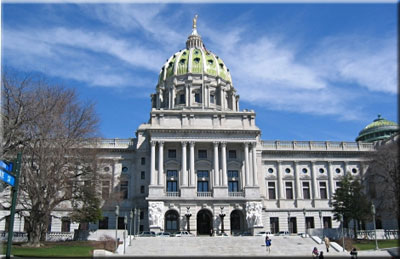 Scheduled Committee Action
Game & Fisheries Committee Meeting
Monday – Off the Floor
HB 1722: Amending Title 34 to allow the use of a leashed blood-tracking dog to track white-tailed deer in an attempt to recover an animal which has been legally killed or wounded.
Law & Justice Committee Meeting
Monday – Off the Floor
HB 1196: Amending the Liquor Code adding definitions and liquor license ballot question changes.
Veterans Affairs and Emergency Preparedness Committee Meeting
Monday – Off the Floor
SR 325 – A resolution urging the Governor and the executive branch to develop a plan to implement a solution for the statewide emergency radio communications system.
Veterans Affairs and Emergency Preparedness Committee Meeting
Tuesday – 9:00 a.m.
Hearing Room 1 North Office Building
An informational meeting to hear presentations by the Dept. of Military and Veterans Affairs on the services they can provide to State agencies during emergencies and their plans for closing armories and by the Civil Air Patrol on their threefold mission - emergency services, cadet programs and aerospace education.
Community Economic and Recreational Development Committee Meeting
Tuesday – 9:00 a.m.
Room 60 East Wing
A joint public hearing with the House Gaming Oversight Committee regarding the PA Dept. of Revenue's recent notification of the 12 operating PA casinos of its intention to increase the assessment for section 1401 accounts from 1.5% to 2%.
Community Economic and Recreational Development Committee Meeting
Possibility for Tuesday or Wednesday
SB 1221 – Amending the Intergovernmental Cooperation Authority Act for Cities of the Second Class to provide for reforms.
To read more, click here.
Home Invasion Burglaries - Increase Penalties
Recently, the Senate approved legislation that would strengthen penalties for burglaries involving home invasions. Senate Bill 1062 would change state law to reflect the seriousness of the violent crime of home invasions. The current burglary statute does not distinguish those burglaries where force or threat of force is used. The bill would increase the recommended sentence for such burglaries.
To read more, click here.
---
Senate Approves Legislation to Help Parents Avoid Truancy Fines, Get Truant Children Back to School
On Tuesday, May 10th the Senate unanimously approved legislation to help prevent a parent from being jailed for failing to pay fines associated with their child's truancy.
The legislation would require schools to offer a school attendance improvement conference to the student and their parents or guardian if the child continues to be truant following notification of the child's third unexcused absence. If a school attendance improvement conference is scheduled, further legal action is suspended until after the date of the conference has passed.
The legislation is in response to the death of a Reading woman while she was jailed for truancy charges in Berks County Prison. Eileen DiNino, a 55-year-old mother of seven, died of undetermined causes as she was serving a 48-hour sentence for not paying fines a magisterial district justice imposed following her sons' absences from school.
---
Yaw Resolution Designates Chesapeake Bay Awareness Week

The state Senate unanimously approved a resolution last week designating the week of June 5th through June 11th as Chesapeake Bay Awareness Week.
The second week of June was selected because it book-ends two long-standing, successful outreach events in the watershed. During the first Saturday in June, the Chesapeake Bay Foundation hosts "Clean the Bay Day" during which thousands of volunteers roll up their sleeves and take direct action to clean their waterways. In Maryland, on the second Sunday in June, Bernie Fowler traditionally holds his annual Patuxent River Wade-In event, attended by hundreds over the past 28 years, from schoolchildren to governors, U.S. Congressmen and Senators.
To read more, click here.
Student Government Seminar Set for This Week
This week, over 220 students from across the 23rd Senate District will convene on the campus of the Pennsylvania College of Technology to participate in my annual Student Government Seminar.
Students will become "Senators for a Day" and participate in mock legislative sessions, where they will also have the opportunity to interact with elected officials, members of the Governor's Administration, state department heads, media, lobbyists and members of healthcare, transportation, and many other sectors.
The intent is for students to obtain a better understanding of the legislative process and develop professional relationships that can open the door for future internships and job opportunities.
PennDOT Honors Star of Excellence Recipients,
Recognizes Six Workplace Heroes
Pennsylvania Department of Transportation (PennDOT) Secretary Leslie S. Richards announced recently that 30 department employees received the agency's Star of Excellence Award, PennDOT's highest recognition.
Two employees from PennDOT's District 3 which represents Bradford, Columbia, Lycoming, Montour, Northumberland, Snyder, Sullivan, Tioga and Union counties were among the honorees.
Local winners Lloyd Ayres and Kevin Hock were honored this afternoon at an awards luncheon at the Governor's Residence in Harrisburg.
To view a complete list of District 3 news releases click here.
Penn College Commencement
Penn College Commencement Ceremonies Held in Williamsport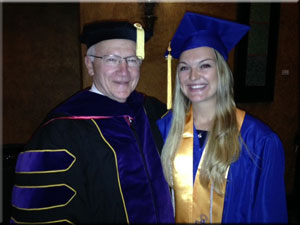 Three commencement ceremonies were held May 13-14 for the nearly 1,000 Pennsylvania College of Technology students who petitioned to graduate following the Spring 2016 semester. Friday afternoon's exercises at the Community Arts Center featured students from the School of Industrial, Computing & Engineering Technologies and the School of Sciences, Humanities & Visual Communications. Students from the School of Construction & Design Technologies and the School of Health Sciences received their degrees Saturday morning, while those in the School of Business & Hospitality and the School of Transportation & Natural Resources Technologies crossed the magnificent stage during the afternoon.
Senator Yaw pictured with Cortney Lyn Weaver, student commencement speaker.
Russ Reitz Receives Commendations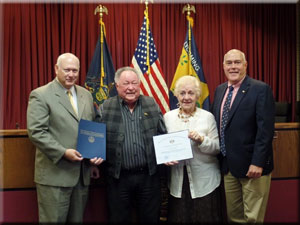 Arnie Kriner, Executive Assistant to Senator Yaw, presents Russell C. Reitz with a Congratulatory Senate Certificate for his extraordinary dedication and commitment on behalf of the citizens of the County of Lycoming through his leadership as a County Commissioner and as a member of various community service organizations.
Left to Right: Arnie Kriner, Russell Reitz, Marie Reitz and State Representative Jeff Wheeland.
Back-to-School Immunization Clinics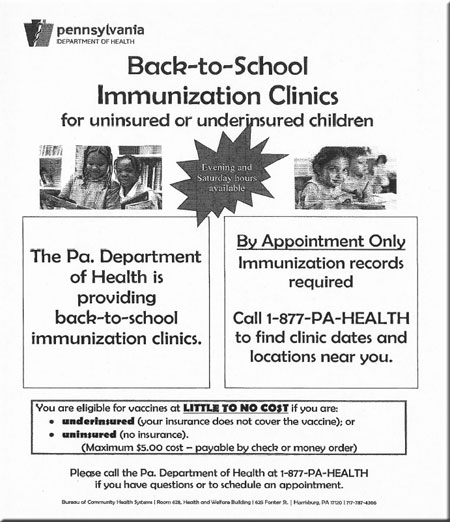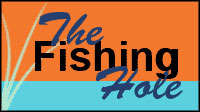 The Pennsylvania Fish and Boat Commission (PFBC) has created a new webpage to submit questions and opinions about the Commission, fishing and boating, and the Commonwealth's aquatic resources.
Known as "The Fishing Hole," the new webpage invites the public to share their thoughts on topics such as Fishing/Stocking, Fishing Regulations, Boat Registration/Titling, Boating and Access Areas and more.
Click here for more information.
---
If you do not wish to receive this email, click here to unsubscribe.
Privacy Policy
2016 © Senate of Pennsylvania
senatorgeneyaw.com