Tuesday, May 24, 2016
Dear Friends,
Hello! Thank you for subscribing to my E-newsletter. I am honored to serve the 23rd Senate District and look forward to working with you toward building a better future for Pennsylvania!
This E-newsletter serves to keep you updated on what is happening throughout Bradford, Lycoming, Sullivan, Susquehanna and Union counties and what I am doing as your state senator in Harrisburg. I hope that you will find this E-newsletter helpful, and if you have any questions or concerns, please feel free to contact me.
Gene Yaw
State Senator
www.SenatorGeneYaw.com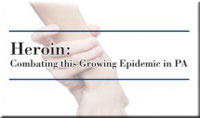 Last week, I announced my intention to introduce several additional pieces of legislation that will assist in addressing and evaluating the statewide heroin and opioid epidemic. It is widely known that a majority, roughly 80 percent, of heroin addicts can trace their addiction back to prescription opioids. For the past two years, the Center for Rural Pennsylvania, of which I serve as chairman, has been examining the heroin and opioid epidemic plaguing the Commonwealth.
Providing for Easier Access to Abuse-Deterrent Opioids
This legislation will require insurance plans to provide access to abuse-deterrent opioid analgesic drugs, and apply cost-sharing provisions for these products at the same level as the cost-sharing applied to other brand name and generic drugs covered under the insurance plans' formularies.
Abuse-deterrent opioids are pharmaceutical products that have been recently developed that contain abuse-deterrent properties and are designed to be harder to crush, cut, dissolve or inject.
Mandated Naloxone Overdose Reporting
This legislation would establish a uniform manner in which heroin and opioid overdoses, and specifically heroin deaths, where naloxone was used, are reported to the state. Currently, there is no mandatory reporting system in place.
At this time, naloxone reporting is voluntary, and I believe this legislation will help provide a more accurate assessment of the heroin epidemic in Pennsylvania.
Reporting by County Coroners/Medical Examiners
This legislation will require county coroners and medical examiners in the state to report the death of any person resulting from a drug overdose. Under this bill, the Department of Drug and Alcohol Programs would maintain the confidentiality of any identifying information received, which shall be used to communicate concerns to regulators and facilitate communication within the healthcare and legal systems about issues that could threaten health and public safety. Information can also be used to prepare aggregate statistics relating to deaths resulting from drug overdoses and include statistics in the annual report required under section 4 (9) of the Methadone Death and Incident Review Act.
---
Senate Votes to Send Ignition Interlock Legislation to Governor
On May 18th, the state Senate gave final approval to legislation that would have most first-time offenders of Driving Under the Influence (DUI) install ignition interlocks on their vehicle for at least one year.
Senate Bill 290 would require convicted first-time offenders with Blood Alcohol Content (BAC) of 0.10 percent or higher to use ignition interlocks for at least 12 months. Under current law, the requirement applies only to second and subsequent offenders.
If Senate Bill 290 is signed into law by the governor, then Pennsylvania will join forty-eight other states that have laws requiring ignition interlocks for some level of first-time offenders.
Other Bills Sent To The Governor This Week Include:
Senate Bill 1108, which defines in state statute a new subtype of federally certified motorcycle - a three-wheeled vehicle with two forward wheels - as an 'autocycle' and creates a special designation under the existing motorcycle definition in state law.
House Bill 1310, which provides privacy and protects the safety of individuals who call 911 to report crimes.
House Bill 1436, which provides for the computation of income tax expense for ratemaking purposes.
House Bill 1574, which expands Pennsylvania's Anti-hazing Law to include hazing done as a condition for initiation or admission into any organization.
Committee Holds Hearing on Sunday Hunting
On May 18th, the Senate Game & Fisheries Committee held a public hearing to discuss Sunday hunting in Pennsylvania. I have heard from many of my constituents on this issue, both for and against hunting on Sunday.
Lawmakers heard voices of support from the Pennsylvania Game Commission, NRA and the Pennsylvania Federation of Sportsmen's Clubs. Opposition groups included the Pennsylvania Farm Bureau and the Pennsylvania Equine Council.
To review testimony and video from the hearing click here.

Central Susquehanna Valley Thruway Project Groundbreaking

On May 20th, I joined Pennsylvania Department of Transportation (PennDOT) Secretary Leslie S. Richards and others for a groundbreaking ceremony for the first contract of the $670 million Central Susquehanna Valley Transportation Project (CSVT). A $156 million river bridge is the first of several construction improvements planned as part of the project.
The CSVT project will ultimately provide a 13-mile limited access highway connecting PA 147 in Northumberland County just south of the PA 45 Interchange, to US 11/15 in Snyder County just north of the Borough of Selinsgrove. When completed, the river bridge will be more than 4,500 feet long with a peak elevation of 180 feet.
After 40 years of false starts, the CSVT is now a reality. This is a smart, strategic transportation investment in our region that will serve as an economic keystone to north central Pennsylvania. Undoubtedly, it will bring relief to thousands of motorists traveling daily along US 11/15 from the Maryland border to the New York state line. As one of those motorists, I am certain that the planned thruway will provide a safer highway system for all by relieving traffic congestion, and improving the flow of goods and services throughout the region.

Student Government Seminar
Annual Student Government Seminar Held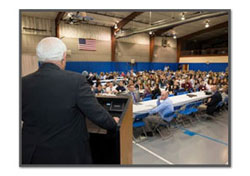 Montoursville Senior Awarded Peggy Madigan Memorial Scholarship
On Thursday, May 19th, I hosted my annual Student Government Seminar on the campus of the Pennsylvania College of Technology.
More than 200 participants, including students and advisors representing 15 high schools throughout Bradford, Lycoming, Sullivan and Union counties, took part in the full-day event, held at the Pennsylvania College of Technology. The event is the largest Senate organized Student Government Seminar in the state.
This seminar is a great opportunity for high school students to interact with their local, state and federal officials. The seminar allows students to develop legislation, debate important issues with key policymakers, offer their personal input, and vote on 'mock' bills in an open session. The intent is for students to obtain a better understanding of the legislative process and develop professional relationships that can open the door for future internships and job opportunities.
During Thursday's program, one student was chosen to receive the "Peggy Madigan Memorial Leadership Scholarship." The scholarship, named in memory of the late wife of former state Senator Roger A. Madigan, is presented to a student who attends my annual seminar, and who is enrolled at the Pennsylvania College of Technology for the following fall semester. The student must also write a short essay on their community service efforts.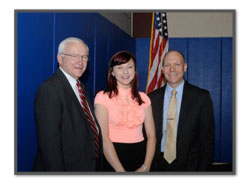 Alexandra R. Klementovich, of Montoursville, will enroll in the college's pre-nursing major for the Fall 2016 semester.
During her high school years, Klementovich visited and assisted the elderly in day-to-day activities, helped coordinate donations for victims of house fires, collected money to buy necessities for adopted children at her church, assisted in collection and distribution of items with the local food pantry, and volunteered with the American Rescue Workers during its Toys for Tots holiday drive.

25th Annual PAECT Student Technology Showcase at the State Capitol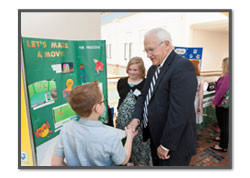 The Pennsylvania Association for Educational Communications and Technology (PAECT) held its 25th Annual PAECT Student Technology Showcase at the State Capitol Building. Pictured are students and teachers from Montgomery Elementary School in Lycoming County. The showcase, located in the East Wing Rotunda, is held annually to present legislators and the public with the opportunity to learn how teachers are integrating technology into K-12 classrooms across the Commonwealth.
Students and teachers from kindergarten to grade twelve from all parts of the Commonwealth converged on the Capitol for this exciting event. The participating students demonstrated engaging projects that utilized mobile devices, video, graphic design and robotics, animation and more.

Green Light-Go Traffic Signal Improvement Funding
Approved for Lycoming, Union Counties
Several municipalities in the 23rd Senate District will receive funding to underwrite the costs of upgrading traffic signals under the Pennsylvania Department of Transportation's (PennDOT) "Green Light-Go" program.
Made possible by Act 89, the state's transportation funding plan, the program establishes partnership agreements between municipalities and PennDOT through which municipalities request up to 50 percent funding for traffic-signal projects.
During this fiscal year, grants can be used for installing light-emitting diode (LED) technology, performing regional operations such as retiming, developing special event plans and monitoring traffic signals, as well as upgrading traffic signals to the latest technologies.
Under the Green Light-Go program, projects on corridors with fewer than 10,000 vehicles per day will be managed by the municipality, and PennDOT will manage any project with signals on corridors that have greater than 10,000 vehicles per day. Both types of projects will require a 50 percent match from the municipality.
Following is a list of Green Light-Go funding recipients in the 23rd Senate District, the amount of state funding, and a brief description of the projects. Note the state funding identified below only represents part of the total project funding:
Lycoming County:
Loyalsock Township: $86,500 to upgrade the traffic signal at the intersection of Route 2029 (Northway Road) and Sheridan Street.

Muncy Creek Township: $3,125 to install an uninterrupted power supply system at the intersection of Route 442 and Route 405.

Old Lycoming Township: $2,510 to replace LED modules at the intersections of Route 3014 (Mill Lane) and Route 1017 (Lycoming Creek Road), and Route 2016 (Roosevelt Avenue) and Route 1017 (Lycoming Creek Road).
Union County:
Mifflinburg Borough: $14,700 to replace LED modules and install video detection systems at eight intersections.

2015 Coal Queen Addresses Pennsylvania State Senate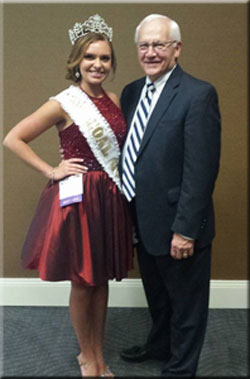 On Monday, May 16th, I was honored to meet Katlyn Allison, the 2015 Pennsylvania Bituminous Coal Queen. Katlyn is a student at Carmichaels Area High School, located in Greene County. During her visit to the State Capitol, Katlyn had the opportunity to address the state Senate, where she discussed the importance of preserving this important energy sector.

Click image for more information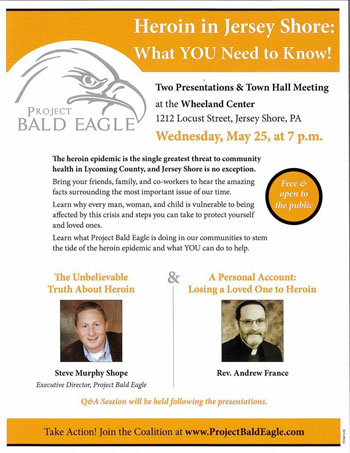 Click here to enlarge

---
If you do not wish to receive this email, click here to unsubscribe.
Privacy Policy
2016 © Senate of Pennsylvania
senatorgeneyaw.com