Monday, June 13, 2016
Dear Friends,
Hello! Thank you for subscribing to my E-newsletter. I am honored to serve the 23rd Senate District and look forward to working with you toward building a better future for Pennsylvania!
This E-newsletter serves to keep you updated on what is happening throughout Bradford, Lycoming, Sullivan, Susquehanna and Union counties and what I am doing as your state senator in Harrisburg. I hope that you will find this E-newsletter helpful, and if you have any questions or concerns, please feel free to contact me.
Gene Yaw
State Senator
www.SenatorGeneYaw.com

Special Tele-Town Hall Discussion Tonight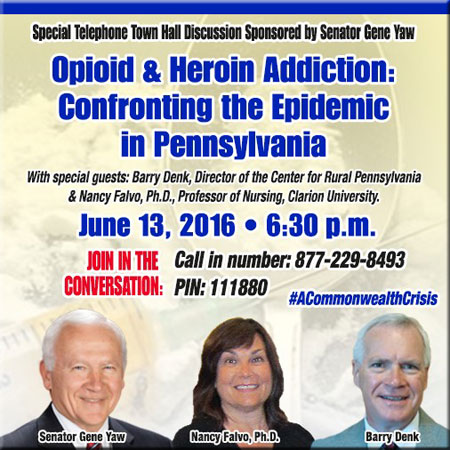 I am inviting residents living in Bradford, Lycoming, Sullivan, Susquehanna and Union counties, as well as other interested individuals across the Commonwealth, to join me for a special telephone town hall discussion on heroin and opioid addiction.
The event will be held tonight, Monday, June 13, 2016, from 6:30 to 7:30 p.m., and will feature guests Barry Denk, Director of the Center for Rural Pennsylvania and Dr. Nancy Falvo, Center for Rural Pennsylvania Board Member and Professor of Nursing at Clarion University.
The tele-town hall format allows community residents to participate in a discussion on the issues without the need to travel throughout the region. Participants may ask questions or simply remain on the line to listen to the discussion. Residents can sign up for the event in advance by visiting my website at www.senatorgeneyaw.com.
For more information, click here.

Senate Reconvenes Monday, June 13th
Bills expected to be considered by the Senate are as follows:
Senate Bill 163 clarifies that parental rights may not be terminated solely because a parent is incarcerated and addresses services available to those children.
Senate Bill 1109 amends the state Constitution to extend the state's property tax exemption program for disabled veterans to the surviving spouse of soldiers killed in action.
Senate Bill 1113 broadens representation of crime victims on the Victims' Services Advisory Committee within the Pennsylvania Commission on Crime and Delinquency.
Senate Bill 703 creates a state plumbers licensing program regulating who can call themselves a state-licensed plumbing contractor rather than who can perform plumbing services.
House Bill 147 proposed Constitutional amendment allowing local taxing authorities to exclude from taxation up to 100 percent of the assessed value of the homestead property.
House Bill 602 increases the base minimum state active duty pay for National Guard personnel.
House Bill 1325 allows for assessments of storm water fees without the need to establish a municipal authority in Second Class Townships.
House Bill 1199 repeals the 1965 Act authorizing the Department of Highways to erect and maintain a toll bridge over the Monongahela River.
House Bill 1766 allows future life insurance policy reserves to be based on Principle-Based Reserving.
Committee Action
The Senate Majority Policy Committee Hearing on SNAP (Supplemental Nutrition Assistance Program) - Tuesday, 9 a.m., East Wing, Hearing Room 8E-A.
The Senate State Government Committee Hearing on SB 413 (Administrative Law Procedure and Office of Administrative Hearings) - Tuesday, 11:30 a.m., North Office Building, Hearing Room #1.
The Legislative Budget and Finance Committee Release of reports on a performance audit of the PA Fish and Boat Commission, and afterschool programs in Pennsylvania - Wednesday, 10 a.m., East Wing, Hearing Room 8E-A.
Hearings streamed live at PASenateGOP.com.

Consumer-Centered Liquor Reforms Signed Into Law
Last week, legislation to allow grocery stores to sell wine, increase opportunities for the sale of beer, and improve consumer convenience for overall liquor sales was signed into law.
Act 39 of 2016 provides many changes that increase customer convenience, including:
According to a detailed fiscal analysis of the bill, the plan could generate up to an additional $100 million to 150 million in profits for the state system. In addition to modernizing liquor sales, the bill also requires a comprehensive study of the valuation of the state system and various proposals to privatize liquor sales in the future.
---
Senate Acts to Protect Energy Jobs
The Senate approved legislation to protect family-sustaining Pennsylvania jobs placed at risk by the new federal regulations.
Senate Bill 1195 provides procedures for the General Assembly's consideration of the Department of Environmental Protection's implementation strategy for the Clean Power Plan before its submission to the federal Environmental Protection Agency.
Senate Bill 1195 is a compromise agreement between the General Assembly and Governor Wolf that provides important safeguards that protect local energy-producing industries and the thousands of workers they employ from overreaching regulations that could come with Pennsylvania's compliance with the federal regulations.
Senate Bill 1195 now goes to the House of Representatives for consideration.
---
Bill to Deny Public Benefits to Illegal Immigrants Advances
Legislation that would deny public benefits, such as Medicaid, welfare, and unemployment compensation to illegal immigrants living in Pennsylvania passed the House State Government Committee last week.
Senate Bill 9 would require anyone receiving public benefits in the Commonwealth to provide identification proving they are legal residents. In addition, individuals would be required to sign an affidavit stating they are a United States citizen, or an immigrant lawfully residing in this country. Any illegal immigrant who falsely claims they are residing in the country legally, in order to obtain public benefits, will have committed a second degree misdemeanor and be subject to arrest.
Federal law prohibits illegal immigrants from receiving state or local public benefits.
---
Senate Appropriations Committee Approves Measure to Increase
Education in Pain Management, Opioid Prescribing Practices
Legislation I sponsored, along with my colleague Senator John Wozniak, requiring continuing medical education (CME) training for those professionals licensed to prescribe in the Commonwealth of Pennsylvania was approved today by the Senate Appropriations Committee. The legislation was approved last week by the Consumer Protection and Professional Licensure Committee.
Senate Bill 1202 is intended to help stem the tide of opioid and prescription drug abuse in the state, which often leads to heroin use.
The bill requires state licensing boards to call for two hours of CME in 'pain management' and two hours of CME in 'opioid prescribing practices' for individuals applying for an initial license or renewal of an existing license or certification in the Commonwealth.
For more information on the Center's hearings, click here.
---
Tougher DUI Ignition Interlock Legislation Enacted
Legislation that would require most drivers convicted for a first-time drunk driving violation to use ignition interlocks for at least a year received final legislative approval and was signed into law.
Act 33 of 2016 will require convicted drunk drivers with illegal blood alcohol concentration (BAC) of .10 or greater to use ignition interlocks for at least 12 months for first-time offenders. Under previous law, the requirement applied only to second and subsequent offenses.
According to statistics compiled by Mothers Against Drunk Driving, nearly two million drunk-driving attempts have been stopped with ignition interlock devices, including more than 78,000 instances in Pennsylvania between 2003 and 2015.
---
Bills Sent to Governor for Enactment into Law
Senate Bill 61 officially recognizes bike medics and permits them to operate their bicycles in the same manner as a police officer on a bicycle.
Senate Bill 489 reduces the maximum fee that a check casher may charge for cashing government checks, requires the public posting of fees for cashing the checks, and allows for recovery of losses due to fraudulent misrepresentation.
Senate Bill 847 adds a representative from the Korean War Veterans Association to the State Veterans Commission, a panel composed of representatives from Pennsylvania's major veterans associations.
House Bill 57 amends the Public Utility Code to change the interest rate associated with recovery of purchased gas costs, eliminate the migration rider, and provide for recovery of costs incurred to implement customer choice.

Welcoming District Residents
Last week, I was happy to meet Sandy and Kenneth Shirk of Millmont, Union County. Accompanying the Shirk's on their visit around the State Capitol is Rep. Fred Keller.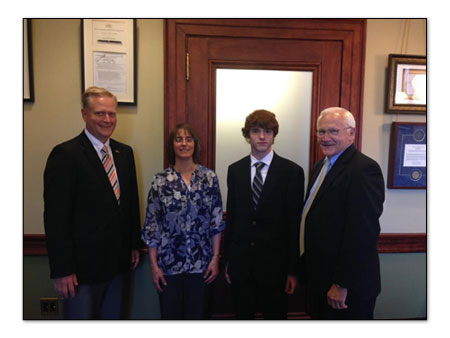 Department of Revenue Update
Property Tax/Rent Rebate Program Deadline
The Property Tax/Rent Rebate program deadline for older adults and residents with disabilities to apply for rebates of rent and property taxes paid in 2015 has been extended from June 30 to Dec. 31, 2016.
Each year the Department of Revenue evaluates the program as the statutory June 30 application deadline approaches to determine if funds are available to extend the deadline. To date, funding has been available to allow all who qualify to take advantage of this tax relief.
Applicants may obtain Property Tax/Rent Rebate claim forms (PA-1000) and related information online at www.revenue.pa.gov or by calling, toll-free, 1-888-222-9190.
It costs nothing to apply for a rebate, and the department reminds residents that free application assistance is available at hundreds of locations across the state, including Department of Revenue district offices, local Area Agencies on Aging, senior centers and state legislators' offices.
Claimants who already applied for rebates may check the status of claims online at www.revenue.pa.gov or by calling, toll-free, 1-888-PATAXES.

Department of Health News
Immunization Clinic Scheduled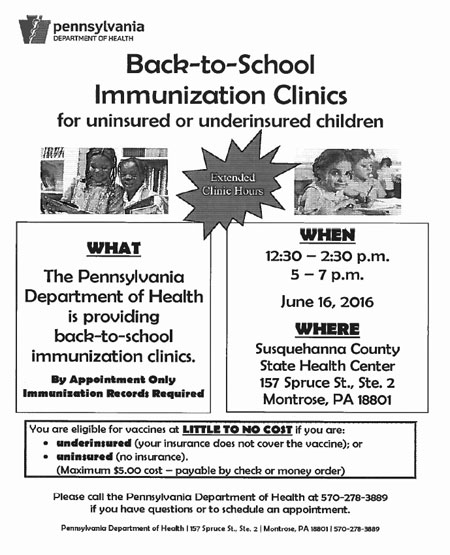 The Dr Pepper Snapple/Keep America Beautiful Park Recycling Infrastructure Grant Program
Keep Pennsylvania Beautiful Fresh Paint Days PA
Illegal DumpFreePA (Surveillance camera loan program)

---
If you do not wish to receive this email, click here to unsubscribe.
Privacy Policy
2016 © Senate of Pennsylvania
senatorgeneyaw.com