Monday, June 27, 2016
Dear Friends,
Hello! Thank you for subscribing to my E-newsletter. I am honored to serve the 23rd Senate District and look forward to working with you toward building a better future for Pennsylvania!
This E-newsletter serves to keep you updated on what is happening throughout Bradford, Lycoming, Sullivan, Susquehanna and Union counties and what I am doing as your state senator in Harrisburg. I hope that you will find this E-newsletter helpful, and if you have any questions or concerns, please feel free to contact me.
Gene Yaw
State Senator
www.SenatorGeneYaw.com

Senate Reconvenes This Week

Session Schedule
Monday, June 27 | 1 p.m.
Tuesday, June 28 | 11 a.m.
Wednesday, June 29 | 11 a.m.
Thursday, June 30 | 11 a.m.
Committee Schedule
Monday, June 27, 2016
11:30 a.m.
Room 461 Main Capitol
PUBLIC HEALTH & WELFARE to consider Senate Bills No. 18 and 613; Senate Resolution No. 275; and House Bill No. 1062.

Off the Floor
FINANCE to consider Senate Bills No. 598, 1127 and 1317; and House Bills No. 1334 and 1888.
To read more, click here.

Review
Committee Votes to Update Breach of
Personal Information Notification Act
The Senate Communications and Technology Committee approved legislation June 15 to update the Breach of Personal Information Notification Act. Senate Bill 1048 requires that in the event of a breach involving Personally Identifiable Information, the state agency involved will report the breach to the individual or individuals affected within seven days. It also requires the Attorney General and the Office of Administration for Executive Branch agencies be notified within three days following the breach.
County and local governments, along with school districts, must notify their District Attorney within three days. The legislation will also require the Office of Administration to keep a policy for the storage and transmission of Personal Identifiable Information Data.

Joint Hearing Explores Impact of New Federal Overtime Rules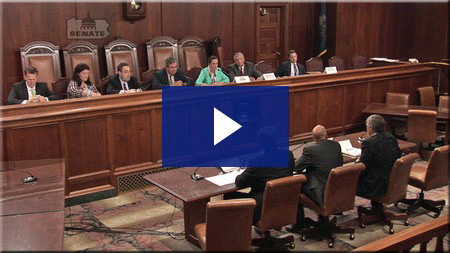 The Senate Appropriations Committee, of which I serve as a member, and the Senate Labor and Industry Committee held a joint hearing last week to explore the impact of the new Federal Department of Labor overtime rules under the Fair Labor Standards Act.
The hearing focused on the impact on employers, nonprofits and the state budget. Key provisions of the new rules will become effective December 1, 2016.

Vehicle Disability License Plate Expansion Approved
Legislation has been signed into law providing access to vehicle disability license plates to parents, including adoptive parents or foster parents, of adult children in their care who qualify for a disability license plate. Previously, parents of disabled adult children could be denied a disability license plate because their son or daughter is an adult – even if the parent is the primary caregiver. This change will provide a small amount of relief to these parents.

Property Tax Exemption Approved by Senate
The Senate recently approved legislation to extend the property tax exemption program for disabled veterans to the surviving spouse of soldiers killed in action. As a constitutional amendment, Senate Bill 1109 must be approved twice by the General Assembly and then put before voters in a referendum.

Antique Automobile Club of America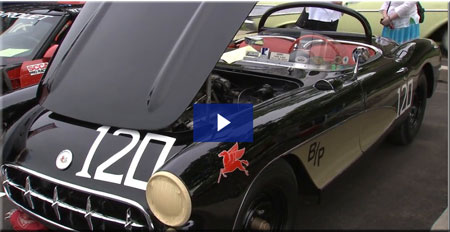 For more pictures, click here.
This month, 'A Conversation with Senator Gene Yaw' showcases the 2016 Antique Automobile Club of America (AACA) Grand National Meet hosted by the Susquehannock Region and the Penn College Classic Cruisers Student Chapter. The meet is held once a year and alternates between east and west of the Mississippi.
The television report will air on:
Blue Ridge Communications/Mansfield - Channel 13; Service Electric Cablevision - SECV Productions - Channel 8; Time Warner, Sayre; Adams Cable Service, Channel 7; Comcast/Williamsport - Click On Demand/Get Local/Local Government/State Senate/A Conversation with Senator Gene Yaw.
Please check local listings for air times.
'A Conversation with Senator Gene Yaw' is intended to keep residents of the 23rd Senatorial District informed about state and local issues and to showcase the people, places and communities that make this region so unique.
Senator Yaw's television report is also available online at www.senatorgeneyaw.com, click 'Newsroom' and 'A Conversation with Senator Gene Yaw'.

Groundbreaking Held for the SUN Tech West Campus Building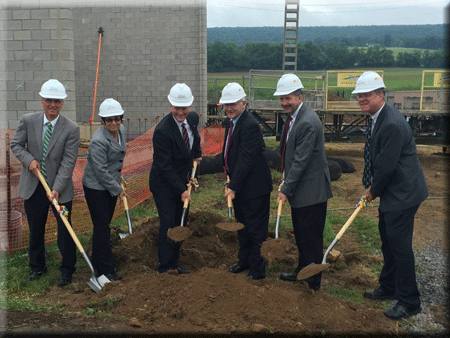 For more pictures, click here.
Recently, I joined SUN Area Technical Institute staff and school superintendents for the Sun Tech West Campus Renovation Project Groundbreaking in New Berlin.
For forty years, SUN Tech has provided quality career and technical education programs to secondary students from five 'sending' school districts in Snyder, Union and Northumberland counties: Lewisburg Area, Midd-West, Mifflinburg Area, Selinsgrove Area, and the Shikellamy School District. Approximately 260 students are currently enrolled in their nineteen classified instructional technical and career programs.
The current West Campus building and the additional renovation project will add 34,200 square feet, and 2.24 acres to the school. This will be the first major renovation project in the school's 45 years.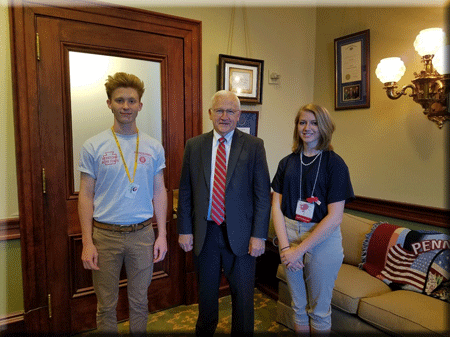 Last week, I welcomed Lukas Radulski, a student at Williamsport High School and Keystone Boys State participant, as well as Taylor Gardner, a student at South Williamsport High School and American Legion Auxiliary Girls State participant, to my office in the State Capitol Building. Both students visited the Capitol as part of a week long summertime educational program that focuses on participation and personal experience in state government.

June is Alzheimer's and Brain Awareness Month
June is Alzheimer's and Brain Awareness Month, intended to bring attention to the sixth-leading cause of death in the U.S. More than 400,000 individuals are living with Alzheimer's disease or a related disorder in Pennsylvania. You can find information and support for caregivers here.

Muncy High School Senior Receives Comcast Scholarship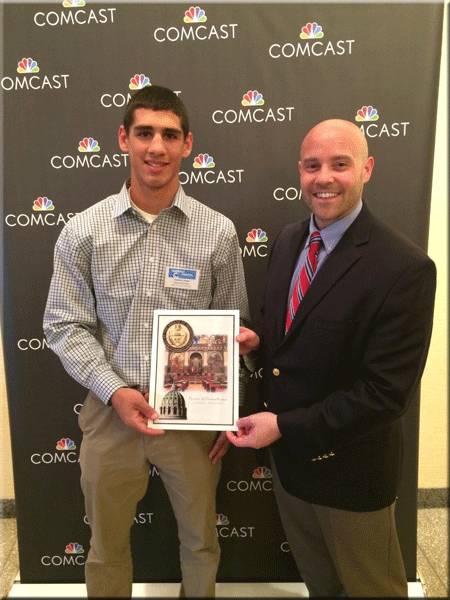 Cameron Good and Nick Troutman, Communications Director for Sen. Gene Yaw
Comcast recently honored 183 exceptional young leaders from throughout Pennsylvania – including two students from my district – with $1,000 scholarships.
Pictured above are Cameron Good of Muncy Junior-Senior High School, along with Nick Troutman of my office. Also receiving a scholarship award was Rory L. Foran of South Williamsport Junior-Senior High School.
The Comcast Leaders and Achievers® Scholarship Program is a nomination-based award, and only one student per school may be nominated by their principal or guidance counselor. Leaders and Achievers, funded through the Comcast Foundation, recognizes high school seniors from Comcast communities for their commitment to community service, academics and demonstrated leadership.

---
If you do not wish to receive this email, click here to unsubscribe.
Privacy Policy
2016 © Senate of Pennsylvania
senatorgeneyaw.com